Dozens of forgotten water bottles, misplaced dorm keys on cream and crimson lanyards, hoodies and sweaters that were left in a lecture hall seat and a surprising collection of shoes missing their partners are among the treasures at Indiana University Bloomington's campuswide lost and found.
The facility, which has been temporarily moved to Morrison Hall Room 005 while its home in Ballantine Hall undergoes renovation, acquires more than 200 forgotten items each month. Most items make their way to the lost and found via building managers and facilities employees who send through campus mail, but some good Samaritans hand-deliver items to the space, too.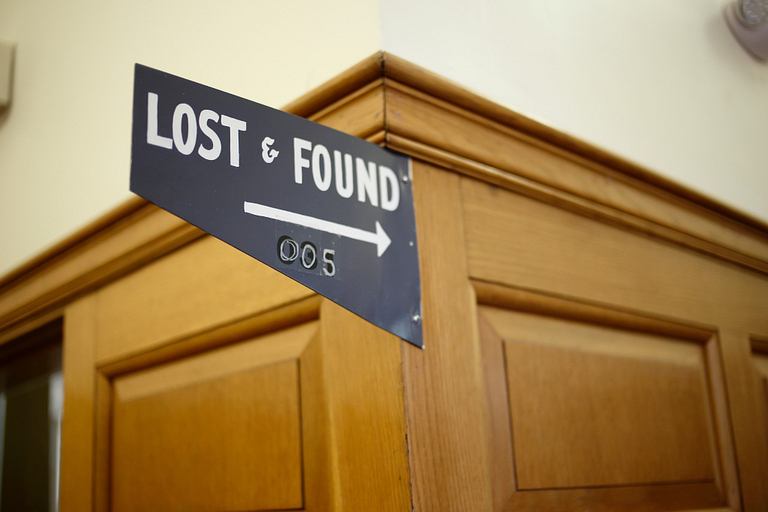 Everything brought to the lost and found is carefully tracked by the IU Police Department recruits who staff the space. A spreadsheet is updated each time an item enters the collection, an owner claims an item or someone calls looking for something.
The staff takes great care and uses all resources available to try to contact the owner as soon as an item is processed. If they are contacted by someone looking for a missing CrimsonCard, they work with IU Card Services to deactivate meal points and key access. Valuable items like electronics and bicycles are sent to IU Police Department headquarters so a case can be issued.
To collect an item, the lost and found requires owners to show a student ID or driver's license, but the space mainly operates on an honor code, according to Levi Minnick, IU Police Department's crime scene tech and the property and evidence manager who oversees the operation.
"Generally, people who come in here are pretty honest," Minnick said. "They're just looking for their lost key or water bottle."
In fact, water bottles and keys are among the items that the space has the highest success rate of returning, while clothes and shoes tend to remain forgotten. The lost and found also sees seasonal trends, like few items being acquired in the summer and an influx of lost items arriving as school begins and new students are still settling in.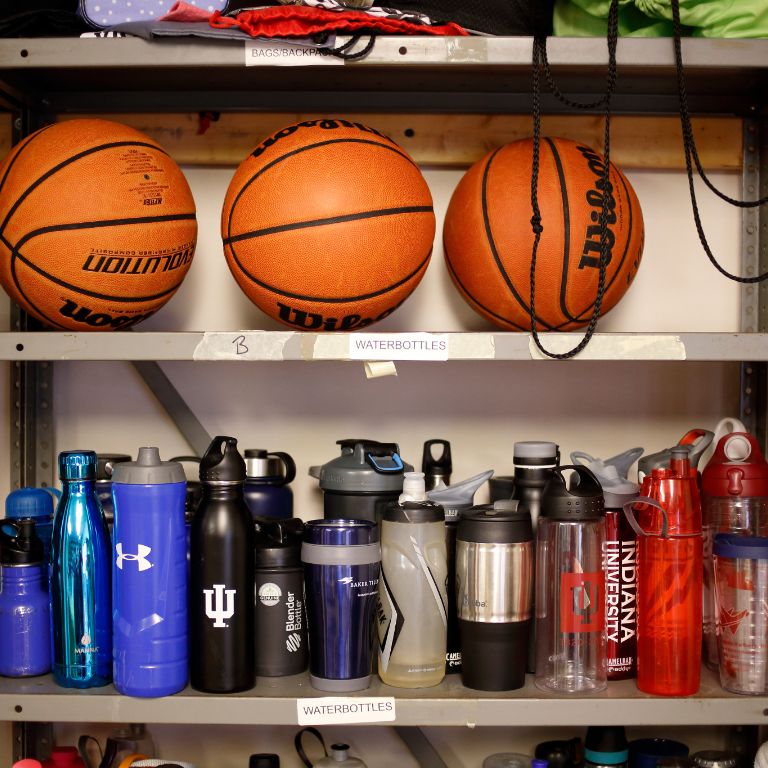 Photos by Eric Rudd, Indiana University
"As the colder months approach, we are about to have a whole lot of single gloves and lost hats and scarves," Minnick said.
Items that remain unclaimed for 90 days are donated. Water bottles and umbrellas go to the Shalom Community Center, clothing is donated to the Salvation Army, glasses are sent to the IU School of Optometry's Atwater Eye Care Center, and books are given to the Monroe County Public Library's Friends of the Library bookstore.
Not only does the lost and found help return items to their owners and give back to the community through donations, but it also helps IU Police Department recruits prepare for a job in law enforcement. Staffing the space gives them the skills they will need to process found items and missing property reports as law enforcement officers.
Minnick said he hopes more members of the IU community will be compelled to send lost items to the space at Morrison Hall and continue to raise its profile as the go-to headquarters for lost and found items.
"IUPD has more resources to get connected with the owner of the items," Minnick said. "We follow a system that meets state standards, and it has proven to be pretty successful."