Former IU football player Kenny Arnold is about to be back in Bloomington's spotlight as he pursues a new passion – acting. He is about to star in his first show, "Barbecue," which is being put on by the Department of Theatre, Drama and Contemporary Dance.
Arnold got his first taste of acting when he took an elective class during his first year in college. He said that he was always inspired by the acting he saw on television and knew it would be a great class for him.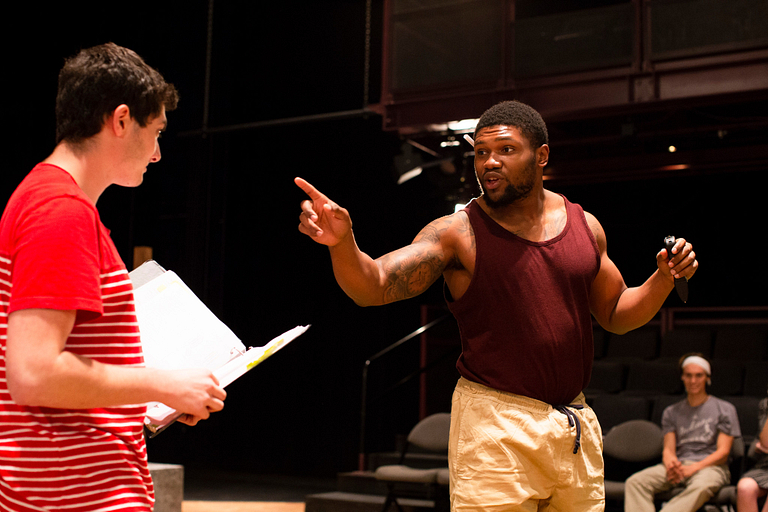 "Taking acting at IU opened my eyes to what I could do. Reading the monologues and getting into the role of the character was something that I looked forward to," Arnold said. "Once I was seeing myself grow in my different roles, I realized this was something I wanted to pursue."
The Detroit native came to IU in 2014 and walked onto the football team as a linebacker. The drive to further his acting career was prompted when he had to make a tough decision after he injured his foot during the first game of his final year.
"I had a great experience playing football here at IU. Making the decision of whether or not to stick it out my final season was a tough one. I talked to my coach and my dad, who played football until he was 35," Arnold said. "At the end of the day, it was ultimately my decision."
As Arnold focused on his final undergraduate year at IU pursuing a management degree through SPEA, he began figuring out his future career possibilities and how acting could fit into his life.
With football out of his life, Arnold was focusing on his new passion. He traveled from Indianapolis to Chicago every weekend to take summer classes at Acting Studio Chicago.
"I knew that I was behind in the acting world, but I wasn't going to let that stop me," Arnold said.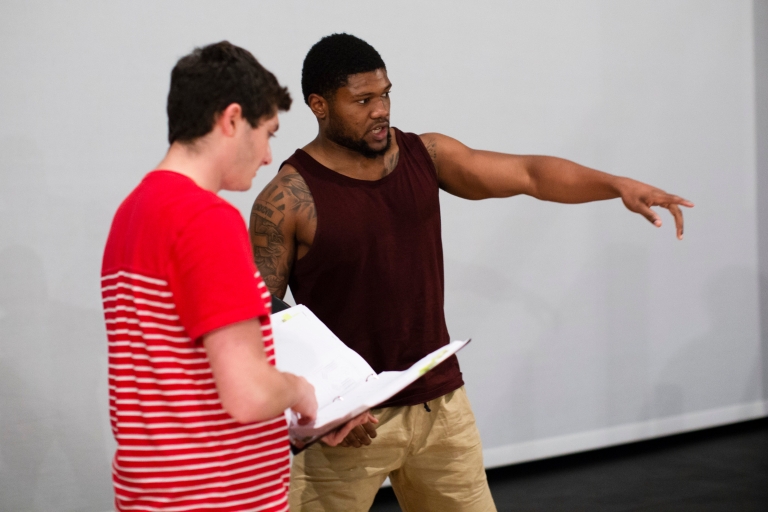 Now with "Barbecue" coming up, Arnold – who is pursuing a master's degree in safety management – is ready to debut his acting skills to a full crowd. He said that working with students majoring in acting has been another great learning experience.
"Barbecue" is a comedic satire involving two families and a troubled daughter. Arnold plays James T, the father of a family with a troubled daughter.
"The show provides me with experience, just like an acting class. With eight shows, that's eight times to practice and be better than the next. That's what I love about theater," Arnold said. "The show has such a unique plot that ties in racism, satire and family relationships. My character is extremely interesting and has challenged me."
He said that habits he developed from playing football over the years transferred to the stage.
"The energy and competition I got from football has prepared me more than I ever could have thought," Arnold said. "I used to stay up late watching football films. Now I stay up late rehearsing lines for an upcoming Shakespeare play. I am thankful for that discipline."
Want to see 'Barbecue'?
He wants to continue to act in shows for IU and find summer theater opportunities. He was able to come up with a plan that would provide him with financial support while still giving him the ability to work toward a career in acting. With his future master's degree, he says that he will be able to work at a job that he enjoys and try to break into acting. He hopes to end up in Atlanta.
"Being able to tell a story to a crowd is my favorite part about acting. All eyes are on us, and we are telling a story that no one has heard before," Arnold said.