Two campus leaders who have been serving students at Indiana University Bloomington for nearly two decades have taken on reimagined roles in the Dean of Students Office within IU's Division of Student Affairs.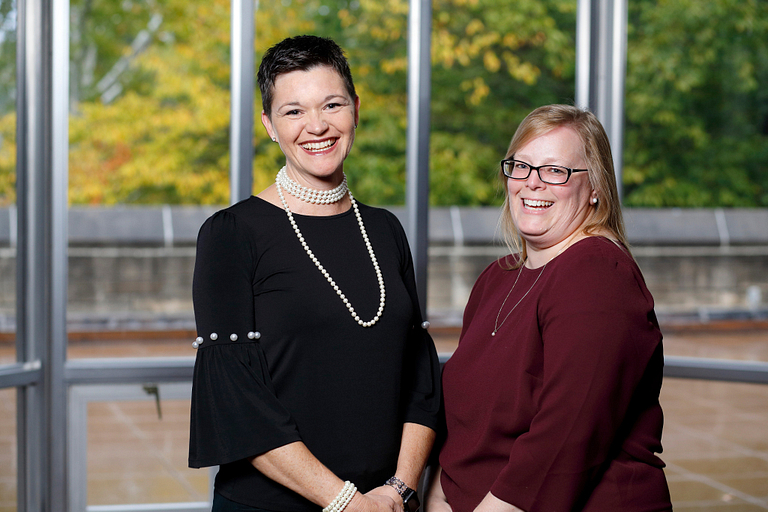 Sara Ivey Lucas is now the assistant dean for student care and parents, and DeeDee Dayhoff is assistant dean for student services and concerns. Changes in the structure of the division came after Dave O'Guinn was announced as vice provost for student affairs and dean of students in May.
According to Ivey Lucas, students are coming to IU with higher-level issues and more exposure to resources for mental wellness and other needs than in the past, requiring IU to adapt and improve its student services.
"Students are expecting more and more from the university in regard to resources, and leadership recognized that we weren't able to provide that with an organizational structure similar to what was in place in the mid-1980s," Ivey Lucas said. "We appreciate the recognition from campus of what it takes to do this work."
Ivey Lucas and Dayhoff work together to ensure students on campus have access to an array of resources for success, determine what new resources are needed, help students decide if this is the right time or place to be a student, and encourage them to find and follow an educational path that works for them.
"It's fantastic to expand our services to support the well-being of students," O'Guinn said. "Thanks to Sara and DeeDee's experience working closely with students, the division is providing invaluable resources and extending our commitment to IU's culture of care."
Both Ivey Lucas and Dayhoff came to IU Bloomington as freshmen in 1989. Ivey Lucas lived in the Collins Living-Learning Center for four years, eventually working as a residence assistant. As graduation approached, she realized she wanted the work she loved as an RA to become her career. She completed the IU School of Education's Higher Education and Student Affairs master's program and began her career in Residential Programs and Services. In 2015, she transitioned to a role with the Dean of Students before taking on her current position.
After receiving her Bachelor of Arts in psychology and working in the field for a few years, Dayhoff returned to IU to obtain a master's in social work. She completed a practicum during graduate school with IU's Counseling and Psychological Services, and after working at a counseling center in Greencastle, she returned to IU. In total, she served at Counseling and Psychological Services for nearly 18 years before transitioning to the Office of the Dean of Students last month.
Dayhoff said she plans to use her years of experience as a therapist and social worker to bring a unique lens to student services and conceptualize student issues in a new way.
"It's an honor to do this work and bear witness to this chapter of someone's life that is so full of opportunities as well as challenges," Dayhoff said. "I believe students are incredibly resourceful, but the safety net the division provides to them is absolutely crucial."
Ivey Lucas said she feels she has a responsibility to provide the same support to IU students that she received from administrators when she was a student.
"Having had undergraduate experiences where I was able to meet Chancellor Wells and sit in on meetings with Ken Gros Louis, there's a part of me that feels an obligation to live their legacy," she said. "I feel driven to provide the care that I watched them provide to students on the campus."
The assistant deans rely on information and cooperation from staff and departments across campus including the counseling center, sorority and fraternity life, the dean of student conduct, international services, the chief of police, and more to create a safer campus community.
They also rely on the help of faculty and staff who interact with students on a daily basis. When IU employees come forward with concerns about a student, Ivey Lucas and Dayhoff are able to combine that information with other knowledge about the student to address and prevent issues more quickly. The two also act as a resource for faculty and staff who feel they are not equipped to help a student who has asked for it. They frequently meet with faculty and staff to discuss strategies or create behavioral intervention plans.
"Sometimes I sense hesitation or fear from faculty and staff that they're being a bother or that their concern isn't worthy of being noticed," Ivey Lucas said. "Part of what I learned from Wells and Gros Louis is that it's not any one person. It's all of us on campus. We all have to do our part."
IU faculty and staff who speculate that a student may need assistance from student affairs should complete a Care Report online.