BLOOMINGTON, Ind. – The Sidney and Lois Eskenazi Museum of Art and the School of Art, Architecture + Design at Indiana University have announced a transformative estate gift, with an estimated value of close to $4 million, from painter, collector and IU Professor Emeritus of Fine Arts William "Bill" Itter. The endowment portion of the gift is matched as part of the $3 billion For All: The Indiana University Bicentennial Campaign.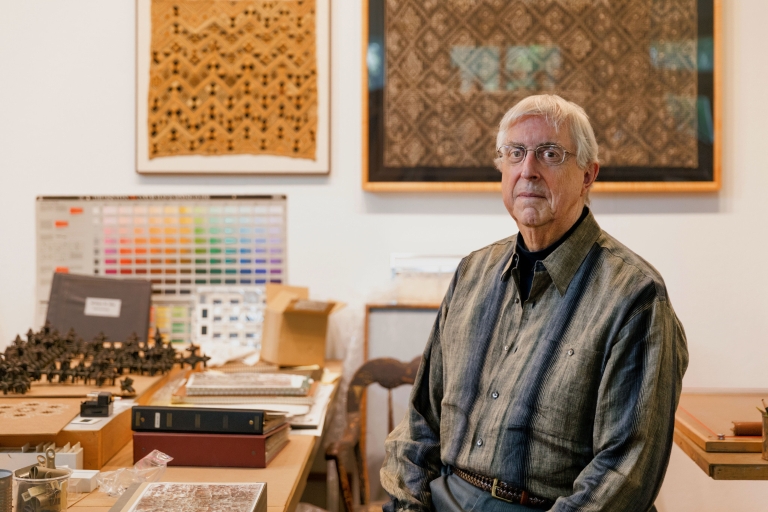 Itter's unique gift to the IU Eskenazi Museum of Art includes an exceptional collection of more than 500 ethnographic objects composed primarily of African ceramics, textiles and baskets. Itter and his late wife, Diane, a pioneering fiber artist whose work can be found in major museums across the United States and in Europe, began collecting in the 1970s. Attracted by the beauty of handmade ethnographic objects, the Itters were inspired to form an objects library that contributed to and reflected their studio and teaching disciplines.
The Eskenazi Museum of Art's internationally recognized sub-Saharan African art collection is considered outstanding, and Itter's gift will greatly enhance these holdings. An illustrated catalog of works from Itter's collection will be published by the museum and Scala Art Publishers in 2019. Diane Pelrine, the former Raymond and Laura Wielgus Curator of Arts of Africa, Oceania and the Americas at the museum and a longtime colleague of Itter's, will author the text for the book.
The gift to the Eskenazi Museum of Art will also establish the William and Diane Itter Museum of Art Conservation and Research Endowment, which will allow either the hire of an objects conservator or further research into the museum's collections. And a new objects viewing room will be named in honor of Bill and Diane Itter. This new space, which will offer students opportunities to engage directly with art, is being developed as part of the $30 million renovation of the museum's I. M. Pei–designed building, anticipated to reopen in fall 2019.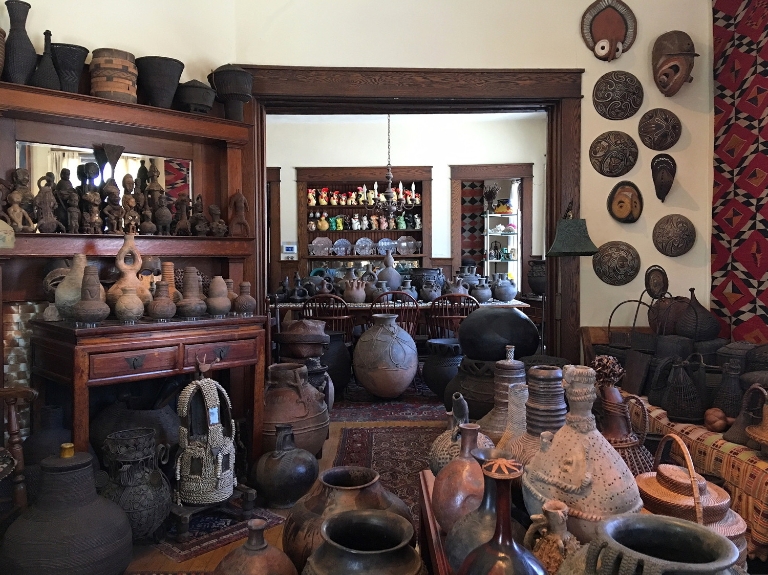 "For more than 35 years, Bill passionately taught generations of artists at Indiana University, as did his late wife, Diane," said David A. Brenneman, the Wilma E. Kelley director of the Eskenazi Museum of Art. "Together they have made tremendous contributions to the art world through teaching about, collecting and creating works of art. We are grateful to be stewards of their tremendous collection, and we are thrilled to have the opportunity to conduct new research on our collection and preserve works of art for generations to study and enjoy."
Itter's gift to the School of Art, Architecture + Design will fund two graduate teaching awards and four new graduate fellowships, named in honor of Bill and Diane, who earned her MFA at IU and was an IU fine arts faculty member.
"Because Bill was such an influential teacher, these fellowships are a wonderful linkage between his own skills as a teacher and a way to encourage grad students to develop teaching skills," said Peg Faimon, dean of the School of Art, Architecture + Design.
For All: The Indiana University Bicentennial Campaign is taking place on all IU-administered campuses, including IU Bloomington, IUPUI, IU East, IU Kokomo, IU Northwest, IU South Bend and IU Southeast. The campaign will conclude in June 2020 to coincide with IU's bicentennial year celebration. To learn more about the campaign, its impact and how to participate, visit forall.iu.edu.
Founded in 1936, the Indiana University Foundation maximizes private support for Indiana University by fostering lifelong partnerships with key stakeholders and providing advancement leadership and fundraising services for campuses and units across the university. Today, the IU Foundation oversees one of the largest public university endowments in the country, with a market value in excess of $2 billion. IU is consistently ranked among the top four of Big Ten universities in annual voluntary support.
About the IU Eskenazi Museum of Art
The Sidney and Lois Eskenazi Museum of Art is a pre-eminent teaching museum on the campus of Indiana University. Home to one of the most significant university art collections in the United States, the museum houses works of art from nearly every art-producing culture throughout history. The museum is dedicated to engaging students, faculty, artists, scholars, alumni and the wider public through the cultivation of new ideas and scholarship.
About the IU School of Art, Architecture + Design
The School of Art, Architecture + Design was established in 2016 with a merger of the Department of Studio Art and the Department of Apparel Merchandising and Interior Design. Part of the College of Arts and Sciences, it brings together innovative programs, like the J. Irwin Miller Architecture Program, in a technology-rich environment that encourages collaborative learning.