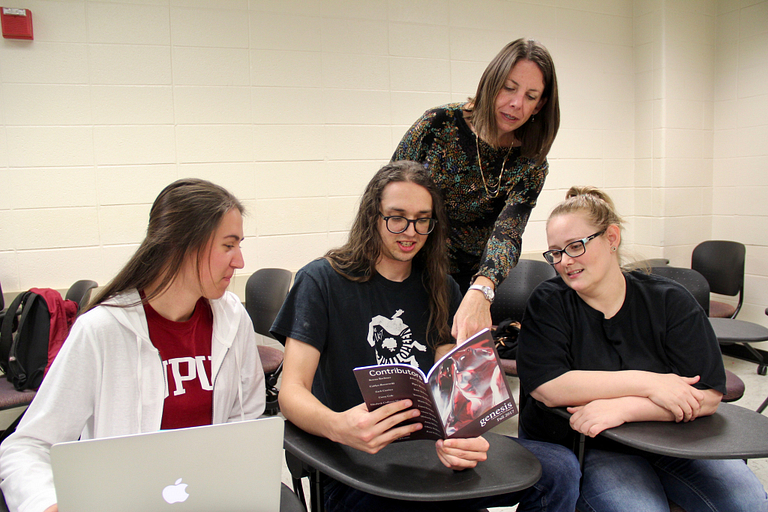 Veronica Baker's dual passions for science and creative writing have flourished during her three-plus years at IUPUI.
The senior's career goal is to combine her talents for biology and writing. Thanks to the Genesis literary magazine, it's not just cells she is putting under the microscope. As one of the biannual magazine's several editors, Baker helps dissect hundreds of submissions each semester from writers who hope to get published in the magazine, which debuted in 1972.
"I want to be a science teacher, but I also want to write on the side," Baker said.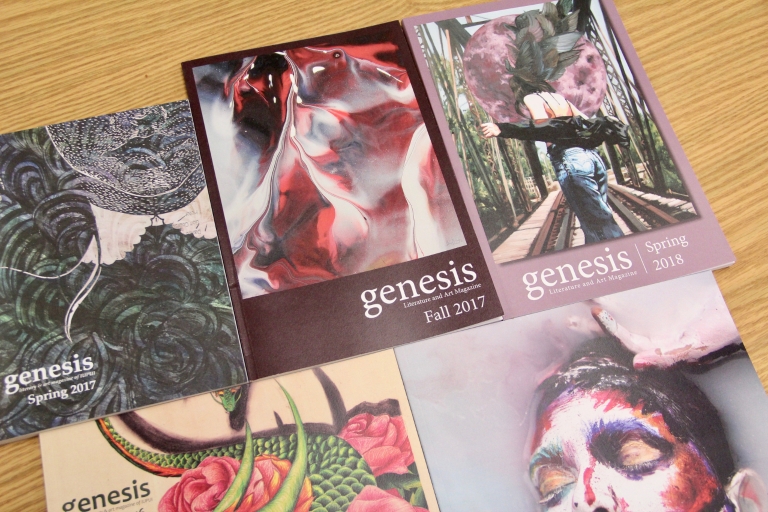 Genesis features poetry, short stories, essays and visual art submitted from students – graduate and undergrads. The pieces are scrutinized by the committee, and the magazine is designed in-house. The deadline for the Fall 2018 edition is Oct. 14.
Dating back 46 years, genesis is one of the longest-standing traditions on campus. Thousands of Metros, then Jaguars, got their first published credit in genesis.
"To have your work published is the first step in creating your career," said Ashley Williams, a managing editor for genesis. "Once you have that credential, it's easier to get your foot in the door."
Recent editions of genesis have shown well at the Indiana Collegiate Press Association. The publication has earned 10 statewide awards since 2016.
In the spring, genesis' team of editors considered about 200 submissions. There is no set amount. If 200 pieces meet the team's standards, then 200 pieces get in. All editors must have passed the Department of English's Literary Editing and Publishing course before joining the staff.
Genesis social
"We look at all of the pieces individually," said Baker, explaining that personal tastes and biases must be eliminated when critiquing a potential genesis piece. "It's usually more how the work is written – the content, the craft."
Every editor gets a read, and then they vote on whether the submission gets in. If it passes, the poem or story gets copyedited, placed, laid out via InDesign and printed.
While the planet becomes increasingly more digital and STEM-focused, genesis' success at IUPUI endures. Whether it's 1972 or 2018, and whether they've been writing creatively for years or just months, getting their work published in print is still a thrill for students. Caroline Niepokoj submitted her short story "The Wooden Girl" during the English creative writing major's sophomore year.
"I didn't really like the story, but I submitted it anyway," recalled Niepokoj, now a senior. "It got published, and I got really excited about it. I realized that I can actually write and actually knew what I was doing.
"It gave me more confidence in my own writing, my own capabilities and the craft."