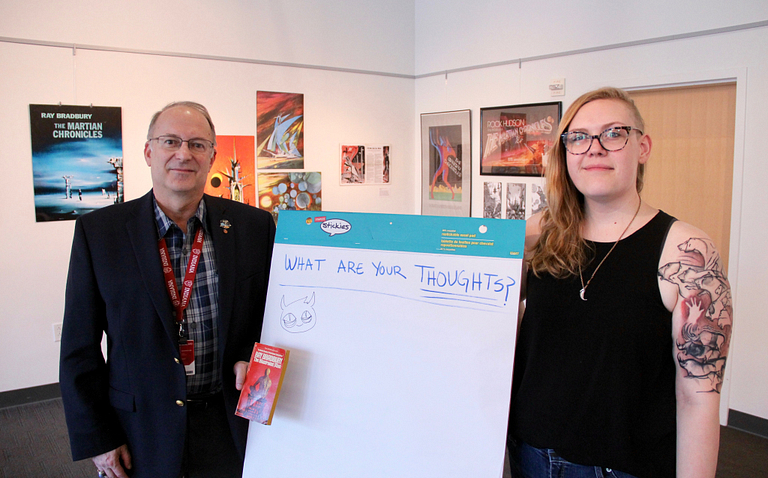 A deadly robotic hound, a sinister carnival pulling into town and a mysterious man covered from head to toe in tattoos. And what's up with that witch walking a giant lizard like it's a labradoodle?
Just in time for the Halloween season, the Center for Ray Bradbury Studies is presenting gems from its collection focused on the celebrated late fantasy/science fiction/mystery/horror writer's menagerie of weird imagery and beings through Nov. 2 at the Cultural Arts Gallery in the Campus Center.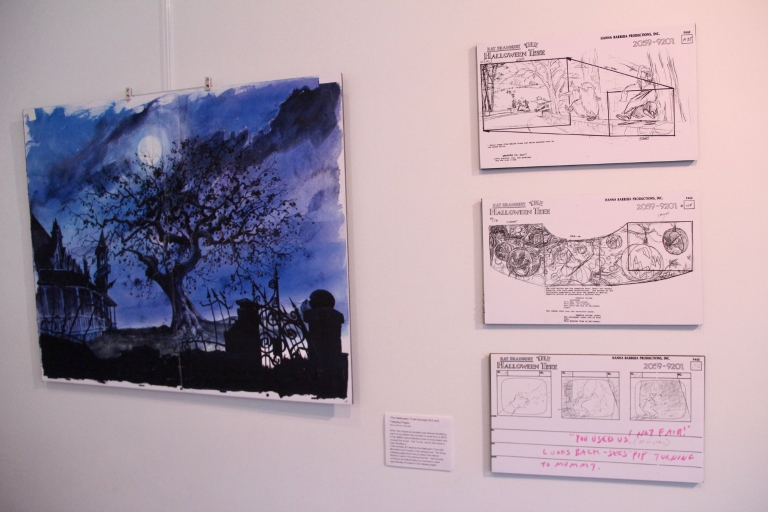 Abi Lindstedt, a museum studies graduate intern and exhibition curator at the Bradbury center, and Jon Eller, director of the Center for Ray Bradbury Studies and Chancellor's Professor of English, focused on the plethora of visual artifacts from Bradbury's visceral tales "The Halloween Tree," "The October Country," "The Martian Chronicles," "The Illustrated Man," "Something Wicked This Way Comes" and "Fahrenheit 451."
"There are thousands of illustrations on books, title art in books, illustrations throughout books, and in hundreds and hundreds of magazines," said Eller, who maintains numerous early and original author's off-prints of such artwork in the center. "So many illustrators from Europe and America would always vie to do Bradbury illustrations."
Most of the artifacts range in date from the late 1940s to the early 1990s. Lindstedt sought a "trans-media" approach. Of course, Bradbury's career largely predates the digital age, but his works were read and seen in almost every avenue available: books, newspapers, magazines, plays, musicals, movies and television. Examples of Bradbury's work and imagery inspired by his words in all of these media are displayed in the show, many one-of-a-kind.
Bradbury center honored
Each title gets a montage of paperback and hardback dustcover covers scanned from editions found in the Bradbury center. The mosaic approach displays the incredible number of artists that Bradbury worked with. A bit of a drawer himself, Bradbury would sometimes sketch ideas for his covers and other imagery, which would then be interpreted by the likes of Joseph Mugnaini, Ian Miller, Gris Grimley and even Ralph Steadman, best known for his work with and inspiration from Hunter S. Thompson. Of course, most covers were the result of artists given a longer leash.
Looking at the numerous takes of the same books, certain editions leap from the wall. Perhaps it was the surrealistic take from the artist, or maybe that was the version you read back in middle school. The assemblage asks, "Which editions did you read? Do you have any of these?"
Copies of sketches and proofs given to Bradbury from an army of artists and publishers are all archived in the center. They were loosely organized in Bradbury's home offices before arriving at IUPUI. A dramatic rendition of the mechanical hounds from "Fahrenheit 451" by Mugnaini was found underneath one of Bradbury's desks in a basement before it was rescued and donated to the center.
"There was a shoeprint on it," Lindstedt said. "There's actually artwork on the back of the piece as well."
Upcoming exhibits at the Cultural Arts Gallery
Originally developed in the 1960s by Bradbury for Legendary animator Chuck Jones, the evolving story-to-animated-film concept is represented by a pair of early 1990s storyboards for the Hanna-Barbera take on "The Halloween Tree," a project that was decades in the making.
"Ray wasn't sure they could do it, but then he got the storyboards," Eller explained. "We have more than 1,000 panels on a number of sheets. We have about 50 pages where Ray writes on his copy to talk to them about narrative issues while they are developing it."
Lindstedt and Eller hope viewers will sit and thumb through copies of some Bradbury classics scattered on the gallery's center table. Two easels and sticky notes are available to share their thoughts and memories of the acclaimed American author that gave the world some of the darkest, most unnerving tales in modern literature.
"He is the October man," Eller said. "Edgar Allan Poe was called the October man 200 years ago, and it's Bradbury today."