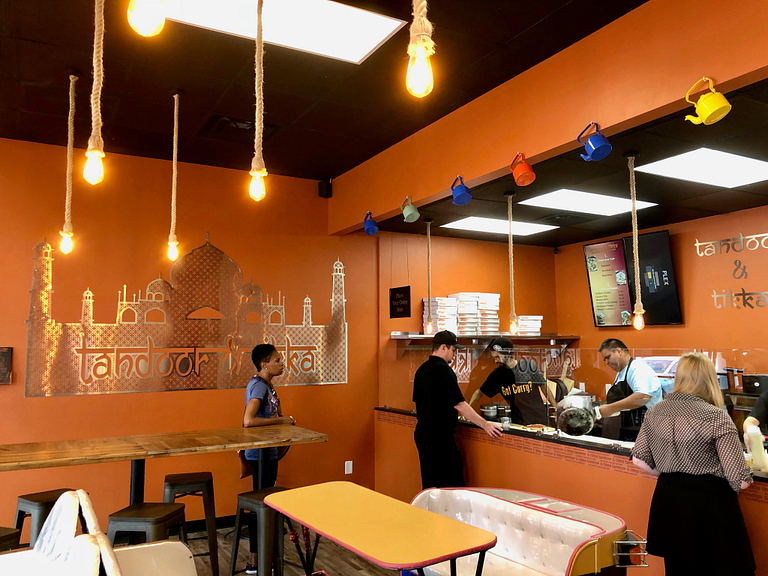 Indian cuisine gets a unique concept at Tandoor and Tikka, a new restaurant located near IUPUI and the Indiana University School of Medicine at 805 W. 10th St.
In the style of Chipotle or next-door neighbor Sushi Boss, customers build their own dishes. The steps are simple, if the flavors aren't exactly familiar:
Start with naan flat bread or basmati rice to create a bowl, pizza or "naanwich."
Proteins come next in the form of ground, seasoned tandoori chicken; minty basil paneer; masala chickpeas; coconut fish; turmeric ginger shrimp; and savory masala lamb. Some proteins are already marinating in sauces while others require some extra flavor in the form of curries.
The curries range from mild to hot. Orange, zesty-yet-mild tikka masala and korma sauces are popular choices, as is the saag, a blend of leafy greens and spices. The medium-heat sauce is madras, which has a coconut tinge, and the hottest is the classic vindaloo, a red sauce with a hint of garlic.
Tandoor and Tikka explores the versatility of Indian cuisine by providing more than a dozen topping options. It's common to see cilantro, onions, bell peppers and mint on classic Indian dishes, but selections with the naanwich in mind are also available: Cucumbers, raw tomatoes, cabbage and sprouts can cool down the spice without sacrificing flavor.
Each dish is finished with a final topping of chutney. Select or combine tangy tamarind, minty cilantro, mango, chili peanut, coconut yogurt and others.
Tandoor and Tikka's samosas are recommended for a side dish. The chicken samosas feature the same ground chicken, while the masala samosas are vegetarian, containing a spicy blend of potatoes.
On the menu
The restaurant's interior is generally sleek and modern, though several tables furnished out of old Indian rickshaws are some of the most interesting restaurant seating in Indianapolis.
Tandoor and Tikka is open from 10:30 a.m. to 10 p.m. Monday through Saturday and 10:30 a.m. to 9 p.m. Sunday.