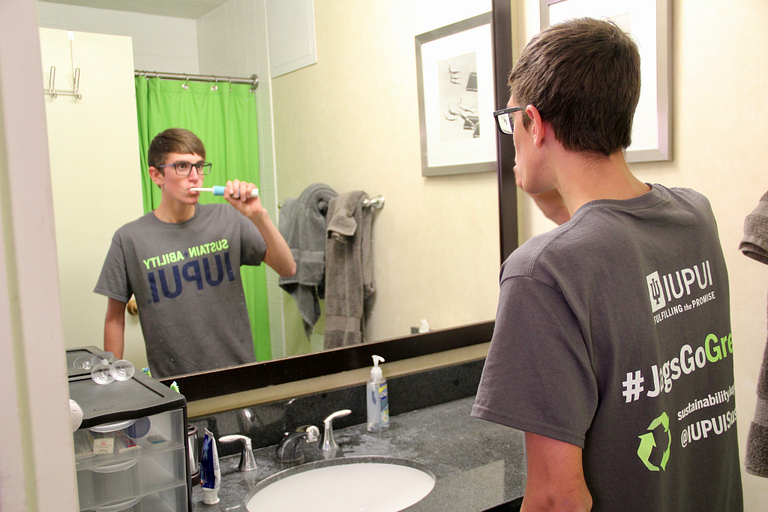 Three IUPUI residence halls will compete against each other this fall, and the winner will be the planet.
Sponsored by the Office of Sustainability, the Energy Challenge pits Tower, Ball and North halls against each other in an effort to reduce energy use through behavior change starting Monday, Oct. 22, through Nov. 12. By using less energy, the university makes its carbon footprint smaller in many ways.
"Reduce your use and try to make IUPUI a more sustainable community," said Dylan Patterson, a junior studying sustainability management and policy and the energy intern for the Office of Sustainability.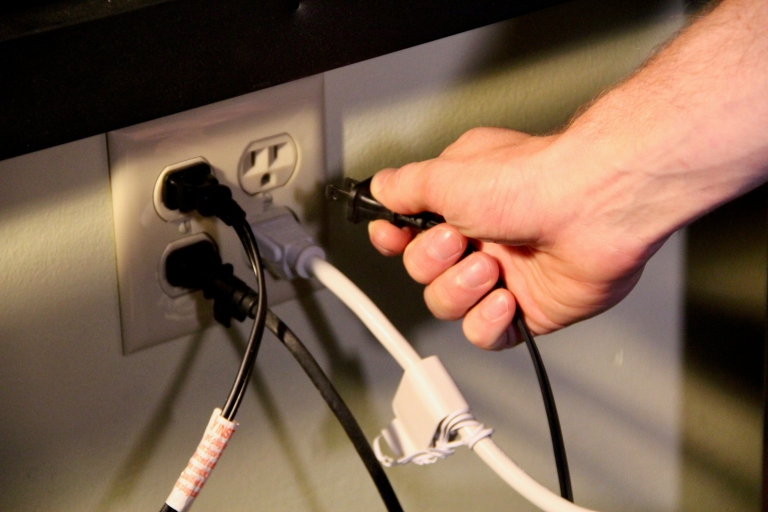 The rates will be monitored online against previous months' usage via EnergyCAP, a meter data tracking service. Each hall has already set a baseline energy rate to use for comparison. The hall that reduces the most will receive an "NCAA-style" banner to hang up in the Campus Center.
The challenge will return in 2019, with more campus buildings expected to compete. The funding stemmed from a Greening IUPUI grant.
Patterson said there are many easy actions that can be taken to reduce energy cost, not only in an IUPUI residence hall but at home as well.
Starting your day
Play a song on your phone and use the shower for only that one song.

Keep the faucet off when brushing your teeth.

Use natural light during the day.

Lower the thermostat.
Doing laundry
Wash full loads in cold water and then line dry.
Managing phantom power
Use a surge protector and be sure to unplug all electronics when not in use.
"Your electronic devices could use up to 25 percent of their energy just by being plugged in – you don't even have to have them turned on," Patterson said. "So unplug everything when you leave the room."
Getting around
Patterson suggests students use stairs instead of elevators. It saves energy while increasing one's heart rate and burning calories.
Description of the following video:
[Dylan Patterson appears on screen in front of an artful background: My name is Dylan Patterson.]
[Title appears in upper-left corner: IUPUI Presents]
[Patterson speaks: I am the energy intern with the IUPUI Office of Sustainability. And I'm here to talk about the first IUPUI Energy Challenge.]
[Title appears: Dylan Patterson, Energy intern, Office of Sustainability, junior]
[Image of the Energy Challenge ad appears: A series of three drawings of a lightbulb with an electrical plug and a dripping faucet in it are across the top. The panel is green. Under the panel, on white, is "ENERGY CHALLENGE." The bottom third of the ad is divided into two parts, separated from the top sections with a green bar all the way across, and divided vertically between the two with another green bar. Left side says "Do your part. Reduce your use. October 22 - November 12. sustainability.iupui.edu." The right side says "A chance to save the world" with an asterisk, and then below it, in small type, "Results may vary, but we're all in this together"]
[Patterson speaks: And that is a challenge among the buildings here on campus to reduce their energy use based on behavior change of the people that live and work in those buildings.]
[Video: a hand turning off a light switch, a hand turning off a faucet, a clothes washer doing laundry]
[Patterson speaks in voiceover during the images: So that can be done by turning off lights when you leave the room, turning off the water when you're not using it, using full loads of laundry rather than half loads.]
[Patterson speaks onscreen: The overall goal of the challenge is to reduce energy use of IUPUI's campus through behavior change.]
[Screen fades to black]
[Patterson speaks in voiceover: And we'd like you to do your part and reduce your use, and try and make IUPUI a more sustainable community.]
[IU trident appears]
[Title appears: IUPUI Fulfilling the promise]
[Words appear: iupui.edu]
[End of transcript]