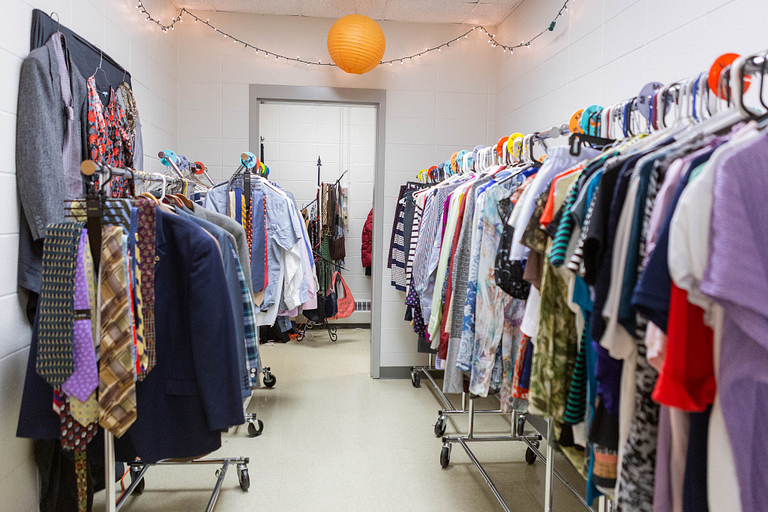 IUPUI students are always styling, but with the opening of Paw's Closet, it's even easier for them to get that perfect look.
Located in Cavanaugh Hall, Room 117, Paw's Closet offers women's and men's clothing to students for free. From business to casual to business casual, the racks are full of shirts, pants, skirts, ties, shoes, dresses, coats, jackets, jeans, belts and suits.
After signing up for the service and scanning their CrimsonCard, students can take home four clothing items and two accessories – jewelry, scarves and leggings – per month.
"We have both business attire and everyday wear," said Shaina Lawrence, assistant director of student advocacy and support.
Paw's Closet opened Oct. 9 and saw almost 20 students score free threads. The service's hours are 9 a.m. to 1 p.m. Tuesdays and 3 to 7 p.m. Wednesdays. Donation drop-off points are in the Campus Center, Room 270, and in the Business/SPEA Building, Room 3045.
Thanks to an initial donation from Indianapolis businesswoman Jennifer Harris, the birth of Paw's Closet immediately gave students a go-to, on-campus space to get clothes for job interviews. Harris, who struggled with affording new business attire early in her career, first helped the Nina Scholars program with clothing before learning about the Paw's Closet initiative.
"I've been collecting clothing and accessories for over a year, looking where to plug in," Harris told The Indianapolis Star earlier this month. "I found this as a great opportunity to bring in the clothing and help launch Paw's Closet."
The L-shaped space is only 237 square feet, but there is still room for more donations. A clothing drive Nov. 26 through 30 is looking to restock and get students ready for winter interviews.
"We're accepting new shoes, new earrings, new socks and new leggings as well as used purses, jewelry and scarves," Lawrence said. "And we need more men's donations."