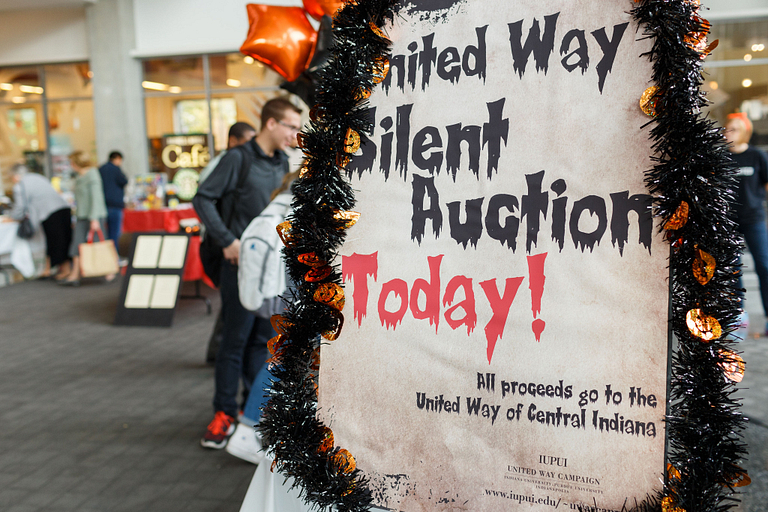 Dreaming about a vacation? Need something new to hang on your wall? How about just something to nibble on for that next 3 p.m. snack?
From 11 a.m. to 1 p.m. Oct. 31 in the Campus Center, the United Way Silent Auction and Fall Dessert Showcase offers the opportunity to give to a great cause while purchasing a unique item or sweet treat.
"This fundraiser has been an excellent cap to our annual United Way campaigns, and we encourage faculty, staff and students to stop by to peruse and possibly bid," said Lisa Elko, IUPUI's United Way campaign project manager.
Items up for bidding include:
One-week condo rental in Sanibel Island, Florida (donated by IUPUI employee Jeff Dean).
One-week Camp Brosius vacation (courtesy of the School of Health and Human Sciences).
Handmade quilt/wall hanging (made by IUPUI employee Jill Lyon).
Keurig coffee basket (donated by Printing Partners).
Vintage IUPUI artwork (donated by the Office of Community Engagement).
Indianapolis Colts/JW Marriott hotel package (donated by Indiana Members Credit Union and JW Marriott).
Seven-course gourmet dinner by chef Eric Braun (donated by Braun).
Other items were donated by the Eiteljorg Museum, the Indianapolis Museum of Art, Conner Prairie, the Children's Museum of Indianapolis, Dark Armies and Footlite Musicals.
In the Fall Dessert Showcase, tickets are $5 for an item and drink, or for two items. Items include:
Mini cupcakes in fall colors.
4-inch Halloween-themed cookies.
Pumpkin doughnut holes.
Butter cookies with fall colors.
Hot apple cider.
Hot chocolate.
Questions can be directed to Lisa Elko at lelko@iu.edu.