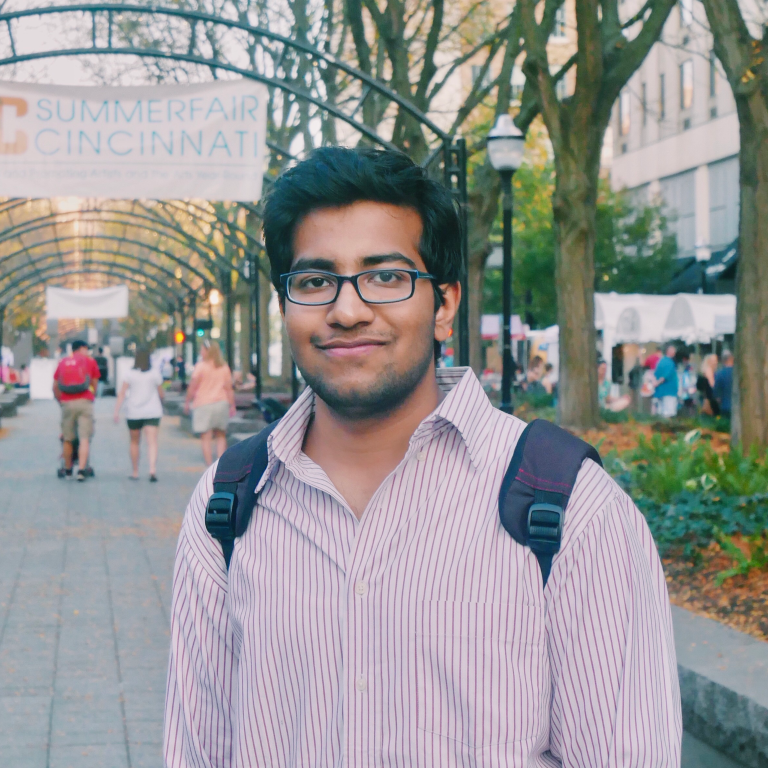 Help me, Obi-Wan.
Diving into the world of augmented and virtual reality may bring to mind something from "Star Wars" – a projected holographic Princess Leia making a plea for help. What was mere imagined space-age technology when the original film was released in 1977 has become a reality today, and IUPUI's Rahul Jain is helping to make that happen.
It's been a busy year for Jain. The master's student in human-computer interaction at the School of Informatics and Computing was part of a team that won two hackathons, including one through WayRay. That competition earned them a $5,000 grant for an augmented reality, or AR, prototype that helps firefighters respond to calls more quickly and efficiently. He also interned at Google, working on a project he's not even allowed to talk about.
See the problem, solve the problem
Whether competing in a hackathon, interning at Google or working on a class project, Jain takes a pretty straightforward approach: Identify the problem, then find the solution.
He says it's all about talking to people, finding the pressure points in their lives or jobs, and then searching for a way technology can alleviate those challenges.
What is human-computer interaction?
"We learn about how to use data and storytelling to understand problems of different people and create solutions for them," Jain said of how lessons in the classroom translate to real-world applications. "People really like to get involved in the real stories of real people, so that's how we come up with those real problems and solve them."
That was exactly how Fire Ray, the team's prototype for emergency responders, came about. Jain and his team spoke with officers at fire stations in Indianapolis and Carmel and learned about challenges created by their outdated computers.
Although Fire Ray is still in the development phase, the intention is to provide first responders with AR technology that allows them to see traffic scenarios before the firetruck reaches them. Fire Ray will also provide real-time data about where trucks from other stations are located, and how best to navigate or what kind of turn radius the truck will need on the way to a fire, all by using AR.
With AR, an image is projected on the real world. Compared to virtual reality, where an entirely new world is created via computer, augmented reality adds data to what you're actually seeing around you. When users add a cat face filter to a photo of themselves on Snapchat, that's augmented reality.
Judging by Fire Ray's early success, AR is clearly valuable in life-and-death situations. Other uses might include engineering, where the technology can help engineers identify and correct structural issues in bridges. It's also becoming increasingly valuable in education, helping students to understand human systems in biology classes or to see how the solar system works.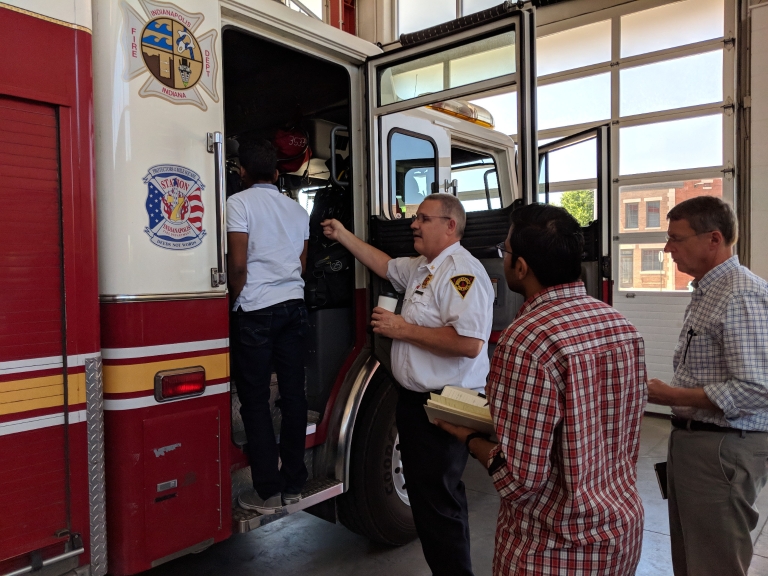 As part of his capstone project, Jain is developing AR apps for students working in wetlands areas.
"We found the problem was that a lot of students go on the field trips, but they're not interested. They're constantly on their phones, and they don't care about the environment," Jain explained. "So to make them more aware, we figured how we could use augmented reality or gamification to make the environment more engaging for them. You could simply put a camera in front of a tree and see what species this tree is, how old this tree is. You can show this information and share it with your friends."
Google it
As if developing AR for firefighters and environmental studies weren't enough, the native of Mumbai, India, took it a step further when he traveled to Mountain View, California, for his summer internship. After five months of applications, tests and interviews, Jain joined the hardware team at Google, where he worked on product design.
He signed a nondisclosure agreement, making talking about the specifics of his project off-limits, but that doesn't diminish the personal impact of his experience.
"They treat interns as full-time employees, and we get the same amount of work and responsibilities, the same amount of access to information inside. We could literally go and look at any information, any piece of code or any design that had been done before and take it from there," Jain said. "They were very open in the sense that they allowed students to come in and take lead on their project and make their contribution count like a real thing, not just something that won't be pushed in front of real users."
For the foreseeable future, Jain hopes to stay in product design as long as he can continue making an impact with his technology solutions.
"As designers, we try to see what problems exist and try to make it easier for people to use technology. I would like to continue doing that and explore different technologies, like mixed reality or gesture recognition. How can we solve those hard problems and make technology work for you rather than you work for it?"