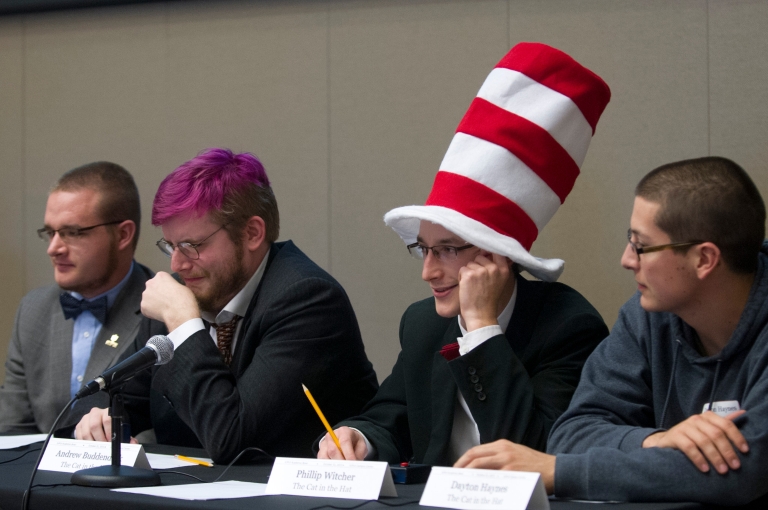 So you think you're good at trivia, huh? Well then, let's put your knowledge to the test. Check out this question that was asked at last year's IUPUI Honors College Academic Bowl:
As a member of the 106th Infantry, what Indianapolis native was captured during the Battle of the Bulge and witnessed the firebombing of Dresden?
(If you want to know the answer, read to the end of the story.)
The IUPUI Honors College Academic Bowl is a real-life trivia game similar to the once-popular app Trivia Crack. Participating teams are asked challenging questions written by the National Academic Quiz Tournaments and try to be the first to "buzz in" and answer correctly. Topics include everything from chemistry and classic literature to geography and pop culture, all of which are similar to Trivia Crack.
But trivia isn't the only creative attribute of the day – there always has to be a quirk. The quirk is – drum roll, please – that it's themed! Last year, contestants were asked to dress up like Dr. Seuss characters, but this year, students should wear an outfit related to their favorite retro video game.
Participation is open to any student, whether or not the Honors College is your thing. In the past, teams have come from IPFW, IU South Bend and IU Kokomo to compete, and first- and second-place teams won items like IUPUI Honors College backpacks and thermoses. IUPUI even sponsored last year's second runner-up team to compete in the sectional tournament in Chicago against other schools.
IUPUI Honors College Assistant Director Shane Collins has helped run the campus event the last four years.
"The IUPUI Honors College Academic Bowl is a fun way for students to show off how smart they are while getting to know other students who are also interested in random facts," Collins said.
Sophomore and American Sign Language/English Interpreting major Ruth Kurowski couldn't help but agree with Collins. She said that competing in the Academic Bowl was quite a thrilling experience for her and her friends.
"I enjoyed dressing up and competing with other students, but my favorite part was coming back to win a round after being down over 100 points," Kurowski said. "Also, participating with my friends helped make us a closer group. I'm even rooming with one of my teammates right now."
Teams of up to four still have time to sign up for this year's competition. Most years, the game attracts roughly eight to 10 teams to the fourth floor of the Campus Center. The 2018 Academic Bowl is IUPUI's ninth year for the event. It will start at 9 a.m. Saturday, Oct. 27.
(Now, the moment you've all been waiting for: The answer to the trivia question is Kurt Vonnegut.)