INDIANAPOLIS – The Health Resources Services Administration has awarded the Indiana University School of Dentistry a $1.6 million grant to address oral health care workforce shortages in underserved communities.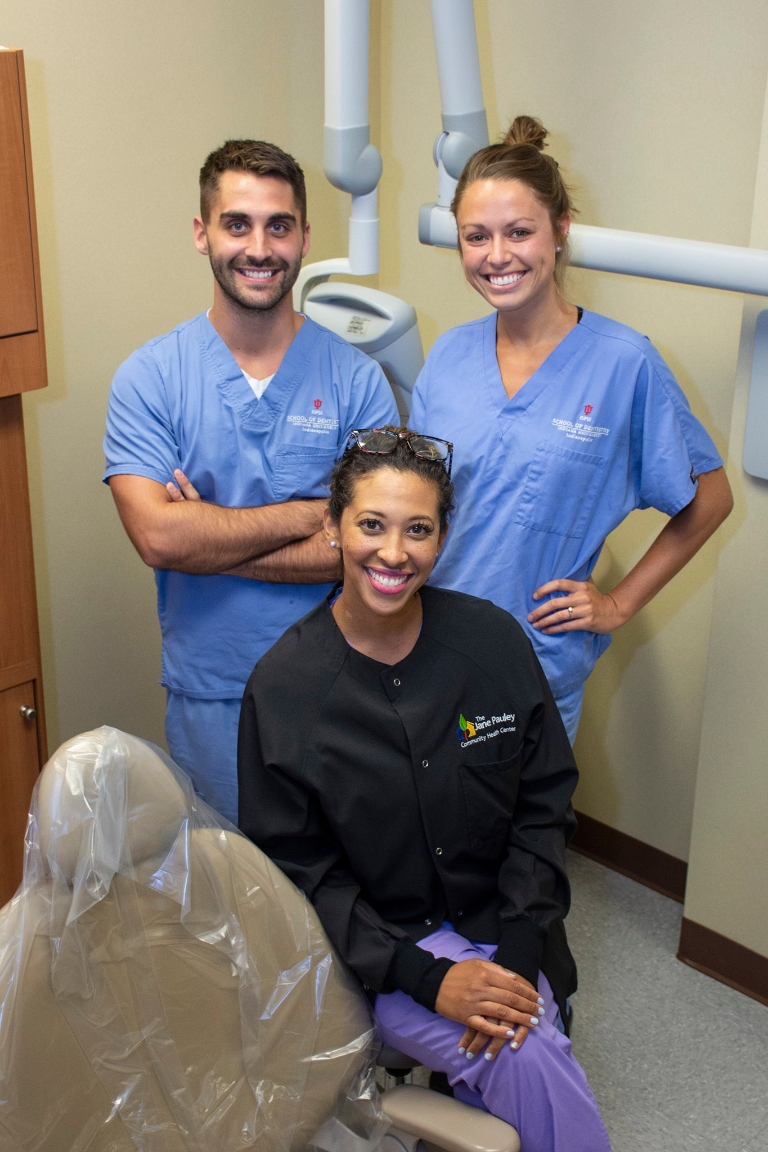 The grant, "Strengthening the Oral Health Workforce in Indiana through an Innovative Community-Based Dental Education Model," is a collaboration among the dental school, the Bowen Center for Health Workforce Research and Policy at the IU School of Medicine, and the Indiana State Department of Health/State Oral Health Director.
"This exciting project further deepens the dental school's commitment to IUPUI's Strategic Plan goal of community engagement while teaching our students about dental public health issues to better serve the people of Indiana," IU School of Dentistry Dean John N. Williams said.
"The aim of the grant is to create sustainable, high-quality oral health services that increase access to high-quality care for populations living in designated Dental Health Professional Shortage Areas," said Dr. Tamara Button, the dental school's director of community-based dental education and the grant's principal investigator.
Through this grant, the dental school will expand its community-based dental education program, in which fourth-year dental students work in two-week rotations to provide dental care at a community clinic in a Dental HPSA, beginning this fall, Button said.
"The community rotations will be taken to a new level of innovation by integrating fourth-year dental students into interprofessional teams that will address two of Indiana's key health priorities: childhood obesity and substance use disorders, specifically opioid abuse, in a culturally competent manner," Button said.
Fourth-year dental students began their two-week community-based rotations Aug. 27 at the following Indiana locations:
Eskenazi Health Center Cottage Corner, Indianapolis
Eskenazi Health Center Grassy Creek, Indianapolis
Eskenazi Health West 38th Street, Indianapolis
The Jane Pauley Community Dental Center, Indianapolis
HealthLinc Community Health Centers, Valparaiso and Michigan City
Matthew 25 Health and Dental Clinic, Fort Wayne
Wabash Valley Health Center, Terre Haute
IU's dental students will also rotate through the new Stone Family Center for Health Sciences in Evansville this month.
The Health Resources Services Administration funding is a four-year grant beginning Sept. 1, 2018, and ending Aug. 31, 2022. HRSA has granted $1,592,502, and the IU School of Dentistry is matching the grant with $709,096, for total funding of $2,301,598.
About the IU School of Dentistry
The only dental school in the Hoosier State, the Indiana University School of Dentistry offers an extraordinary learning environment in which teaching, research and community service come together in the best way possible for the preparation of tomorrow's dental professionals. Founded in 1879 as the Indiana Dental College, the school is in the heart of the state capital of Indianapolis on the IUPUI campus and services more than 19,000 patients per year.