This fall, Indiana University Bloomington introduced the J. Irwin Miller Architecture Program, a new master's degree program offered in the School of Art, Architecture + Design.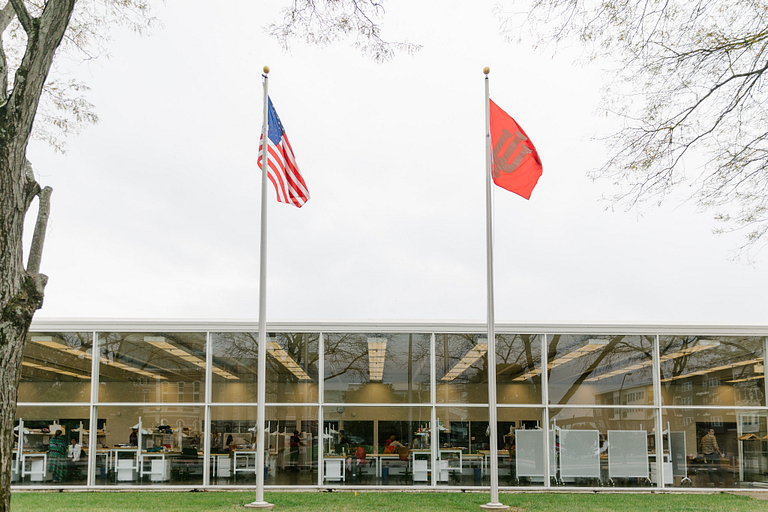 Mainly based in Columbus, Indiana, the program is named for Miller, a Columbus native who transformed the city into a hub for modern architecture and public art.
The first cohort numbers 20 students. Now that they've had time to adjust to their new classes and peers, Inside IU caught up with three students to learn more about their journey:
Stacy Hardy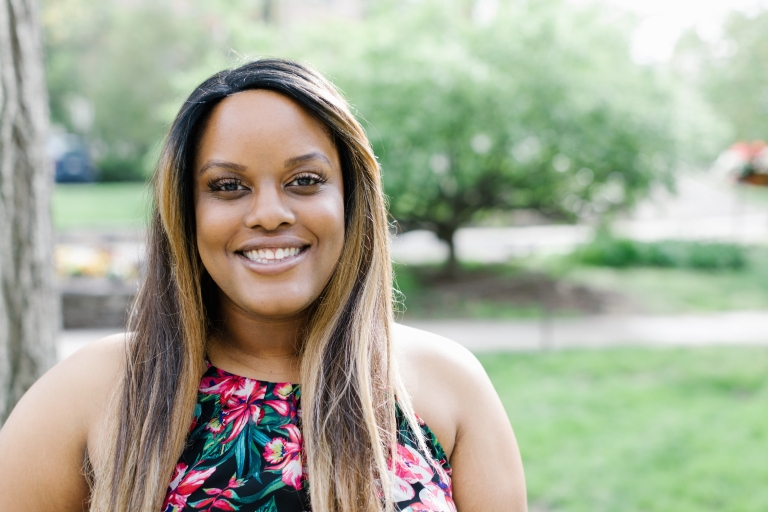 Stacy Hardy recently studied interior design at IU, with a minor in studio art. She got involved with architecture when she interned for the IU Architect's office and said she's always loved the beauty in creating places for people to enjoy. In the future, she hopes to find a position in an architectural firm to gain experience, so she can one day open her own firm.
Q: How has being a member of the program's first cohort influenced your experience?
A: It has impacted me, thinking about all of the future students to come. I feel an extra sense of responsibility for the outcome of this program. This is a history-making moment in my life, and I had no idea I'd be here at the beginning of this year.
I'm very humbled and proud to be in this program. I have enjoyed getting to know my fellow classmates, and I know this will be something I remember for the rest of my life.
Q: What is the biggest challenge you've faced so far this semester?
A: I would say my biggest challenge is time management. It is important to find that healthy balance between school/work life and personal life. While I may spend many hours working and I enjoy being here, it is important to take the time away to refresh and take care of myself.
Q: Where do you see IU's program in the future?
A: I see IU's program being a much-envied program among others. Architecture was something that was missing from IU. We have amazing instructors, we study in a small yet architecturally significant city that features the works of many great architects, and we get to travel the world to see so much more. I am content with the structure and organization of this program, and it is an amazing opportunity that many will come to explore in the future.
Ross McKnight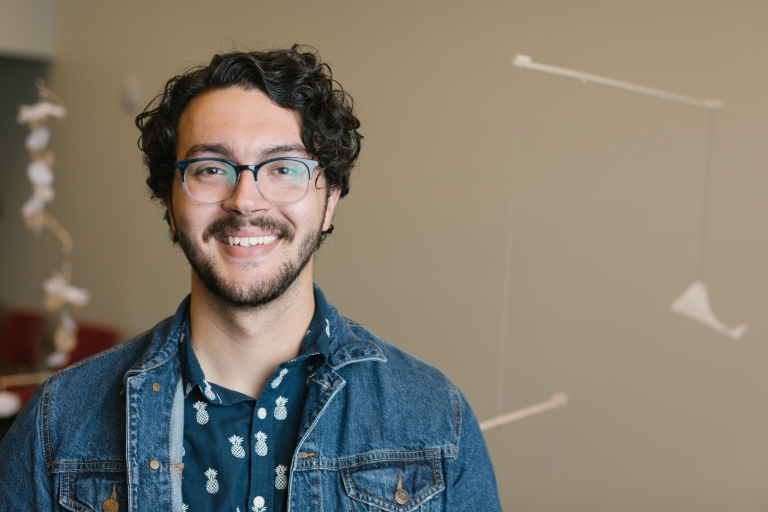 Ross McKnight graduated in 2018 from Southern Illinois University, where he studied architecture and environmental studies. His pursuit of architecture came from a career test he took in high school that recommended he become an architect, art teacher or garbage man. He's always had a passion for drawing, building and creating in addition to art, math and physics, so he decided to pursue architecture. In the future, McKnight hopes to either work or become a partner in an architecture firm, working as a Leadership in Energy and Environment Design – commonly known as LEED – designer.
Q: What made this program stand out to you?
A: It's not often that a Master of Architecture program comes around, and even less frequently do you get to be a part of that from the ground floor. Having just graduated from SIU in May and deciding if I wanted to work in a firm and then go to grad school or vice versa, this time-sensitive opportunity helped make that decision. Plus, with the program being backed by the collegiate juggernaut Indiana University, I knew we would have the world at our fingertips.
The final thing that really drew me to this program was its location. Being right in downtown Columbus, we have direct access to a myriad of influential buildings built by even more influential architects. You don't get this kind of concentration elsewhere.
Q: Where do you see this program in the future?
A: This program has the potential to be one of the best programs in the nation. With the support of the city, the state and university, we have the resources to make the program whatever will be the best for the faculty, staff and students now and in the future. Due to this, I am very happy with how the program is structured.
Q: What about architecture and/or design is so appealing to you?
A: Architecture is a form of art and design that has the potential to outlast me and can influence something as intimate as a bedroom space or as large scale as defining a city's skyline with the newest downtown spaceship.
Jacob Bower-Bir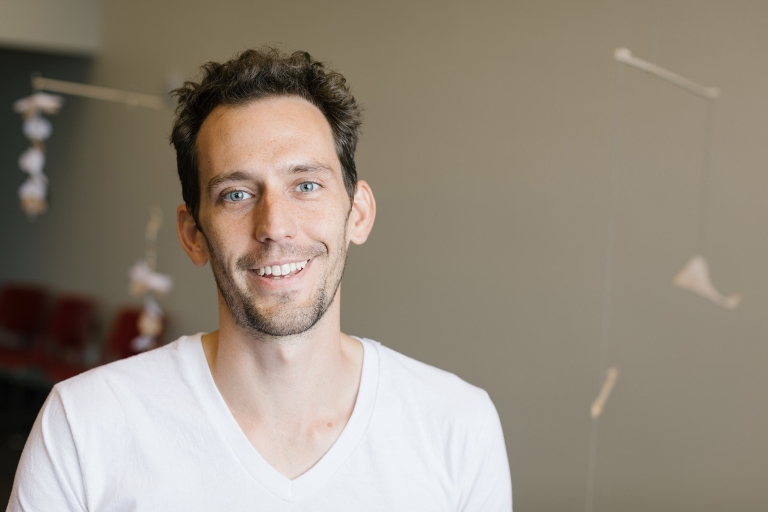 An IU alumnus, Jacob Bower-Bir triple-majored as an undergraduate before receiving his doctorate in political science and public policy at the Ostrom Workshop. He later taught at MIT, in Massachusetts state prisons through Boston University, and at the American University in Cairo, while also working on International Development projects in countries including Liberia, Papua New Guinea and Afghanistan. With an education primarily focused on social sciences, Bower-Bir said he's excited to bring a more artistic approach to addressing social questions and community problems.
Q: Why did you choose to return to Indiana and pursue an architecture degree?
A: I've long studied democratic and egalitarian systems, but I've become increasingly obsessed with designing democratic and egalitarian spaces. Democracy, at its core, is about local human interactions. Indiana is my home – as local as it gets – and its aesthetic language is my visual mother tongue.
Contemporary trends notwithstanding, the American middle west – and Indiana in particular – has a deep history of progressivism, and that history is apparent in and aided by in the marriage of political ideals and physical space. This union is well evidenced by our university, whose faculty execute their public charter within gorgeous limestone buildings set among a lovely campus of trees, brooks and fields.
Where we work and live is central to how we work and live. I want to be a part of Indiana's rediscovery of and recommitment to its progressive traditions, ideological and visual.
Q: What made this program stand out?
A: My decidedly Hoosier outlook and skillset served me well during my years abroad, but I've kept my eyes open and believe there is much worth bringing back to Indiana. IU's new program requires students to experience architecture the world over and appreciate the societies that birthed such diversity of styles. It will place the Midwest's aesthetic vernacular in conversation with otherwise distant art and architecture, elevating both.
Q: How has being part of the first cohort influenced your experience?
A: Being in the first cohort is a heavy responsibility. My colleagues and I will have a sizeable influence on the culture of the program and the norms that carry forward.