An affinity for foreign language and a scheduling fluke led Indiana University School of Public and Environmental Affairs senior Kovenant Lingenfelter to join the Arabic Flagship Program in IU's Hamilton Lugar School of Global and International Studies and ultimately decide to pursue a career in refugee resettlement.
"I took Spanish in high school and knew I had a talent for languages, but when I came to IU, I wanted to branch out and take advantage of the rare language offerings," Lingenfelter said. "I was torn between Hebrew, Hindi and Arabic, and Arabic just happened to work best with my schedule."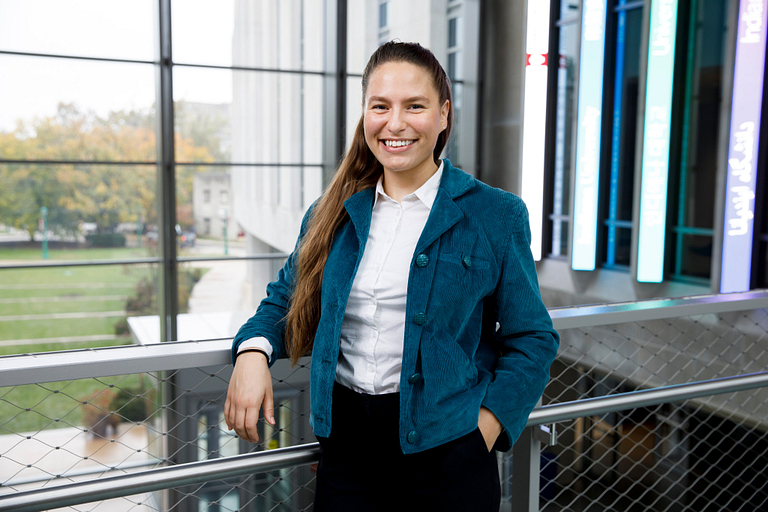 Through the rigorous Arabic language program, Lingenfelter began to find her place at IU. She connected with other students in the program and formed relationships with faculty members. Her language courses and the courses for her law and public policy major also piqued her interest in an issue she didn't know much about: international immigration.
While taking a class on refugee and immigrant issues, Lingenfelter realized how serious and widespread the issue really is. She started to consider using her language skills to work toward a solution. After a night of binge-watching interviews with refugees, she did research on how she could make a direct impact on people fleeing crises in the Middle East.
What she found was an opportunity to spend a summer working with the faith-based organization Youth with a Mission at the Moria refugee camp on the Greek island of Lesbos. The camp is six miles off the coast of Turkey and is the first stop for the bulk of refugees fleeing to Europe. Lingenfelter spent six weeks taking out the trash, delivering meals, directing flows of people and, most importantly, offering a smiling face to the people in the camp.
Lingenfelter said many of the refugees, who were doctors, chemists and lawyers in their home countries, were traumatized when they reached the camp. While plenty of Greek authorities were on hand to ensure that order and procedures were maintained, they weren't prioritizing the mental health and wellness of the refugees. Lingenfelter was able to develop her Arabic language use while also providing emotional support to those who needed it.
When she returned from Greece, she used her experiences to spread awareness about the refugee crisis in her hometown of Rochester, Indiana. Lingenfelter said members of her church were eager to hear about her time at the camp, so her pastor asked her to share her experiences with the congregation one Sunday.
"Unfortunately, there can be a lot of fear of refugees and Islam and otherness in small towns like mine," Lingenfelter said. "I think by sharing my experiences I was able to open up some hearts to feel love instead of fear, and that change of heart might encourage people to donate, volunteer or maybe even pray for refugees instead of fearing them."
Last summer, Lingenfelter continued her work with refugees closer to home during an internship at Exodus, a refugee resettlement organization in Indianapolis. In this role, she helped refugees sign their children up for school, polish resumes and apply for jobs, master the English language, learn how to use public transportation, find local communities and make Indianapolis feel like home. The experience opened her eyes to part of the refugee crisis that gets less attention from the public.
"Seeing how scared and determined people were in the camp and how much bureaucracy and hardship they have to make it through, and then to realize there's a whole different kind of concern after they finally get settled somewhere safe is overwhelming," Lingenfelter said. "What if they went through all of this and their life is still really difficult and horrible?"
Back in Bloomington, Lingenfelter is continuing her work on refugee and immigrant issues. She chose the issue as her semesterlong topic for a professional writing course and is focusing her SPEA honors thesis on the subject.
After she graduates in the spring, Lingenfelter plans to spend one year in Morocco completing the capstone for the Arabic Flagship Program. In addition to furthering her language studies, she will complete an internship, possibly with a Moroccan law firm or a sustainable, women-owned Argan oil business.
When she returns to the States, Lingenfelter plans to start a career in refugee resettlement in an area with a dense Arab population.
"If I can help in any way, I'd love to make someone's exposure to the United States a joyful one," she said. "I would love to be a friend to someone going through this experience and play a role in making their transition more comfortable and hopefully exciting."