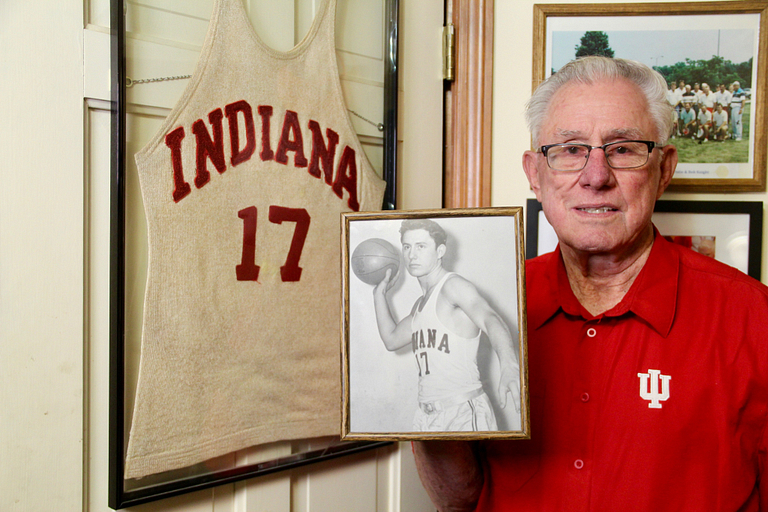 Almost 70 years later, Dr. Marvin Christie insists the decision to leave the famed Hurryin' Hoosiers Indiana University men's basketball squad of the early 1950s to concentrate on his pre-med studies was an unwavering one.
The 88-year-old retired physician stands in his kitchen in the house he had built 60 years ago, memories flowing as he looks through framed team photos and newspaper clippings from the 1949-50 season. Then, he was a 6-foot-1-inch reserve forward for a team that featured a future Indiana governor, an early NBA standout and a color-barrier-busting superstar.
"It was a wonderful experience, not only to play for the great Indiana University but to play for (coach) Branch McCracken," said Christie, dressed in a deep crimson IU button-up and hair slicked back similarly to that 19-year-old kid grinning from ear to ear and wearing No. 17 in one of the black-and-white photos. "It was one of the best experiences I ever had to play basketball for Indiana University."
Description of the following video:
[Words appear: Indiana University presents]
[Words appear: Dr. Marvin Christie, IU men's basketball, 1948-50]
Christie speaks while looking at old basketball photos of himself and the team: It's been one of the best experiences I ever had to be able to play basketball for Indiana University. To play for Branch McCracken, a coach who's already won the NCAA (men's basketball championship). And the players, especially the players. I was very fortunate to play with some notable players in 1949 and '50, and as a freshman in 1948 and '49, but especially Bill Garrett.]
[Video: An archived photo of Bill Garrett holding a basketball appears followed by shots of Christie's framed jersey from the 1949-50 season.]
[Christie speaks: He was the first African-American to play for IU. And also on that team was Lou Watson, and Lou later became Branch McCracken's assistant coach. And then after McCracken retired in 1965, Lou Watson was the head coach until Bobby Knight.]
[Video: An archived shot of Watson appears followed by a shot of a framed picture of Knight. Then there are shots of an Indiana Basketball sticker and an IU Hoosiers beer stein from Christie's kitchen.]
[Christie speaks: I've got season tickets, I've had season tickets since 1959. And if I can keep my grandkids and kids at home, why hopefully, I'll get to go to most of the games. It's a very enjoyable winter season when you have Indiana basketball.]
[Words appear: Indiana University]
[Words appear: Fulfilling the promise.]
[Words appear: iu.edu]
[END OF TRANSCRIPT]
In 1948-49, Christie was the second-leading scorer on the IU freshman team, which would not be a part of the varsity team until 1972. Instead, the first-year athletes played each other as a warm-up to varsity home games.
Next season, the deep varsity team that boasted Frank O'Bannon, Bill Tosheff and Bill Garrett saw Christie as part of the top 12 players who traveled, but Christie only played in the season-opening game: a 65-33 thrashing of Wabash College on Dec. 5, 1949, at The Fieldhouse. Christie played the last 15 minutes of the second half, scoring one field goal.
Then that was it. Christie dressed for the rest of the season but never saw any more minutes on the hardwood. The '49-50 team clashed with competitive Ohio State University, University of Illinois and University of Wisconsin teams. It finished at 17-5, No. 20 in the nation but third in the Big 10.
Looking back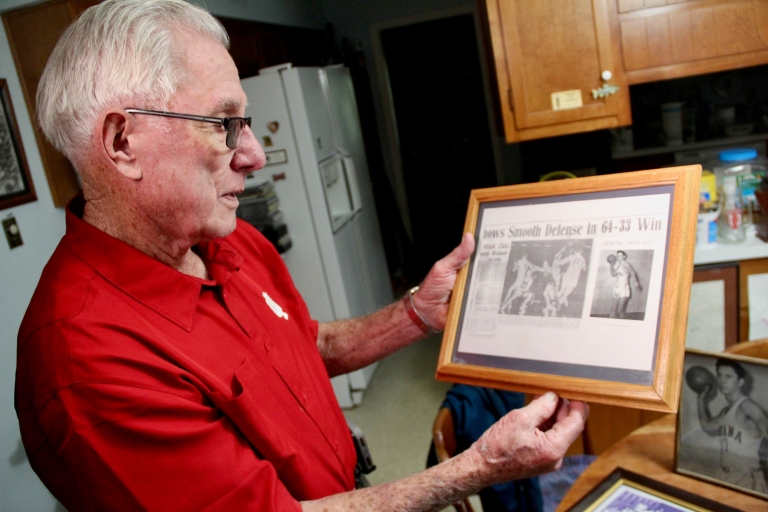 Christie's second year of pre-med had been more challenging than the first. Teammates would razz him about lugging his physics, biochemistry and quantitative analysis books during road trips – although sometimes they would ask for help in their own science classes, much to the chagrin of coach McCracken. Christie said he and McCracken were close and had mutual respect, but the balance between studies and basketball was more contentious then.
While getting ready for the 1949 Hoosier Classic, Christie said, sophomore guard Sammy Miranda asked for some help preparing for an anatomy test for his phys ed class.
"Then I heard this rumble," he said.
"I looked up, and it was the row of 6-foot lockers coming right at us. I shove Sammy aside to stop the lockers. A couple guys come over to help us. McCracken then says, 'I don't want any academics discussed when we're getting ready to play a basketball game.' He was going to bowl us over.
"But Branch ended up writing me a nice letter of recommendation to get into med school in 1951."
Christie left the team amicably before the '50-51 season, when the Hoosiers went on to finish No. 7 in the nation. He finished his undergraduate studies in three years and entered the IU School of Medicine, studying one year on the Bloomington campus before finishing back in Indianapolis.
Christie also served as a flight surgeon for the U.S. Air Force for three years during the Korean War. After the war, he pursued a pilot's license and flew his own plane for more than 50 years.
In 1959, Christie was hired at St. Francis Hospital as a general practice physician. He delivered babies, conducted annual check-ups and performed every other duty a family doctor would until his retirement from Sagamore Health Network in 2013.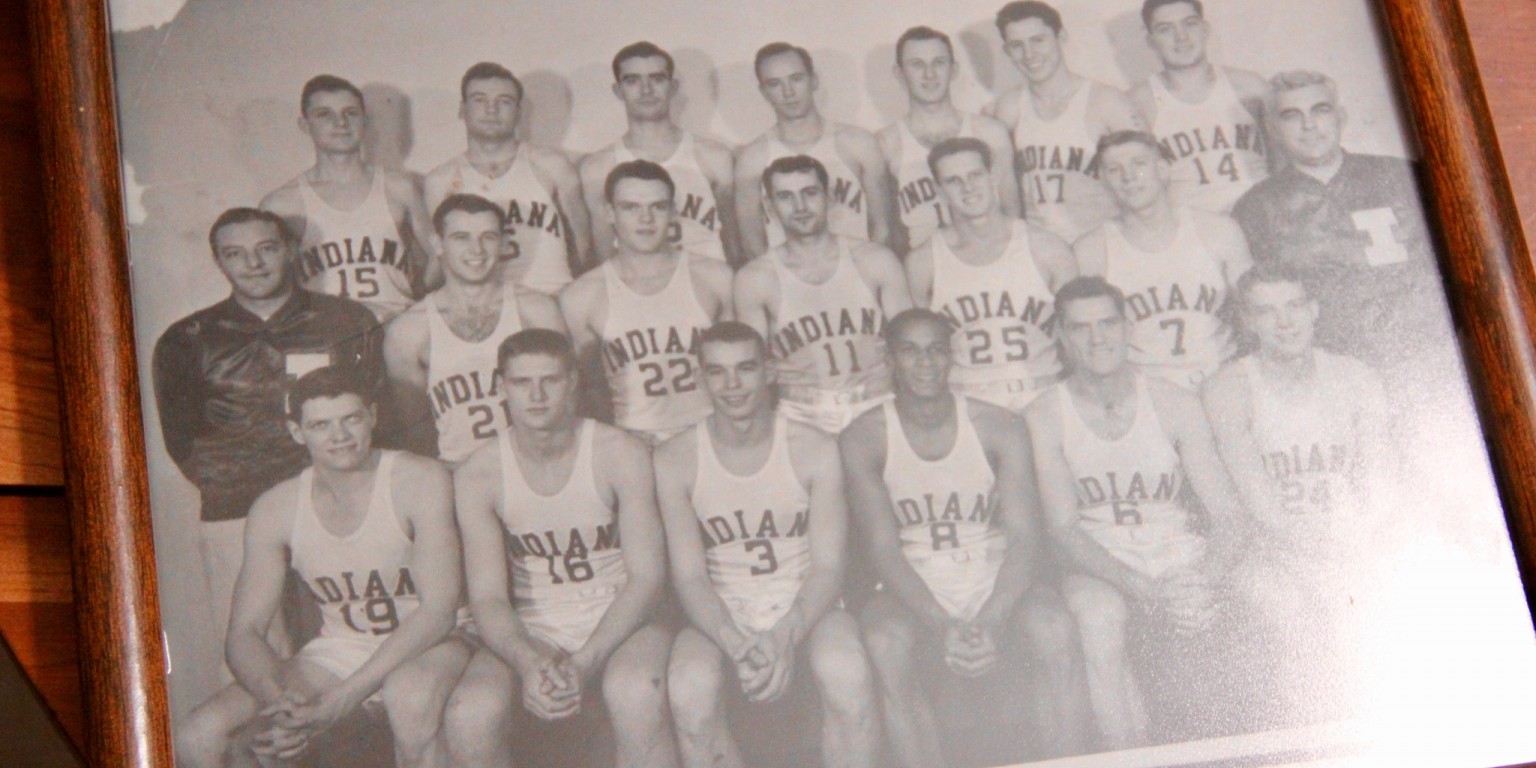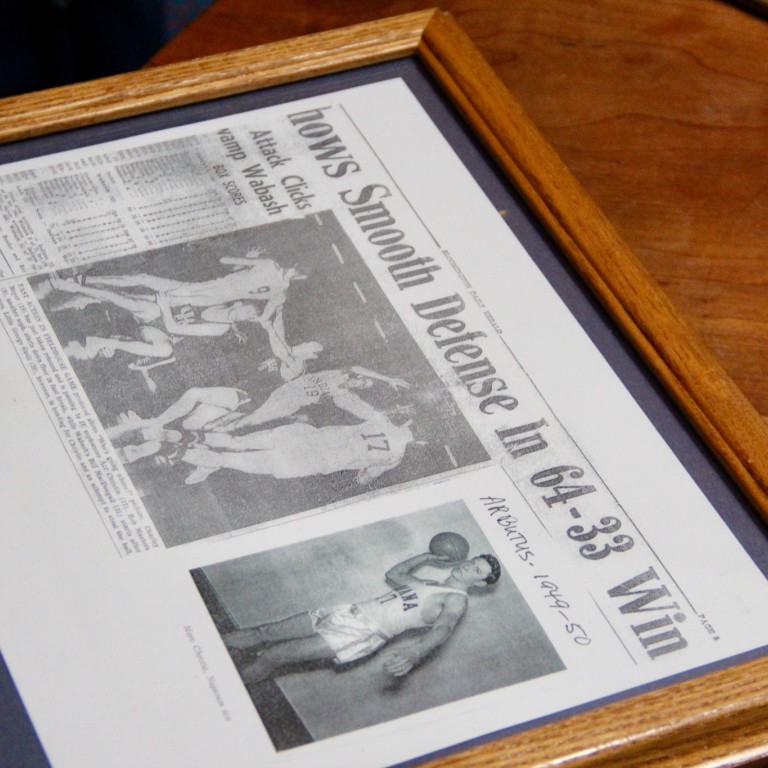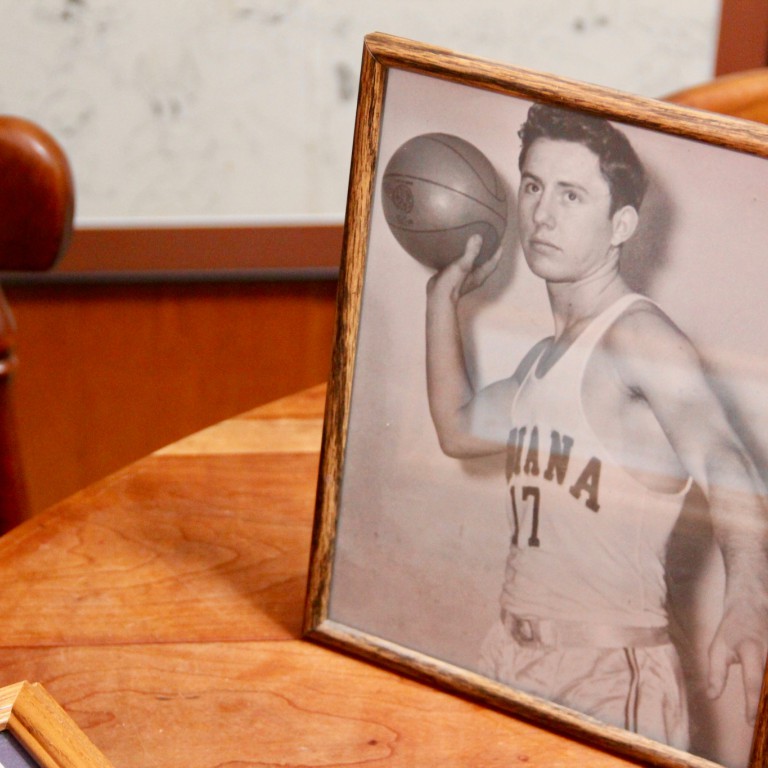 Photos by Tim Brouk, Indiana University
Southport scoring champ
Having cracked the IU basketball lineup, it's no surprise that Christie was a highly touted high school basketball prospect. In the 1947-48 season, he finished as top scorer in Indianapolis and as a Southport High School scoring champion.
However, he almost didn't make it to The Fieldhouse after suffering a broken ankle at the end of his senior season. But Christie assured McCracken and freshman team coach Ernie Andres that he would be ready to play by Oct. 15, when the first practices started.
Christie flourished on the freshman court. Playing against his fellow Hoosiers – his peers who were the same age and were the scoring champs of their respective high schools – was next-level play. McCracken preached speed, planting the seeds for the fast break and the Hurryin' Hoosiers tag.
"He really worked us hard. The games were a snap compared to practice," Christie recalled. "Playing against each other, they knew my moves before I did. It was tough."
Christie played in preseason scrimmages and games before the regular season, where his playing time dropped. He still practiced every day with the likes of Don Luft, a future Philadelphia Eagle of the NFL, and Lou Watson, a Hoosiers guard before he became head coach of the program in 1966.
While the active roster contained 18 players, Christie was among the 12 who traveled to road games, usually two per trip. He can still remember the highs of victory, the lows of defeat and the jovial camaraderie with his teammates. However, in 1949 – just a year and some months after Jackie Robinson broke through in Major League Baseball – all eyes were on Garrett, a 6-foot-3-inch African-American center and Indiana's 1947 Mr. Basketball.
After missing out on 1946 Mr. Basketball "Jumpin'" Johnny Wilson, an African-American player who starred at Anderson College, Christie said IU President Herman B Wells convinced McCracken to give Garrett a tryout. The young player and future second-round draft pick of the Boston Celtics quickly grasped the Hoosiers style of play and endeared himself to fans. But not all were as adoring; Christie said Garrett absorbed a countless amount of verbal abuse from opposing players, fans and people on the street, especially on the road.
Christie said McCracken had had enough of the mistreatment of his star player when, before a game against Northwestern University at Chicago Stadium, a Morrison Hotel manager in Chicago felt the brunt of hardened Hoosier coach. The hotel worker dropped the n-word and poked his finger into Garrett's gut.
"McCracken, who was 6-foot-4 and about 250 (pounds) then, went after him, and both dove over the registration desk," remembered Christie, who wrote the forward for the 2013 book "Branch" by Bill Murphy. "We grabbed McCracken by the belt and pants and pulled him back. We didn't want to lose our coach. We walked two blocks and stayed at The Blackstone.
"When McCracken got mad, he got mad."
Christie still marvels at Garrett's stoic nature when dealing with the catcalls and segregation of the day. Garrett was drafted into the Korean War, which took him from Boston right after his graduation. When he returned from duty, he found out the Celtics had cut him. Garrett joined the Harlem Globetrotters for a couple of seasons before settling into teaching, administration and coaching around Indianapolis.
Still in the game
Mow down Marquette
When Christie returned to Indianapolis to continue medical school, that didn't mean basketball was out of his life. He organized teams of doctors and medical staff and played around Indianapolis.
Only in Indiana would young doctors play in a competitive city league with referees, scoreboards and fans. The off-duty hooping culminated in the Docs vs. Jocks vs. Drugs annual tournament, which Christie helped start in 1985.
"Our basketball team at St. Francis would challenge high school athletics' staffs," said Christie, noting that some games featured retired Indiana Pacers star Rick Smits. "We raised over $125,000 in 25 years."
In the charity games, Christie started as a player-coach then transitioned to full-time coach through the '80s all the way until 2011.
While volunteering as Southport High School's boys' basketball team physician, Christie later reunited with his old teammate O'Bannon at the Statehouse. Christie volunteered as the session physician during the governor's years in office.
"He'd always announce me as the star of the '49-50 IU basketball team," Christie said, laughing. "He'd blow it out of proportion."
60 years of season tickets
Soon after moving back to Indianapolis, Christie settled down with his wife, Dolores. Married now for 68 years, they have three sons who all graduated from IU – Scott, Randy and Sean – and eight grandchildren.
Marvin and Dolores Christie have been season-ticket holders for IU men's basketball since 1959. Yes, he was at the Bobby Knight chair-throwing game vs. Purdue University in 1985. Yes, he was at the 2011 buzzer-beater game vs. then No. 1 University of Kentucky, which he credits as his all-time favorite game.
He still goes to the games, at least when his kids and grandkids aren't clamoring for his four Row 12 tickets. Those seats are already in demand with the excitement of a strong recruiting class for 2018-19.
"I'm fully expecting us to win the Big Ten this year," Christie said. "I've seen Romeo (Langford) play, and he's something to see."
Christie calls IU basketball a winter tradition for him and his family. He and Dolores still drive to and from Assembly Hall several times a season. When the roar of the crowd and "Indiana, Our Indiana" begins, he can still see himself in those candy-striped warm-ups. He is thankful to have been a part of one of the nation's most successful, most treasured basketball programs.
"I was dead-set that I was going to become a physician; that was primary," Christie said. "But just to be on the Indiana team was wonderful."
Sean Christie, Marvin Christie's son and an IU alumnus (political science, 1992), went to numerous games with his dad growing up. His first basketball memories were of Isiah Thomas slashing to the hoop, followed by Steve Alford hitting clutch shot after clutch shot. Sean Christie still marvels that his dad walked away from the program to concentrate on his studies, especially with the strong teams of the early '50s. But he recognizes that basketball was a young sport, and pursuing medical school was the more secure choice.
The youngest of the three sons, Sean Christie loves hearing stories about his dad's old teammates and coaches. He joined the Marching Hundred and the Big Red Basketball Band as a legacy nod to his dad. His years on the trumpet kept his streak of seeing almost every IU men's basketball home games alive, too.
Dr. Christie still gets into it like he was on McCracken's bench again.
"He gets pretty animated," Sean Christie said, laughing. "People sometimes wonder about him, but if there's a bad call, he's always right. It's a lot of fun.
"I have been really proud to be a part of it. It's kind of cool. You don't see many people that played for McCracken or knew Bill Garrett, Ernie Andres."
From basketball to his medical practice, Marvin Christie did it the right way: hard work, skill and dedication.
"He was that guy that if he's going to do it, it's going to be done right for a really long time," Sean Christie said. "As I got older, I knew how much it all meant to him that his family was a part of all of it."