Working out at 5:30 a.m. Balancing college classes with cadet training. Leading peers through a program that will help determine their future careers.
All sound challenging. But for Cadet Kyle Fricker, a senior at Indiana University Bloomington, the hardest part of being an Air Force ROTC cadet and wing commander of Detachment 215 is learning how to let people fail.
Description of the following video:
Air Force ROTC simulator video transcript
[Video: Display screens of a Redbird Flight Simulator that has been acquired by the Air Force ROTC at IU Bloomington. A voice begins speaking.]
Air Force ROTC cadet Kyle Fricker speaks in voiceover: So this is a Redbird Simulator. It comes from Redbird Simulations Corporation.
[Video: Cadet Kyle Fricker standing near the machine. Words appear on the screen: Cadet Kyle Fricker, IU Air Force ROTC.]
Fricker speaks in voiceover: This is an actual FAA-approved basic aviation training device. So the way we have it set up right now …
[Video: Fricker operating the throttle of the flight simulator]
Fricker speaks in voiceover: … is that you can actually log I believe up to 10 hours of flight time with this as long as you are with a certified flight instructor.
[Video: Fricker scanning the controls while Air Force ROTC Cadet Brice Weathers pilots the flight simulator in the background. Cut to Fricker overriding autopilot to begin changing course.]
Fricker speaks in voiceover: There we go.
[Video: Cut to simulator's display of plane turning. Cut to over-the-shoulder shot of Cadet Weathers operating second flight simulator.]
Weathers speaks in voiceover: This is actually a game you can download. It's called "Digital Combat Simulator."
[Video: Weathers sitting in front of the simulator. Words appear on the screen: Cadet Brice Weathers, IU Air Force ROTC.]
Weathers speaks in voiceover: So right now, I'm flying the A-10 Warthog.
[Video: Close-up shot of the joystick rig set up for Weathers.
Weathers speaks: Being prior enlisted, my job was a weapons loader, and I actually have experience on this aircraft, so I kind of know all of the systems.
[Video: Weathers scrolling through different plane models on the menu and moving the joystick. He then begins diving on enemy forces on the screen and activating the Warthog's gun.]
Weathers speaks: This is a high-fidelity model, so every single button and switch that you can access in here does the exact job the aircraft does.
[Video: Weathers checking the controls, followed by an overhead shot of the simulator's display screen.]
[Words appear: Indiana University, Fulfilling the Promise, iu.edu. The Indiana University trident is visible. Music plays.]
"When I see an issue arising, I personally want to jump in and try to help – but that's not always the best thing to do in a training environment," said Fricker, a computer science major from Avon, Indiana.
"Our commander, Lieutenant Colonel Russell Callaway, is always sure to tell me that failure is an important part of learning, and that this is the only environment where this is acceptable," he said. "When you're in active duty in a real-world mission, absolutely don't let people fail, because that has real-life implications."
One way for Air Force cadets to learn through failure without causing any real-world problems is through the program's new flight simulator, an FAA-certified Redbird TD engineered to train the cadets on light single-engine aircraft like the Cessna 182. The simulator's triple monitor setup provides a panoramic perspective of the horizon while the student is flying. It is equipped with physical controls including fully functioning rudder pedals and a digital glass cockpit used for navigation in high-end civilian aircraft.
"Out of the approximately 150 AFROTC detachments nationwide, I would guess that we're one of about 10 in the nation to have a flight simulator like this, and we're probably the only one with a full surround horizon and Garmin G1000 avionics suite," said Capt. Dustin T. Schimp, recruiting officer for IU's Air Force ROTC Detachment.
In conjunction with a certified flight instructor, students can use the system to accrue actual flying hours toward their individual private pilot's license – saving them hundreds of dollars in instructor costs while they learn the basics of aviation in a risk-free environment.
Detachment 215 also has a digital combat simulator system designed to replicate flying a more advanced combat aircraft, such as an A-10 or F-16. While not FAA certified, this simulator allows students to become more comfortable with the basics of flying and simulate piloting higher performance aircraft in highly realistic training and combat scenarios.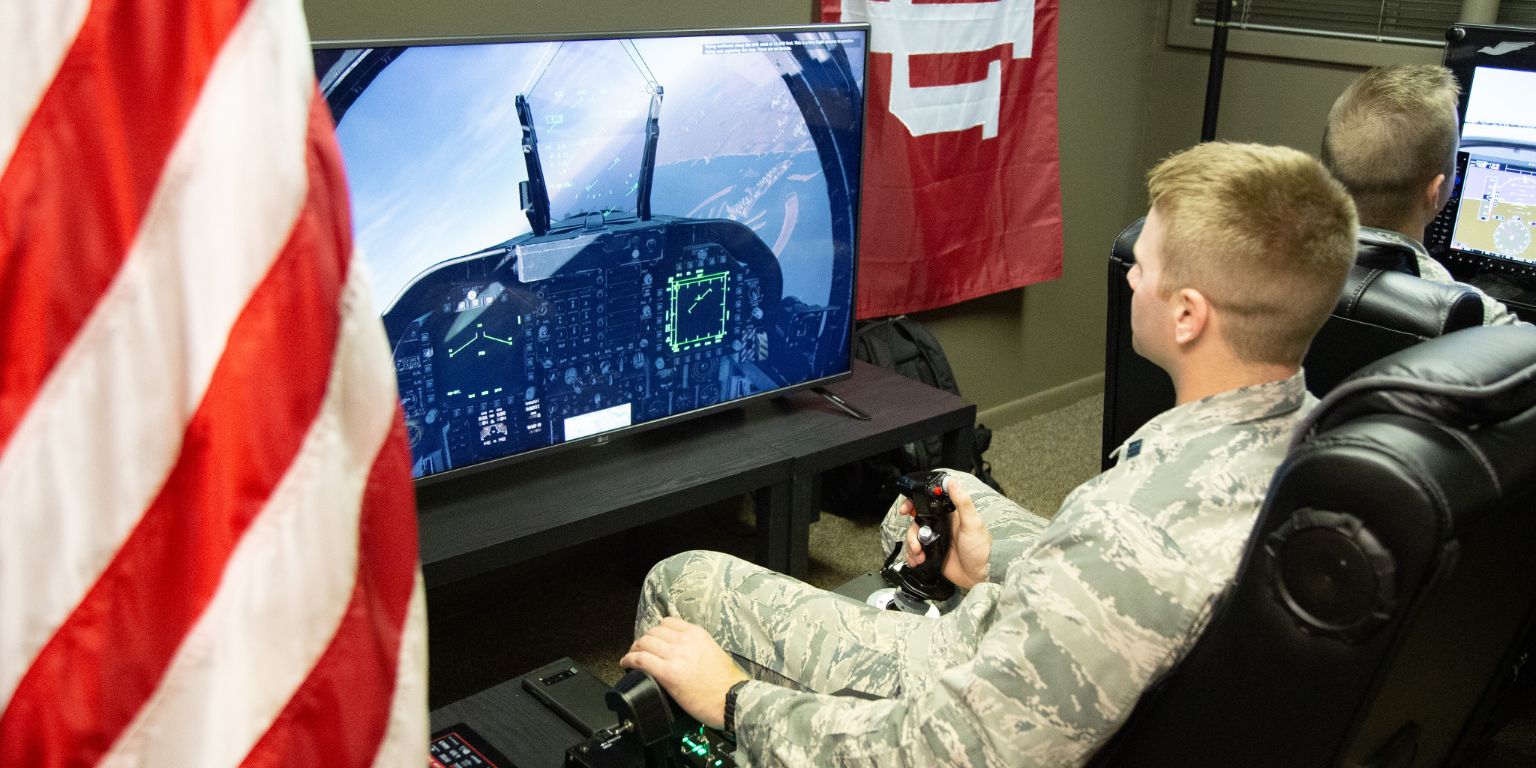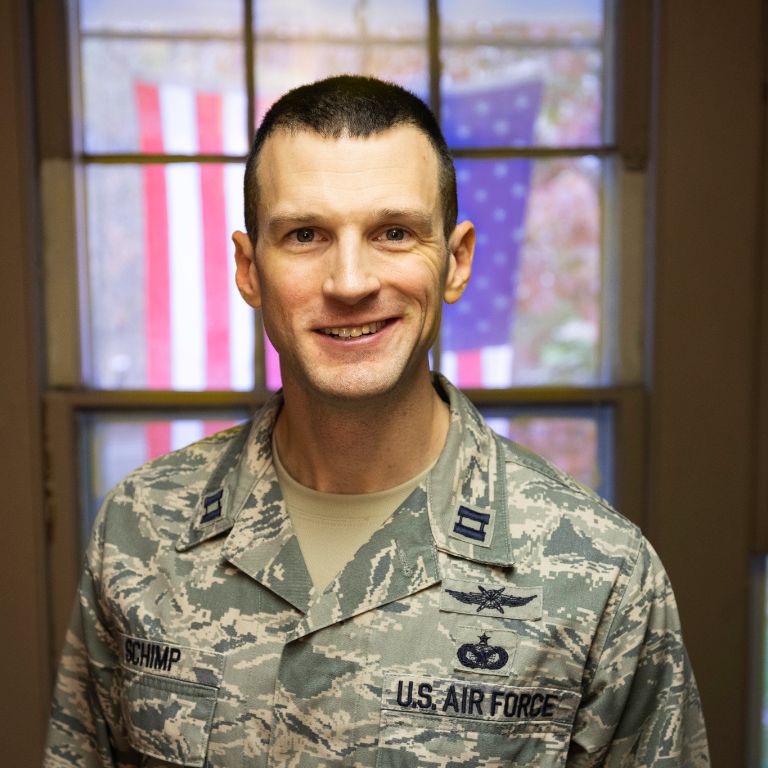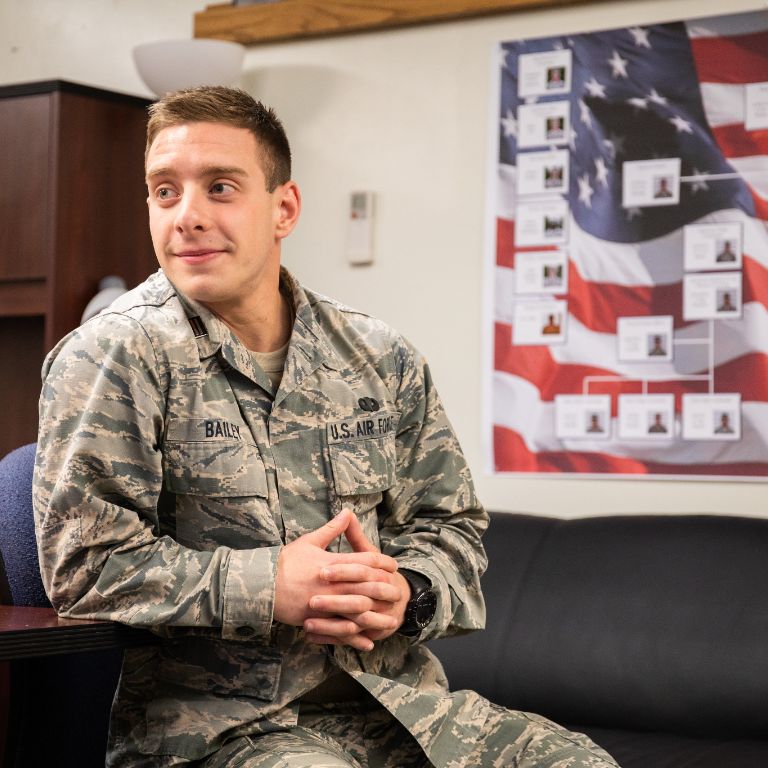 Photos courtesy of the IU Office of the Provost
Both systems help cadets develop confidence with aviation, gain a keener understanding of the principles of flight and accrue certified flying hours to make them more competitive for Air Force pilot slots later on.
"Before we had these assets, our cadets often had little exposure to flying before committing to a two-year flight training program after graduation, so this gives them a good taste of what that is like and a sense of whether or not it's the right path for them," Schimp said.
In addition to more than doubling its incoming class size in 2018 (from about 30 to 65), Schimp is spreading the word that the Air Force ROTC program isn't just for pilots in training.
Graduates choose from over 40 career field options including finance and logistics, human resources/personnel, acquisitions, contracting, intelligence, police/criminal justice, space operations, maintenance, cyberspace/computer science, and engineering. Upon successful completion of the program, a cadet immediately becomes a lieutenant, outranking 81 percent of active duty Air Force.
Some cadets graduate and immediately command nuclear weapons, lead a team of 30 more or fly $60 million aircraft. Others go to medical school or another graduate program, all paid for by the Air Force.
Fricker is one cadet who knows he's going to become a pilot like his grandfather, who flew F-86s for the Air Force in Korea. His aunts, uncles, parents and siblings are also all pilots.
"I have a passion for flying and a passion to serve in the military that runs in my family," he said. "I signed on here before I even got accepted to Indiana University – that's how much I liked it here. And it was one of the best decisions I ever made in my life."
Learn more about IU Air Force Cadets in a series of spotlights created by the Office of the Provost.
Jennifer Piurek is director of communications and special projects for the Office of the Provost and Executive Vice President.