BLOOMINGTON, Ind. – Jeff Fettig, chairman of the board of Whirlpool Corp. and an alumnus of Indiana University's Kelley School of Business, has been named a leader-in-residence at the school as its Poling Chair of Business and Government for the current academic year.
The Poling Chair was established in 1993 by the late Harold "Red" Poling, a Kelley School alumnus and Ford Motor Co. chairman and CEO from 1985 to 1994. Recipients are given the charge to stimulate discussion in the areas of leadership, the critical interactions between private business and government in matters of public policy, enterprise competitiveness, and economic growth.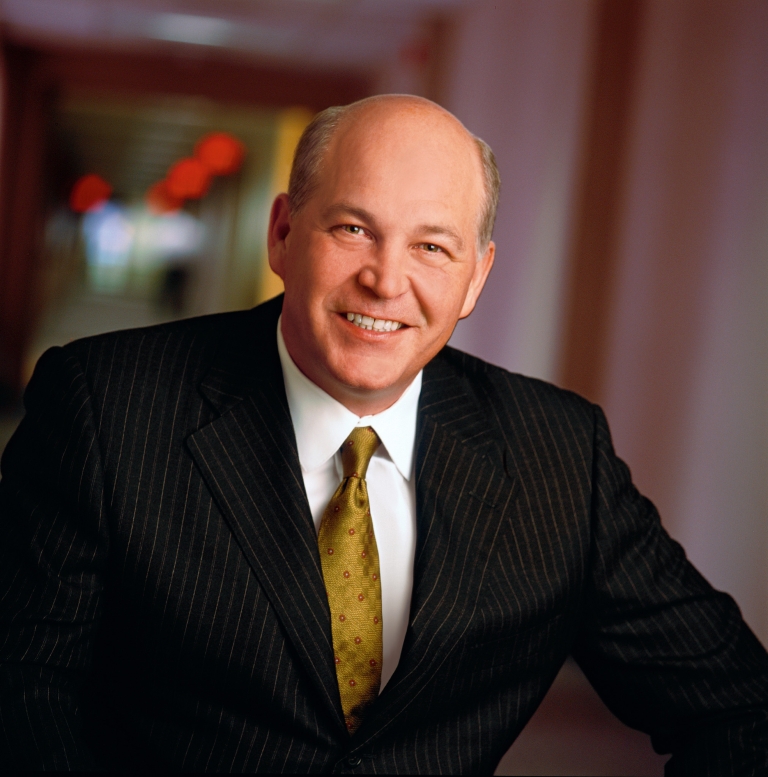 Fettig will visit the Kelley School in Bloomington and Indianapolis during the fall and spring semesters and interact with students and faculty members. His first visit will be Nov. 5 to 8 and will include class presentations and activities with MBA and undergraduate students.
"It is an honor and pleasure to serve in this role at the Kelley School of Business," Fettig said. "My education at the Kelley School gave me a strong foundation for my 38-year career in business and leadership.
I look forward to sharing my experiences with both students and faculty. I will greatly enjoy meeting and having dialogue with our next generation of future business leaders.
"Jeff is a wonderful example of a Kelley alumnus who strives to leave a lasting impact and who uses their talent for the sake of others," said Idalene "Idie" Kesner, dean of the Kelley School and the Frank P. Popoff Chair in Strategic Management. "We are grateful for his personal and professional support of our school. Jeff is the best example of what it means to be informed, involved and invested in our school."
Last year, Fettig stepped down from Whirlpool as CEO after 13 years leading the company he served for more than 36 years. He joined Whirlpool as an operations associate in 1981 after earning a Master of Business Administration in finance at Kelley; he also graduated with highest distinction with a bachelor's degree in finance from the Kelley School in 1979.
A native of Tipton, Indiana, Fettig held a variety of managerial positions in operations, sales, planning and product development at Whirlpool before being promoted as vice president of marketing for the KitchenAid appliance group in July 1989.
In October 1990, he was named vice president of marketing for Philips Whirlpool Appliance Group in the company's European subsidiary. Two years later, he became vice president of group marketing and sales for Whirlpool's North American appliance group. In 1994, Fettig became Whirlpool's executive vice president and president of Whirlpool Europe and Asia. He served as president and chief operating officer and was first elected to the Whirlpool board of directors in June 1999.
He also serves as the non-employee executive chairman of DowDuPont Inc., a position he assumed April 1. He is on the board of Kohler Co. He serves on the board of directors of the IU Foundation and on the board of governors for Boys & Girls Club of America and is a PGA Reach trustee. He has been a member of the Kelley School's Dean's Council since 1993.
Previous Poling Chairs have come from both the public and private sectors. They include Alexandra Christina, the Countess of Frederiksborg in Denmark; Dr. Mae C. Jemison, an astronaut, engineer and entrepreneur; Deepender Hooda, a member of India's parliament; Elizabeth Acton, retired chief financial officer of Comerica and a former vice president and treasurer of Ford Motor Co.; Bob Eckert, CEO of Mattel Inc.; Ronald Dollens, former president and CEO of Guidant Corp.; Samuel K. Skinner, former U.S. secretary of transportation and chief of staff to former President George H.W. Bush; former Sen. Evan Bayh, who taught before his election to the U.S. Senate; Randall L. Tobias, chairman emeritus of Eli Lilly and Co., former vice chairman of AT&T Corp. and former chair of the IU Board of Trustees; Frank Popoff, former CEO and chairman of Dow Chemical Co.; Dale Pollak, chairman and founder of vAuto, Inc.; Gen. Peter Pace, former chairman of the Joint Chiefs of Staff; and Cie Nicholson, former senior vice president and chief marketing officer for Softcard, a mobile wallet joint venture of AT&T, Verizon and T-Mobile that was acquired by Google.