An online course focused on academic integrity is the result of several years of effort from the Gateway to Graduation Community of Practice on Academic Integrity, which is part of IUPUI's Gateway to Graduation program aimed at improving student learning and retention.
"We wanted to open a dialogue between faculty and students," said Ken Wendeln, a clinical associate professor of management in the Indiana University Kelley School of Business on IUPUI's campus. "This new course allows students to learn about academic integrity early in their college careers and to explore what's expected of them. We want all IUPUI students to have a full understanding of what academic integrity is, why it's important, why they shouldn't be afraid if an issue arises and what to do in certain situations."
"Ethics is very important in my field of forensic science," said Gina Londino-Smolar, a senior lecturer in forensic and investigative sciences. "As educators, we're here to teach students – to show them what's right and what's wrong."
Work on the Gateway to Graduation Community of Practice on Academic Integrity started in fall 2015. Through a faculty survey, committee members discovered a need to make academic integrity procedures and expectations clearer, more concise and easy to find. While the university holds the same academic integrity policy across all campuses, procedures for handling issues can vary from campus to campus.
After becoming chair of the Distance Education Faculty Council Committee, Londino-Smolar, who also served on the Community of Practice on Academic Integrity, realized there was a way to help students discuss academic integrity during the onboarding process.
"We ended up working with online instructional designers here at IUPUI to create a standalone Canvas site complete with easy-to-understand videos and follow-up questions," Smolar said.
Since the student site launched from IUPUI, multiple campuses have adopted the site to their programs and procedures, including IU South Bend and IU Southeast.
"Students may assume they know what academic integrity is and what the rules are, but I've realized there are a lot of gray areas people aren't necessarily aware of," said Noel Pineiro, one of the students featured in the training videos. "Our videos elaborate on these gray areas and bridge the gap for students, so everyone understands exactly what's expected of them and what to do if they suspect something isn't right."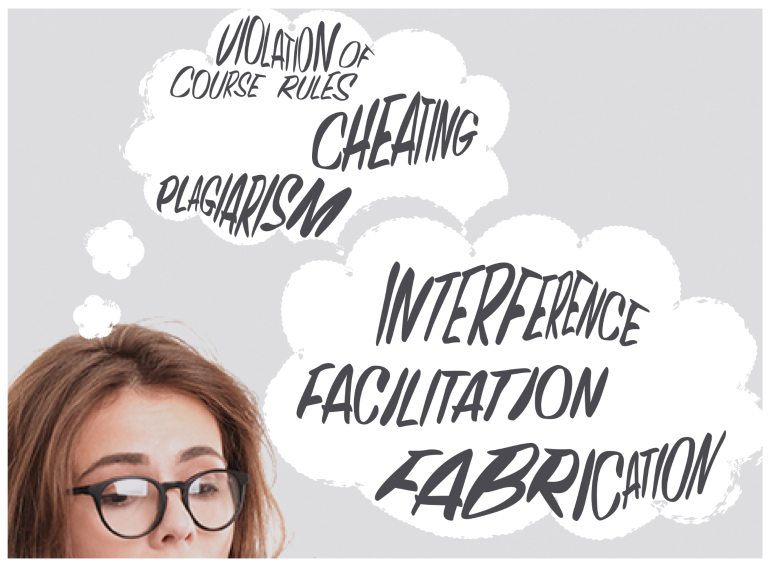 IU online instructional designer Carrie Hansel worked with the committee to write each script for the videos included on the Canvas site.
"This has been such a special project," Hansel said. "The best part for me is taking a subject that potentially could be negatively portrayed and showcasing it in a more positive manner. We know our Indiana University students want to have academic excellence, and these videos show you how to do just that. We've let the scenarios be fun and memorable, with a little bit of humor to ensure that the learners come away with the information they need."
"This truly has been a team effort," Wendeln said. "The project could not have progressed this far – or perhaps at all – without each member of the team, who each played an integral role. This is important work, as IUPUI's reputation depends on the integrity exhibited by our faculty, staff, students and alumni."
IUPUI Executive Vice Chancellor for Academic Affairs Kathy Johnson has been an enthusiastic supporter of the project since its inception.
"It's been incredibly gratifying to see this project come to fruition over the past few years," Johnson said. "The faculty who have been part of this community of practice have demonstrated dedication, creativity and an unflagging commitment toward helping our students be more successful by explaining academic integrity and why it provides an essential ethical foundation for lifelong learning."
The Community of Practice on Academic Integrity has shared its work at the Asia Pacific Conference on Educational Integrity in Sydney, Australia, and at the International Center for Academic Integrity's 2018 annual conference in Richmond, Virginia. It will present at multiple other conferences during this academic year.
And the work continues. The group is currently working on another Canvas site geared toward faculty and teaching assistants, with a goal of completion set for summer 2019. It will demonstrate best practices for certain situations and help faculty deal with academic integrity as learning and administrative issues. A pilot site for teaching assistants went live in August.
"For students, my message is this: What you do now serves as a base for who you become as an adult. Making the right choices now will mold you into adulthood and through your career," Londino-Smolar said. "My goal is for students to learn something new every day and to walk away from IUPUI with a highly regarded degree. For students, being your own person and having your own thoughts is really important, and they need to learn that for themselves."