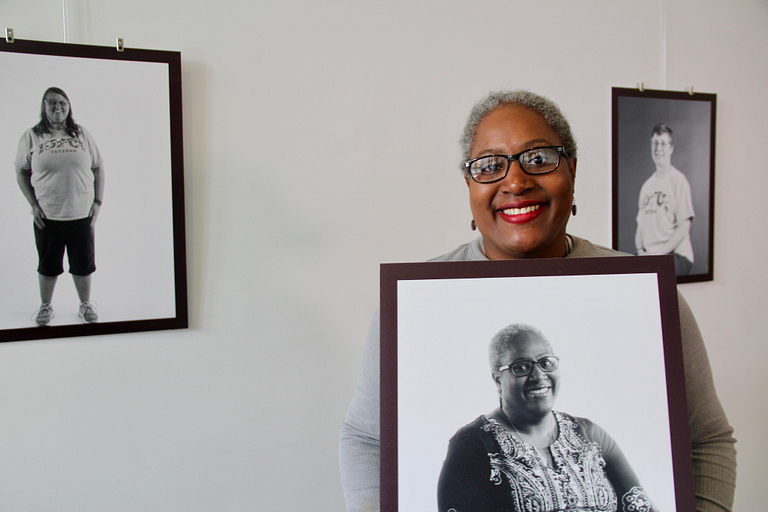 Eighteen female veterans at IUPUI shared their stories and their time in a photo studio for the new exhibition "I Am Not Invisible," showing now through Nov. 30 at the Cultural Arts Gallery in the Campus Center.
Next to their black-and-white photos, which were produced by photography senior Savannah Calhoun, the faculty, staff and students gave accounts of their time served in the U.S. Army, Navy and Marines. A balance of struggle, commitment and pride shows in most stories.
"They get to see the variety of women here," said Lavonne Addison, a history major who served in the Navy from 1987 to 1991. "We are students, and we are coming back and getting our education. We're all unique to ourselves, yet we are all family." 
Sponsored by the Office for Veterans and Military Personnel and in collaboration with the Indiana Department of Veterans Affairs, "I Am Not Invisible" successfully showcases the diversity of female veterans at IUPUI. Some are wearing IUPUI Veterans T-shirts, featuring camouflage lettering, while others are wearing their civilian clothes. Different generations are represented. The women's stories take place during peacetime and during times of war. There are stories that take place across the globe and others right here in Indiana.
"I Am Not Invisible" is an extension of a 2017 exhibit initiated by the Oregon Department of Veterans' Affairs. Other "I Am Not Invisible" shows have sprouted in Minnesota; Philadelphia; and Washington, D.C.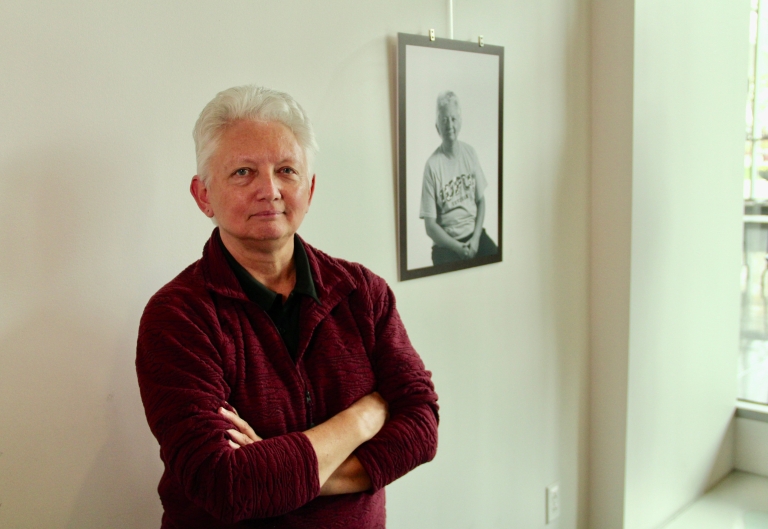 Time served also differentiates the women. Alicia Gahimer was a National Guard reservist from 1980 until her retirement in 2011. She never served overseas, but as a percussionist for the 38th Infantry Division Band, she traveled around the nation for ceremonies and events, from military parades to small town festivals. Many were joyous, many were somber. All were an honor to attend and support, she said.
"My job in the Guard was to honor the heroes every time we went out," said Gahimer, a research development specialist in the Office of the Vice Chancellor for Research. "It was the honor of my life to get to serve, and serve in this capacity."
Gahimer was part of the parade and dedication of the Vietnam War Memorial. She believes her unit was selected to pay tribute to the large number of Hoosier veterans who served in the Vietnam War. She said the most important aspect of "I Am Not Invisible" is getting fellow veterans to know each other.
"It's important that they know there are other people on campus who have gone through what they've gone through," Gahimer said, "or are doing it right now. It's encouraging, especially for the young female student veterans, to be a part of it."
Kimberly Bloodgood, director of the Office for Veterans and Military Personnel, is featured in a shot with Laura McKee, women's veteran coordinator for the Indiana Department of Veterans Affairs. In the image, the two hold an Indiana state flag to represent their reservist units.
Veterans Day events at IUPUI
An Air Force cadet, Bloodgood has heard hundreds of IUPUI veterans' stories in her office. She admitted it was a challenge to choose which story of her own to share. She ended up with the full-circle experience of when she was a part of the razing of the Berlin Wall. Her grandfather had seen the wall go up when he was stationed with the U.S. Army in Berlin during World War II.
"I even sent my grandfather a piece of the wall," Bloodgood said.
IUPUI has more than 300 faculty and staff veterans as well as more than 1,000 student veterans. Women comprise the minority in both populations, but there are many more on campus than the 18 featured in "I'm Not Invisible." The mix of subjects in the exhibition, though, successfully reveals the unique stories of IUPUI female veterans.
"That's why we're doing this," said McKee, who is still an Air Force reservist. "People must realize that yes, we serve."