At just a glance, it's easy to see that the new space on the first floor of Hine Hall is something special. With eye-catching colors, a huge monitor wall and impressively high-tech equipment stations around the room, the Idea Garden at IUPUI is attracting students like bees to honey.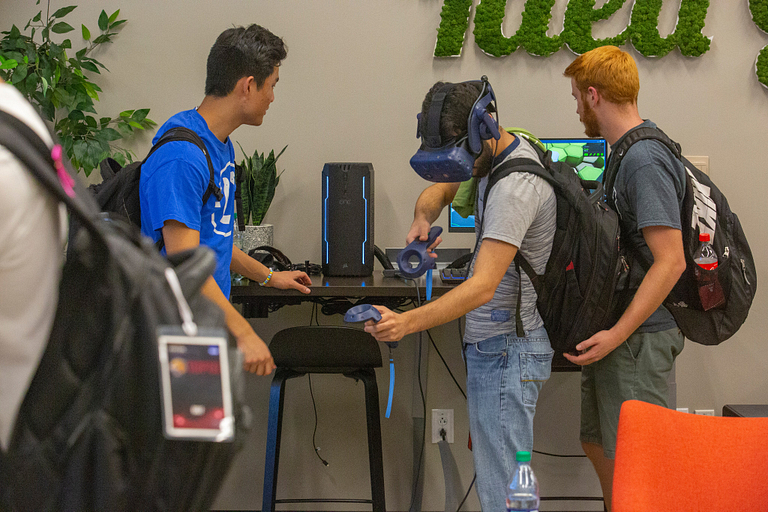 Classroom Technology Services previously occupied the space, but it was bursting at the seams and moved to a larger room. Julie Johnston, director of Learning Spaces, leapt at the opportunity to convert a rare bit of open real estate into a showcase for student ideas and community collaboration.
While the initial concept was a makerspace, Johnston and her colleagues soon realized that what they really wanted was a place to foster creativity through technology.
"We are technologists, we are futuristic, we are innovators," she said. "Why not capitalize on what we do well, which is emerging technology?"
Exploration and interaction led the decision-making process for outfitting the Idea Garden. Johnston envisioned a comfortable space for students to work and collaborate, so every piece of the cushioned seating can be rearranged into different groupings.
Likewise, the technology was chosen to encourage students to experiment. Visitors can get hands-on experience with Dell Canvas and Microsoft Surface drawing tablets, LulzBot TAZ 6 3D printers, HTC Vive virtual reality stations, and an IQ-Wall made up of eight touch-screen panels.
"We didn't want to have equipment in here that students could have at home," Johnston said. "Here, our staff can support their creative ideas with technology they won't find in other parts of the university – they can play."
The Idea Garden is definitely a playground for students, whether they're tech-savvy or a little intimidated by what they find there.
"I want this to be a place where you feel comfortable not knowing how to start," Idea Garden lab coordinator Cassandra Jones said. "It's scary to try new things, so come on in, and we'll make it a little less scary."
With Indianapolis making news as an emerging tech hub, Johnston hopes to use the Idea Garden to create connections between students and local technology professionals.
"We want students to have connections with the real world, with technology or any profession," she said. "Many professions today use tech in engaging ways, and we believe that UITS – University Information Technology Services – can be the hub for cross-curricular connections."
Jones has already seen connections being made on an academic level through the Idea Garden as well, as students and faculty express interest in working in the space.
"I really think the Idea Garden can be applicable to any department," she said. "After graduation, you're going to work with people from all kinds of backgrounds, so starting collaboration now is important."
With UITS technologists from Learning Space Design, Classroom Technology Services, Student Technology Computing and the Advanced Visualization Lab joining forces to build the space, the Idea Garden itself is a perfect example of collaboration yielding powerful results.
Now that the Idea Garden has opened its doors, Johnston's thoughts are turning to the future. The location in Hine Hall, adjacent to an active collaboration computer lab and an active learning lecture hall, opens up possibilities for using all three spaces in conjunction for students or a community outreach day.
Given the opportunity, Johnston would cultivate Idea Gardens on other IU campuses.
"It made sense to start in Indianapolis because of the community connections, but I would love to help any of the schools create one of these," she said. "You have to go through a lot to ideate something like this, but now that we have the model, it's only the beginning."
The Idea Garden is located in Hine Hall, Room IP106, and is open from 8 a.m. to 8 p.m. Monday through Friday.
Jen Bratton is a senior communications specialist with Indiana University IT Communications.