As about 100 men and women become U.S. citizens Nov. 14 at IUPUI's Hine Hall Auditorium, Edgar Huang will be across campus teaching. But he's no stranger to the emotion and excitement that come with a naturalization ceremony.
The associate professor in the School of Informatics and Computing and past president of the Asian Pacific American Faculty and Staff Council at IUPUI became a U.S. citizen in 2010, ending a years-long odyssey from student visas to permanent residency to waiting for a citizenship application to be approved.
"It means a lot," Huang said. "It's a long journey; getting there's not very easy."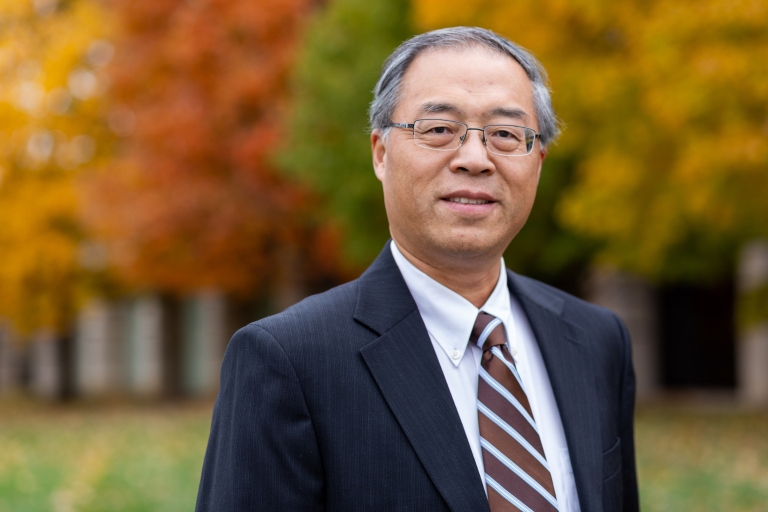 Talk to any naturalized citizen on campus and you'll glean a story about perseverance and a love for America. For Huang, coming to the United States from China was about freedom at its most basic levels.
Huang, a photographer early in his academic career, documented the 1989 Tiananmen Square protests in Beijing. "I saw everything except the last day, fortunately and unfortunately," he said. Five years later, in a first-of-its-kind exhibition in San Diego, California, he showed the world what happened at Tiananmen Square through his photos. Later, he moved the whole exhibition online and attached his name to it; his wife, who was already a U.S. citizen, feared for his safety.
"Nothing really happened at Chinese customs when we visited Beijing in 2002, but we were very nervous," Huang recalled. "That's why we thought the naturalization process for me to get citizenship would be a good idea – so the Chinese government could no longer easily detain me as a Chinese citizen."
Huang, 56, who first arrived in the U.S. in 1993 as a graduate student at the University of California San Diego, got his permanent residency through marriage in 2004. His citizenship application then spent years in process, ending on an unforgettable day in 2010 at the downtown Indianapolis federal courthouse.
"I stood there with other new citizens, and we gave oaths. I was very proud, very happy," said Huang, a father of three, including one who is serving as a lawyer for the U.S. Air Force. "It's a very different feeling when you have citizenship.
Attend the IUPUI naturalization ceremony
"Now, I publish with great freedom. I don't have to worry about saying anything offensive to a government. And I like to live in this country for the very fundamental things. People have basic trust for one another. In the morning you say 'hello' to a stranger, and he or she will smile back. People are very kind."
A new group of soon-to-be Americans will experience those emotions themselves when they go through the naturalization ceremony Nov. 14 at IUPUI.
"Seeing men and women from so many cultures and nationalities coming together as new Americans is an incredibly moving and important moment," said Hattie Harman, naturalization coordinator for the U.S. District Court's Southern District of Indiana. "Naturalization ceremonies are a crucial symbol of our democracy."
Huang won't be there in person, but he understands the spirit.
"I feel so warmhearted for them, they have to go through a whole lot," he said. "I would congratulate each one of them."