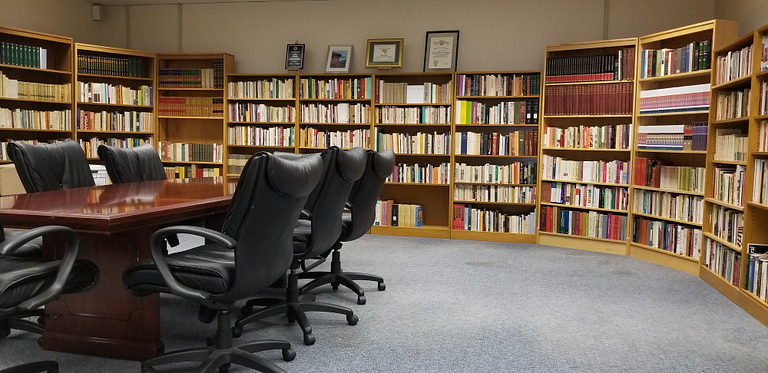 In addition to being a world-renowned poet and essayist, Luis Alberto Ambroggio has been a lifelong collector of Spanish literature and history books, many from well before his time.
It's a priceless collection. And it now resides at IUPUI.
The Luis Alberto Ambroggio Center for Latino Studies, part of the Indiana University School of Liberal Arts at IUPUI, formally opened Nov. 1 in a ceremony at the center, housed in Room 323 of Cavanaugh Hall. Among the distinguished guests were Ambroggio; Garry Holland, education chair for the Greater Indianapolis Branch of the NAACP; Elia James from the Lawrence city government; IUPUI Executive Vice Chancellor Kathy Johnson; and representatives from the Indianapolis mayor's office, the Lawrence mayor's office and the office of Rep. André Carson.
"The center is not only for Latino studies; it's open to anybody, in any major. Students can use the library to continue research," said Jose Vargas-Vila, director of IUPUI's Latino Studies program. "In the future, we'll use it to invite scholars and writers to IUPUI."
Nearly 2,000 volumes are in the center, covering classic Spanish literature, linguistics, American history and more. The center is in partnership with the North American Academy of the Spanish Language, of which associate professor Rosa Tezanos-Pinto is a full member and editor of the academy's bulletin.
"Latino studies is a flourishing area of study in the School of Liberal Arts, and the Luis Alberto Ambroggio Center will do a wonderful job of serving students for years to come," School of Liberal Arts interim dean Robert Rebein said. "To have such a wonderful collection within our walls is a remarkable testament to our school's programs."
The connection between Ambroggio and IUPUI was forged by Tezanos-Pinto through annual conferences around the world. Tezanos-Pinto told Ambroggio about the growing Latino Studies program at IUPUI, and an interest and a bond were formed.
"She made the impression, and Ambroggio chose this university – from among several others – to pass on his collection to a place that would be a permanent location," Vargas-Vila said. "He wanted to donate the books that belonged to him and his parents."
Some 700 students take classes in Latino studies each year from two full-time and four part-time faculty. Students have had internships with the U.S. Department of Homeland Security, with the city of Lawrence and inside the Indiana Statehouse.