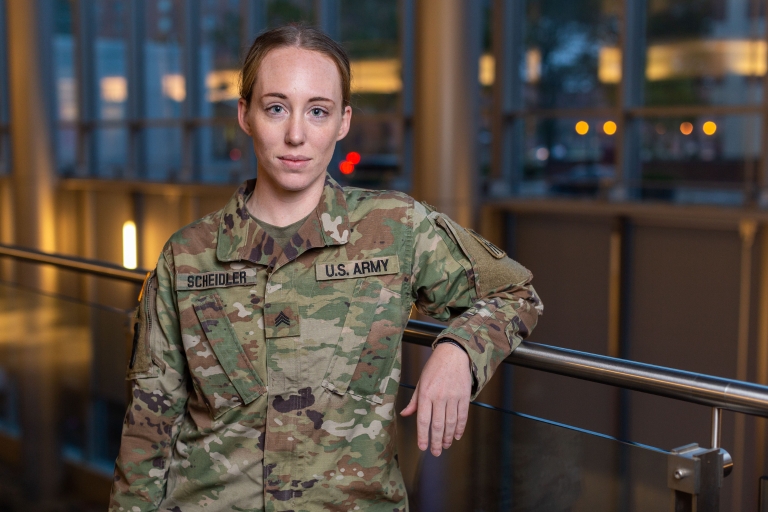 "You're a veteran? But you look so young!"
That's a phrase nursing student Kalyn Scheidler, 25, has heard countless times in the last four years since returning from Afghanistan after her nine-month deployment with the National Guard.
Scheidler enlisted in May 2011, one month before her high school graduation.
"I have a long family history in the military. My dad and both of my grandfathers were in the military, so I kind of always grew up with it," Scheidler said. "When I got to my senior year of high school, I wasn't quite ready for college yet, so I joined the National Guard instead."
To her surprise, Scheidler was told at her first drill with her new unit that they would be deploying in a year.
In March 2013, she and her crew were assigned to a retrograde operations mission where they were involved with convoy, base and transportation security.
"We were helping shut down smaller bases. Our jobs were to take equipment out of the existing bases and relocate it to other bases where it would be used," Scheidler said. "Then, after we left, engineers would come in and either destroy what they needed to or give the equipment to the Afghan National Army."
After returning from Afghanistan, Scheidler felt like she needed a change of scenery from Greensburg, the small town southeast of Indianapolis where she grew up. She decided to move to Indy with two friends who had been deployed overseas with her.
"It made life a little easier," Scheidler said, "because we could sit around and talk, and we understood what we all went through."
Scheidler had always planned to go to college, and the move to Indianapolis made her curious about IUPUI. She decided to enroll in the psychology program, where a few classes in health psychology ultimately led her to find her passion in life: nursing.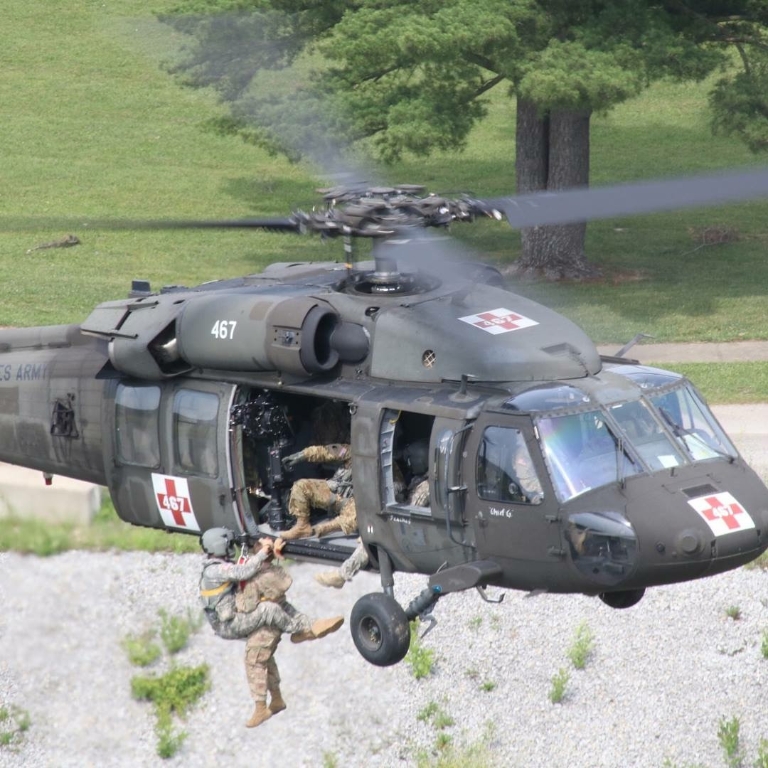 "I like nursing because it's different every single day. You build a relationship with these people. You get to help them, and you can watch them get better," Scheidler said. "I just love being able to give back, and I think that's why I love the National Guard so much, because it's a way to give back to the community."
Scheidler will graduate in December 2019 with her degree in nursing. As she prepares for her career, she's been working as a patient care assistant at Methodist Hospital. She hopes to one day be a nurse in the military.
Scheidler is also still an active member of the National Guard and plans to serve her 20 qualifying years of service. She was recently promoted to a new engineering unit. To remain an active soldier, National Guard members must report to their drill station one weekend every month for continual training. They also must participate in an annual physical fitness test and a public health assessment.
When asked what it means to be a veteran, Scheidler came up with a single word: proud.
"I can walk with my head up high. I know that I made my family proud. For my grandfathers, who have both passed away, I know they can both look down on me and be proud. It makes me feel more connected to them. I now understand what they went through," Scheidler said.
"And when I hear the national anthem, it is just a really heartwarming feeling, and I know that I did something for my country at such a young age."