INDIANAPOLIS – Herron School of Art and Design at IUPUI is presenting the 2018 Christel DeHaan Family Foundation Visiting Artist Lecture with Mary Reid Kelley and Patrick Kelley on Nov. 28, followed by an opening reception for the annual Undergraduate Student Exhibition and a holiday art sale supporting Herron student artists and designers.
MacArthur Award "genius" grant recipient Mary Reid Kelley combines painting, performance and her distinctive wordplay in graphically stylized films made in collaboration with her partner, Patrick Kelley. During the talk, the collaborative duo will discuss the visual language of "The Minotaur Trilogy" (2013–15), a series of short narrative films exploring the Greek Minotaur myth and, through it, the present-day roles of women, sexuality, language and art historical tropes.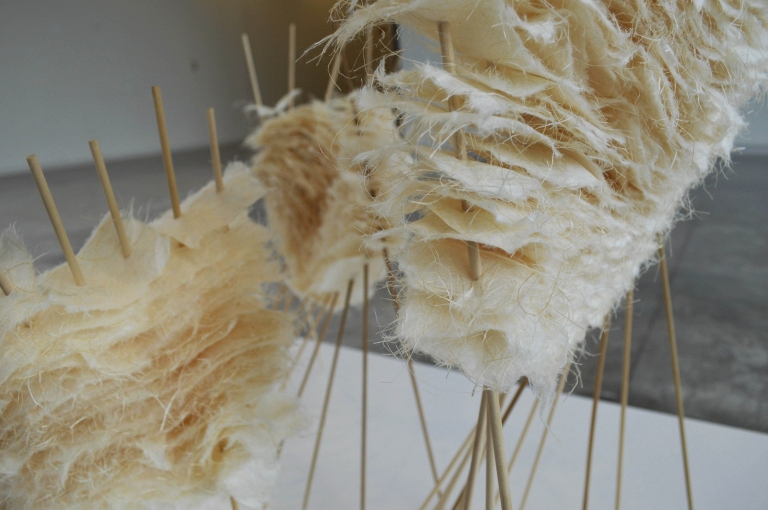 Opening in conjunction with the Kelleys' talk is the Undergraduate Student Exhibition, an annual tradition featuring exceptional works produced by Herron students across a variety of artistic disciplines. This year's guest juror is Betsy Stirratt, director of the Grunwald Gallery of Art at Indiana University Bloomington, who will award prizes to the top entries. Additionally, the ceramics, furniture design and printmaking clubs will sell student-made artwork and wares, and students in studio art and technology will present live puppet performances featuring laser-engraved sets and characters fabricated in the school's Think It Make It Lab.
The talk and opening reception will take place from 5:30 to 8 p.m. Nov. 28 at Eskenazi Hall, 735 W. New York St.
The opening reception is made possible by Prizm: The Artist's Supply Store, with in-kind support provided by Sun King Brewing. Parking will be free in the Sports Complex Garage adjacent to Eskenazi Hall or on levels 5 and 6 of the Riverwalk Garage, courtesy of The Great Frame Up Indianapolis, with validation from the Herron galleries. Visit HerronGalleries.org for more information.
Located in Eskenazi Hall on the IUPUI campus, the Galleries at Herron are free and open to the public from 10 a.m. to 5 p.m. Monday through Saturday and 10 a.m. to 8 p.m. Wednesdays.
Also on view in the Galleries at Herron through Dec. 12:
In the Marsh Gallery: Mary Reid Kelley and Patrick Kelley's corresponding exhibition, "The Minotaur Trilogy," comprising three films – "Priapus Agonistes" (2014), "Swinburne's Pasiphae" (2014), and "The Thong of Dionysus" (2015) – that use punning wordplay, handmade costumes and sets, and bawdy humor to riff on classical mythology and pop culture.
In the Basile Gallery: "Stuff(ed)," an exhibition featuring the work of five contemporary artists who explore the playful, subversive power of sculpted fabric to transform and reimagine mass-market commodities and bric-a-brac from everyday life. Participating artists are Jessica Dance, Gil Yefman, Andrea Pritschow, David Gabbard and Natalie Baxter.
About Mary Reid Kelley and Patrick Kelley
Mary Reid Kelley earned a B.A. from St. Olaf College and an MFA from Yale University. She is the recipient of a 2016 MacArthur fellowship and has received awards from the American Academy in Rome, the Rema Hort Mann Foundation, and the College Art Association. Major exhibitions include Salt Lake Art Center, Utah; SITE Santa Fe, New Mexico; the Institute of Contemporary Art in Boston, Massachusetts; and ZKM Museum of Contemporary Art in Karlsruhe, Germany.
Patrick Kelley earned a BFA from St. Olaf College and an MFA from Cranbrook Academy of Art. He has taught photography, video and new media courses at the University of Minnesota, St. Olaf College, St. Mary's College of Maryland and Skidmore College in New York. His works have shown at the Bibliothèque Publique d'Information-Centre Pompidou, Paris, France; the Kunsthalle Düsseldorf, Germany; and the Minnesota Museum of American Art.
About the Christel DeHaan Family Foundation Visiting Artist Lecture
The Christel DeHaan Family Foundation Visiting Artist Lecture brings prominent contemporary artists to Herron to present their work and ideas.
About Betsy Stirratt
Betsy Stirratt is the founding director of the Grunwald Gallery of Art at Indiana University Bloomington. As director, Stirratt has curated exhibitions for over 30 years, including the exhibits "Personal: Selections from the Robert J. Shiffler Collection," "Human Nature" and "The Miniature."
About the Herron School of Art and Design
Founded in 1902, Herron School of Art and Design is the premier accredited professional school of art and design in the state of Indiana and is part of the thriving urban campus of IUPUI. Herron has more than 50 full-time faculty serving 11 undergraduate and three graduate programs and a curriculum that prepares graduates to be leaders in a world that requires a unique combination of creativity, conceptual skills and technical abilities. Herron is an engaged community and regional partner including five public galleries; community learning programs; and the Basile Center for Art, Design and Public Life.