A project to replace the North Grandstand at Bill Armstrong Stadium in Bloomington, as well as a design to renovate the Hine Hall Courtyard at IUPUI and an update to the IUPUI Campus Master Plan, were presented to the Indiana University Board of Trustees during the Facilities and Auxiliaries Committee meeting today on the IU Kokomo campus.
Vice President for Capital Planning and Facilities Thomas A. Morrison presented the requests.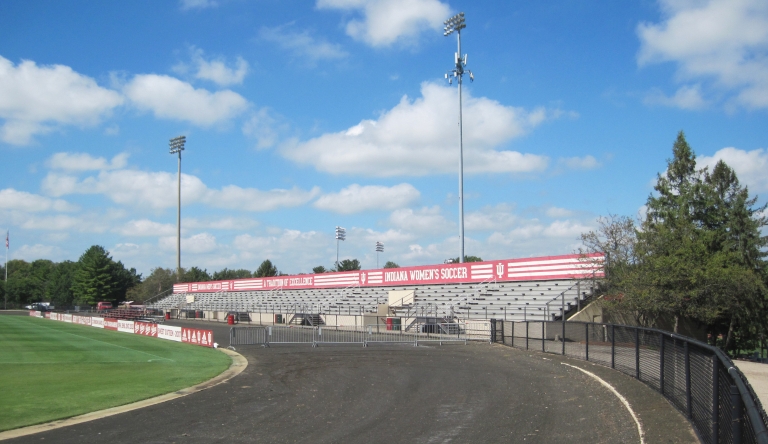 Project approval was granted to construct a new, two-story structure to be used by the men's and women's varsity soccer teams, as well as event support space for the Little 500 bicycle race, at Bill Armstrong Stadium on the Bloomington campus.
This project will demolish and replace the current north grandstand with a new, approximately 21,000-gross-square-foot facility providing locker rooms, a lobby, a team room, a warmup room, coaches' offices, bicycle support space, universally accessible public restrooms, conference rooms and an event space. Permanent seating in this area will be removed and new temporary seating installed. Temporary bleacher seating also will be installed at the west end of the soccer field to provide spectators with an up-close view of the field.
"We are very appreciative of the Board of Trustees' approval of the renovation of Bill Armstrong Stadium, which will be funded entirely through private donations," Vice President and Director of Intercollegiate Athletics Fred Glass said. "As the home of the Little 500 bicycle race and our storied men's and women's soccer programs, this is an iconic facility that is a source of pride for not only IU Athletics, but the university as a whole."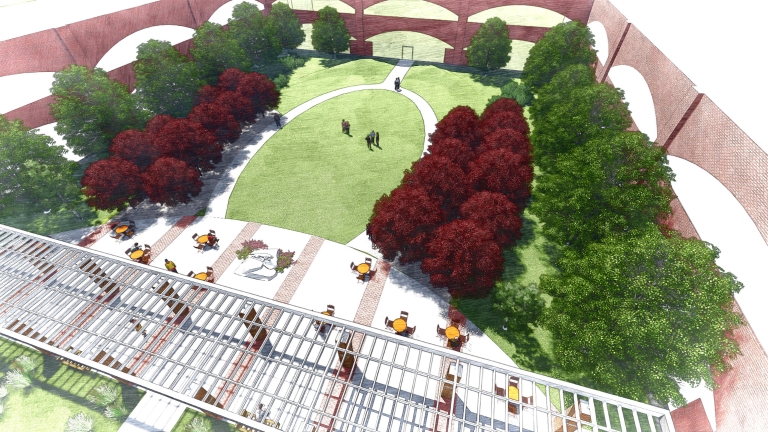 Also approved was an architectural design for renovations of the courtyard at Hine Hall on the IUPUI campus.
The redesigned courtyard will create an active and inviting space for students, faculty, staff and visitors to enjoy as individuals or in small groups, while also offering a large central green for recreation and other programming. Existing doors on the southeast and southwest corners of the courtyard will open onto a new plaza with expanded seating for nearby dining facilities, as well as a home for the IUPUI Jaguar sculpture. A new door on the north side of the courtyard also will provide access from the building lobby.
Repairs will be made along the perimeter of the building, with trees and landscaping to provide shade and a sense of privacy. Additionally, cedar reclaimed from the Vermont Street Garage facade will be used to create seating benches for the courtyard.
Finally, an update to the IUPUI Master Plan was approved. The IUPUI Sports District Plan highlights key locations and siting for potential future facilities such as an arena/fieldhouse, office building sites, infrastructure improvements and a dining facility, while also providing recommendations for the Michael A. Carroll Track and Soccer Stadium. These potential future facilities and improvements would enhance IUPUI's student and athletic activities, as well as support the overall strategy to make Indianapolis a sports destination.
Beth Feickert is a capital planning project specialist for the IU Office of the Vice President for Capital Planning and Facilities.