Members of the U.S. State Department met with Indiana University students, faculty and administrators on the IU Bloomington and IUPUI campuses to recognize both campuses' strong engagement in the Diplomacy Lab program, a unique project under the agency that provides university students the opportunity to develop ideas and solutions to policy issues of interest to the federal government.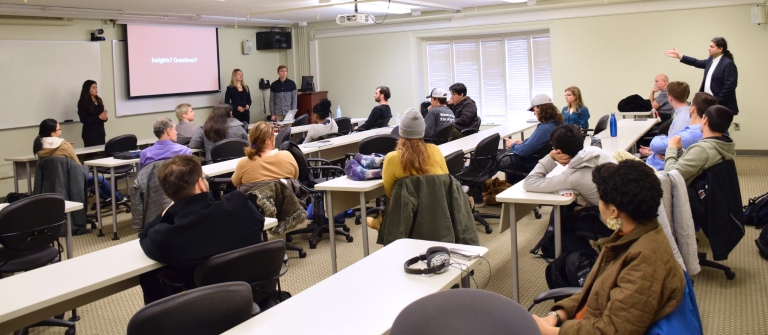 The visits, which took place Nov. 29, included a presentation from students in a class sponsored under the program and meetings with IU faculty and representatives from the IU Office of the Vice President for International Affairs, the IUPUI Office of International Affairs, the IUPUI Office of Community Engagement, the IU College of Arts and Sciences, the Hamilton Lugar School of Global and International Studies, and the IU School of Informatics, Computing and Engineering, among others.
IU Bloomington and IUPUI are two of only 31 American university campuses participating in Diplomacy Lab. Projects originate in offices and embassies across the State Department, after which participating faculty can bid to take on the topic.
State Department members who participated in the visit were Thomas Debass, managing director of the State Department's Office of Global Partnerships, who attended remotely, and Bryan Gerhart, director of Diplomacy Lab.
"It's one of the best gigs in government," Debass said of his position. "I get to play in the public sphere and look at how private enterprise can be a tool."
He compared the office to a "startup" – one that reaches out to embassies across the globe to identify the intersection between their policies and private-sector interests. Diplomacy Lab was established to extend the office's engagement to universities and "course source" solutions to global challenges.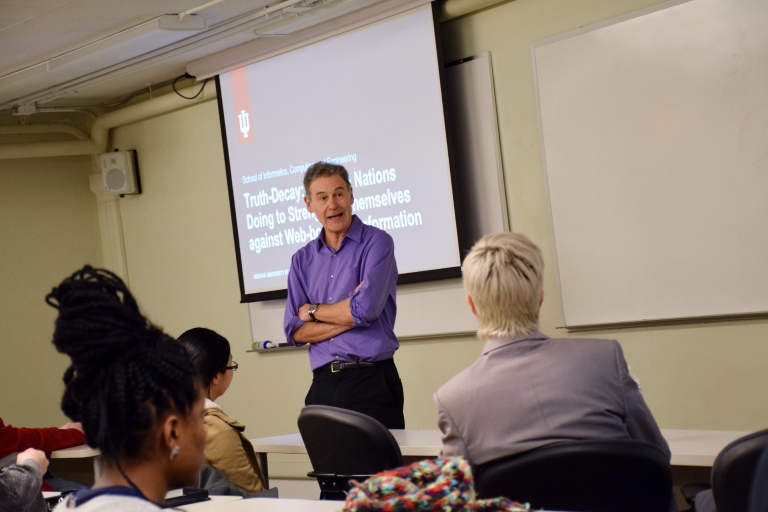 The program is also politically "agnostic," he said. It owes its origin to both former secretary of state John Kerry, who established the program in 2010, and former secretary of state Condoleezza Rice, who founded the office that houses it in 2008.
Deb Johannes, a senior staff member from the office of Sen. Todd Young, also visited. IU organizers said Young's interest in Diplomacy Lab stems in part from his role as a member of the Senate Foreign Relations committee, as well as the state of Indiana's strong participation in the program, which also includes the University of Notre Dame.
IUPUI joined Diplomacy Lab in 2015 under the guidance of Gabriel Filippelli, a professor in the Department of Earth Sciences in the School of Science at IUPUI. Diplomacy lab at IUPUI is currently under the direction of Leslie Bozeman, director of curriculum internationalization in the IUPUI Office of International Affairs. The IU Bloomington campus joined in 2016 under the guidance of Michael Hamburger, a professor in the IU Bloomington College of Arts and Sciences' Department of Earth and Atmospheric Sciences.
Filippelli and Hamburger first became involved in the program through their selection as Jefferson Science Fellows, which brought them to Washington, D.C., for a year to work on foreign policy issues with the State Department.
"(Diplomacy Lab) is an opportunity that students don't often get at universities, especially graduate students, who are usually focused on research," said Filippelli, whose classes have worked on five Diplomacy Lab projects. Two of his students received job offers as a direct result of their work on the projects.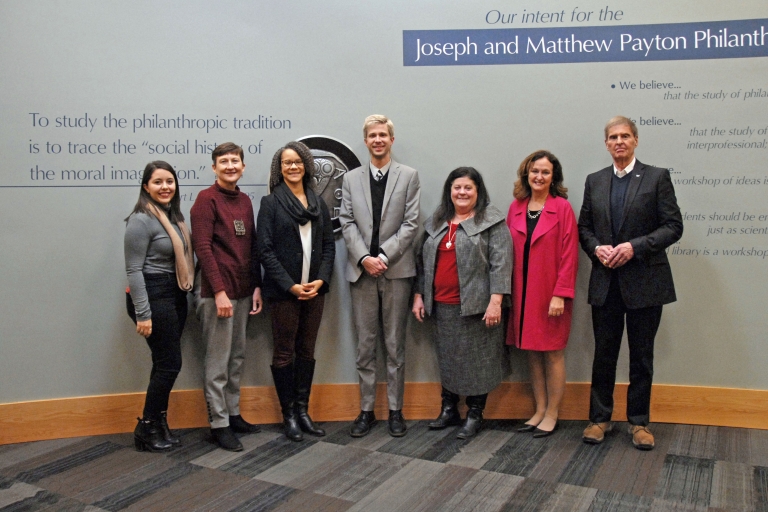 "I can say without hesitation, it's one of the most exciting courses that I've had the opportunity to teach at IU," added Hamburger, who has worked on two Diplomacy Lab projects through his course titled "Environment and Energy Diplomacy."
Hamburger's first project under the program concerned strategic energy planning in Vietnam for the U.S. Embassy Hanoi. The second focused on renewable energy options for Malaysia with the U.S. Embassy Kuala Lumpur. Hamburger has also established a Diplomacy Lab Symposium at IU Bloomington, which brings together students participating in Diplomacy Lab projects across campus.
The Diplomacy Lab projects highlighted at the Nov. 29 meetings were led by William A. Foley Jr., a senior lecturer in the IU School of Public and Environmental Affairs at IUPUI, and Sameer Patil, an assistant professor in the IU School of Informatics, Computing and Engineering at IU Bloomington.
Foley's graduate course this semester focuses on work for the Department of Homeland Security and Emergency Management to prevent extremism and stop groups from "recruiting radicals on the internet." Patil's current undergraduate courses focus on the issue of online misinformation. His students delivered presentations to Gerhart and Johannes about how the European Union is working to curb the spread of misinformation and how misinformation has been spread throughout history, with the goal of proposing steps to help people recognize disinformation campaigns.
"The opportunity to work on a project that can impact us on a state and federal level is awesome," said IU senior Ryan Cronk, who co-presented "Countering Disinformation Through Storytelling." "It's something I didn't imagine I would be able to accomplish in this class, and it's great that I can use it on my resume and, hopefully, make a real difference."
John Schwarb and Ken Bikoff contributed reporting to this story.