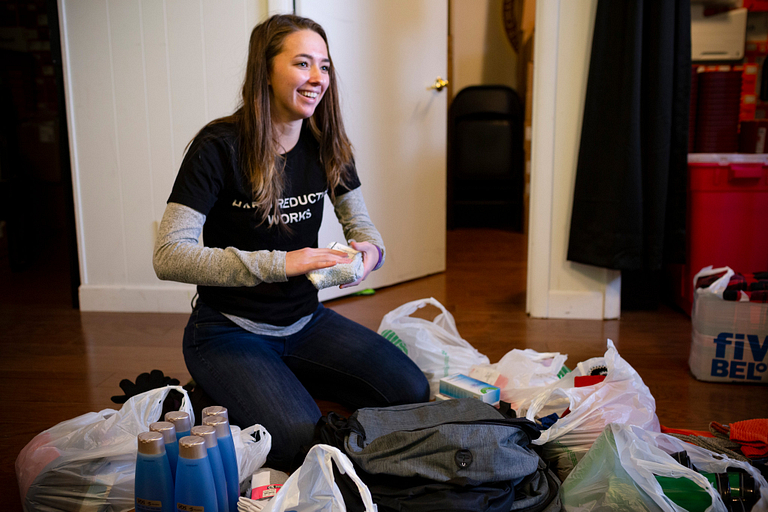 Social work major Arielle Hacker has spent her senior year at Indiana University Bloomington working at the Indiana Recovery Alliance, a private, nonprofit organization that provides essential services to community members coping with substance use disorders.
During her time at the organization, Hacker noticed that many of the people the alliance serves are also in need of basic items such as toiletries, backpacks, hats, scarves, socks and blankets. So when one of her classes in the IU School of Social Work required groups of students to apply for a grant, Hacker knew she wanted to help the people she serves every week.
"Some individuals experiencing substance use disorder are also experiencing food insecurity, homelessness and lack of proper clothing and are in need of some of the basic necessities we take for granted," Hacker said. "This project is one small step toward meeting our participants' basic physiological needs so they can spend a little less time worrying about how they are going to meet every day needs and instead can devote that energy to other areas of their lives."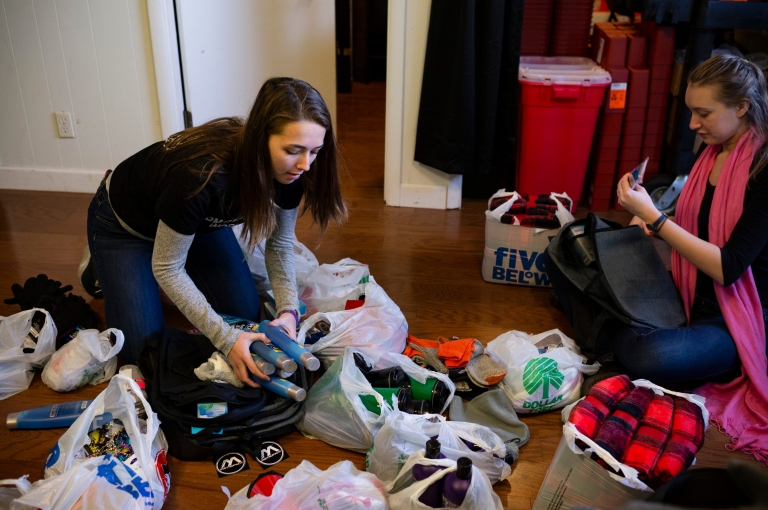 Through a grant from the Love Like Lija Foundation, Hacker and fellow IU social work students Kassandra Feczko, Nora Dicker, Abbey Paul and Alex Sprowl spent last week purchasing supplies such as toiletries, socks, gloves and blankets and assembling them into care packages.
The care packages were then delivered to the Indiana Recovery Alliance, which provides community members with lifesaving supplies such as naloxone, sterile equipment, access to HIV and hepatitis C medication and more. Hacker and other volunteers will distribute the supplies during outreach.
"Arielle has been a fantastic addition to our team," said Chris Abert, Indiana Recovery Alliance director. "The supplies that are gathered for distribution, while seemingly innocuous, can literally save lives. A warm coat or blanket on a freezing night can be the difference between life and death. In fact, the IRA started their project after a young man died from exposure in 2014. We could not do this without the support of our community, Indiana University and others who collectively allow us to help those vulnerable community members who are often neglected."
A native of Bloomington, Hacker became interested in social work after taking an intro course her freshman year of college.
"I have also always wanted a career that somehow created positive change," she said. "I knew that I couldn't stand working every day for the rest of my life if it wasn't making a difference in my community for the better."
She has spent her college career volunteering at local organizations and serving on commissions that address different needs within the community. Having hands-on experience in her field of study has helped Hacker gain a better knowledge of social work and has allowed her to be more involved in her community.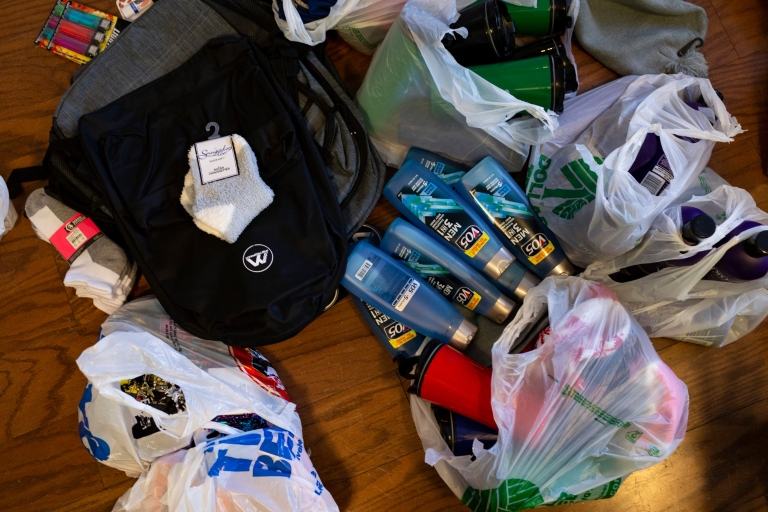 Hacker said she didn't know a lot about harm reduction when she began her senior practicum at the Indiana Recovery Alliance. She learned there are a lot of misconceptions around the communities she serves, particularly regarding harm reduction and substance use disorder, and that is something she would like to change.
"Maslow's Hierarchy of Needs theory suggests that an individual must meet basic physiological and safety needs before their other needs can be met," Hacker said. "Some people dealing with this issue are also dealing with a lack of basic resources. The way our society approaches substance use disorder is they expect that person to ignore all of those other factors and get their substance use under control. However, according to this theory, it is extremely challenging for them to even begin to address the substance use piece before meeting those other basic needs."
Although the grant is small, Hacker said the impact of providing resources to alliance participants is huge. So is the feeling she and her fellow classmates receive when helping people in their community.
"We didn't get a huge amount of money to fund these care packages, but it will be a big deal to our participants who may not be able to afford these supplies on their own," she said.
Arielle Hacker's work is an example of an IU Corps experience. IU Corps is IU Bloomington's umbrella network connecting students with meaningful service experiences locally, nationally and globally.