As faculty will likely have noticed, a package of amendments to the Indiana University Bloomington Faculty Constitution was recently presented for their consideration, after having been passed by the Bloomington Faculty Council. These amendments touched on a number of matters, including some that could reasonably be called "procedural," in that their point was to realign the constitution with current practice (e.g., to have the constitution reflect that the State of the Campus address is given in the spring semester, not in the fall, as the constitution stated).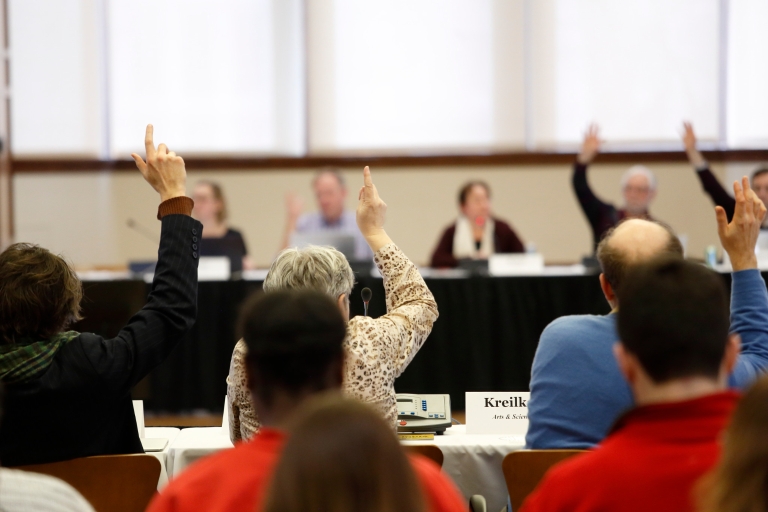 But several highly consequential issues were also on the ballot, including the definition of the faculty (a matter that had been somewhat ambiguous in the constitution); the procedure under which roll call votes will be used on the faculty council; and, perhaps most consequential of all, the reorganization of the faculty council to represent non-tenure-track faculty in numbers more closely approximating their proportions in the faculty as a whole.
With 828 faculty (about 29 percent) using their franchise, all of the proposed amendments passed. To get an idea of what this passage will mean for non-tenure-track faculty's participation in campus governance, one has only to reflect on the fact that the current council, with 53 elected voting members, had only three seats set aside for non-tenure-track faculty: one for lecturers, one for research scientists/research scholars, and one for clinical professors.
The approved amendments will add a seat for representation of professors of practice and will allow for multiple representatives in the other non-tenure-track appointment categories. Although the exact number of non-tenure-track members that emerges from the new election rules will depend on how voting units are created (for which, see below), one might expect approximately 15 non-tenure-track members. That increase in representation will allow non-tenure-track faculty to more effectively participate in the many important discussions slated to come before the council.
The matter of implementing these new rules is an immediate order of business for the council's Nomination Committee. One principle that the committee will bring to bear is the matter of distributing representation fairly among IU Bloomington's schools, which involves creating voting units in such a manner as to solicit non-tenure-track representatives from units in rough keeping with their numbers in the various schools.
As with the tenure-track faculty, a ratio of one representative for each 50 faculty members is the fundamental standard to be used, with exact numbers in any particular voting unit necessarily varying from that precise number. Since the new constitutional provisions organize non-tenure-track faculty by appointment category (lecturer, professor of practice, research scientist/research scholar, clinical professor), some voting units might cross school boundaries.
For example, the numbers of professors of practice on campus are small enough that only one representative will be chosen for the whole campus. But, where possible, provision will be made for non-tenure-track faculty to vote for representatives in their own school. The Nomination Committee has put together a plan for creating non-tenure-track voting units in accordance with these principles, which will be discussed and voted on by the full faculty council at a meeting early in the spring semester.
As is always the case in significant transitions, it will take a little while to have all voting practices in place, ensuring that the terms of non-tenure-track members are properly staggered, with new members joining a council that already has other non-tenure-track members with a year's experience under their belts. Until that orderly transition can be completed, the Nomination Committee plans to appoint interested non-tenure-track members in the various categories, with terms of differing length, in order to move as expeditiously as possible to a council with the proportions of representation envisioned by the amendments.
Those non-tenure-track faculty interested in joining the Bloomington Faculty Council can contact their unit representative or send a comment via the Bloomington Faculty Council website to make their interest known. By 2020, voting practices should be in place and a new era of non-tenure-track participation in faculty governance can begin.
Jon Trinidad and Nick Williams are former chairs of the Bloomington Faculty Council's Non-Tenure-Track Task Force.