Eleftherios Garyfallidis' career as the creator of the world's largest open-source project on diffusion MRI development has spanned four countries in a little over a decade.
An assistant professor in the Indiana University School of Informatics, Computing and Engineering, Garyfallidis connected his two passions – the human brain and intelligent imaging – to create Diffusion Imaging in Python, or DIPY, a software program for understanding the brain.
"I'm very interested in what we can do to help people use the latest techniques – from medical imaging, machine learning and scientific visualization – to understand the brain and how it works," Garyfallidis said.
Diffusion MRI is a unique way to study the structure and connectivity of the brain. "It's one of the most advanced and most powerful MRI techniques," he said. The method uses hydrogen atoms in the brain to detect its structure in extremely fine detail.
The leader of the Garyfallidis Research Group at IU Bloomington, Garyfallidis has long been interested in medical imaging. He later became interested in exploring how the brain actually works in order to help people with neurological disorders and other illnesses such as Alzheimer's disease or cancer.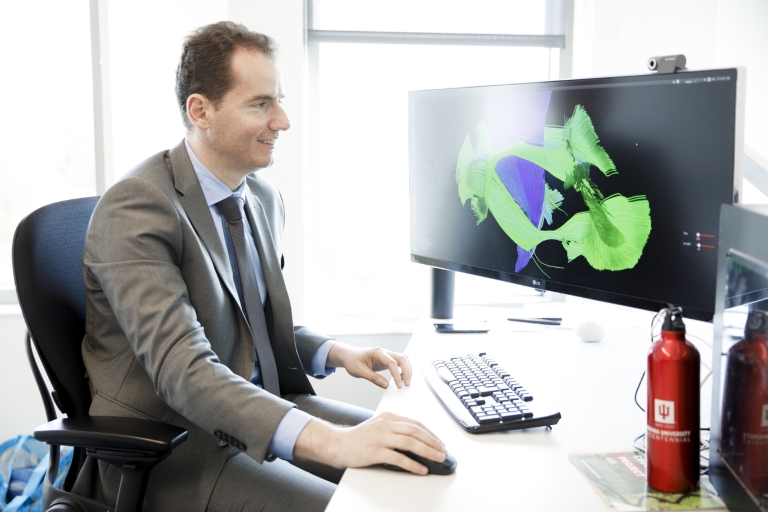 The main function of DIPY (pronounced "die-pie") is to create state-of-the-art algorithms that can be used to analyze this MRI data. DIPY not only puts all of these algorithms together, but also allows researchers to visualize and interact with the data in 3D.
A researcher who has conducted work across the globe, Garyfallidis left his native country of Greece to earn his Ph.D. from the University of Cambridge in the United Kingdom, where DIPY was born.
"I saw there was a very big interest in diffusion MRI," he said. "So, I looked into it and saw that every lab was generating their own software. I decided I was going to make one library, one software called DIPY – and that any scientist who works in this field could contribute from anywhere in the world."
In addition to data collection and visualization, DIPY offers many other functions that can be used for generic medical imaging applications, such as reducing noise and performing spatial normalization.
"The most interesting application is that DIPY can also reconstruct the pathways of your brain," Garyfallidis said. "DIPY allows reconstructing the connections (wiring) of your brain and seeing the differences across different people."

Begun in 2010, DIPY has grown significantly since its official software release in 2011 and now has over 80 contributing scientists and many users worldwide. While simultaneously working to expand DIPY, Garyfallidis joined IU in 2016.
He has settled into Bloomington and enjoys its many perks.
"I enjoy the multinational character of the town," he said. "There's so many people here that you can walk and collaborate with. I also like that we live close to the nature; you need that peace of mind sometimes to think about your next research steps."
Garyfallidis was attracted to IU because of its new and growing engineering program.
"I'm building systems and I heard about the intelligent systems engineering program here," he said. "There was this great opportunity and challenge to improve engineering and impact changes both in research and in the curriculum."
The establishment of the first DIPY workshop at IU is one way that Garyfallidis is tackling this challenge. The event, which will take place March 11 to 15, will provide students, faculty members and researchers with hands-on training on the software. By the end of the workshop, Garyfallidis said attendees will be able to use DIPY to do their own research and analyze their own data.
Yet the workshop is just a start. Garyfallidis' main goal is to make sure that IU becomes a world leader in medical imaging. This work includes organizing brain "hackathons" for the past two years that build and strengthen the local brain researcher community at IU.
"People dream about self-driving cars navigating the streets of our cities," he said. "I dream of self-driving algorithms that navigate the pathways of our brains and provide guidance for disease treatment and long-term prevention."