Six IU Bloomington researchers receive nearly $150,000 from translational research grant program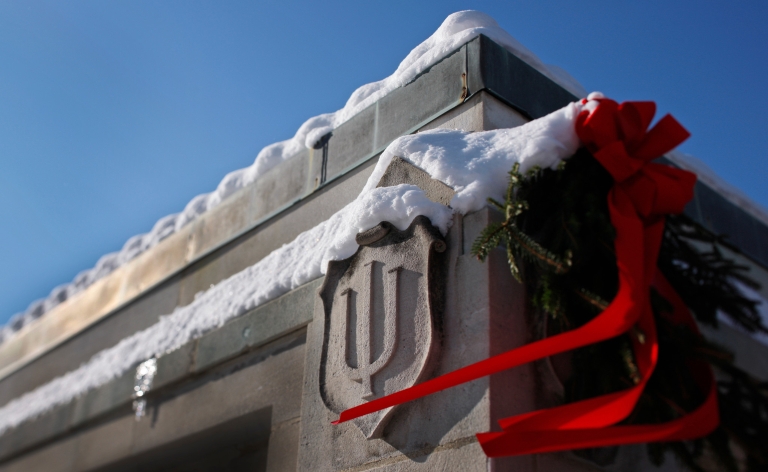 Six Indiana University Bloomington researchers across several academic disciplines and their teams have received grants from a program that supports developing translational research projects with industry, establishing new companies or strengthening patent applications.
Launched in 2015, the Translational Research Pilot Grant program funds the completion of proof-of-concept projects. The grants are offered by the Johnson Center for Innovation and Translational Research, which is part of the IU Innovation and Commercialization Office.
History graduate student receives Slavic studies award
László Szabolcs, a Ph.D. candidate in history at IU Bloomington, will receive the Association for Slavic, East European and Eurasian Studies Graduate Student Essay Prize for his essay "Performing for the Capitalists: Cold War Cultural Diplomacy Experienced by Hungarian and Romanian Writers at the Iowa International Writing Program."
The award recognizes an outstanding essay by a graduate student in Slavic studies. It was presented last week at the association's 50th annual convention, held in Boston.
Rosenfeld named senior fellow at Wallenberg Centre
IU professor Alvin Rosenfeld has been named a senior fellow at the Raoul Wallenberg Centre for Human Rights, a Montreal-based international consortium of government officials, scholars, jurists, students and others united to pursue justice.
Rosenfeld is founding director of the Institute for the Study of Contemporary Antisemitism at IU, the only research center at a U.S. university dedicated to understanding and combating contemporary antisemitism. A widely respected scholar of the Holocaust, he is also the Irving M. Glazer Chair in IU's Borns Jewish Studies Program and a professor of English.
Senior fellows at the center are leading thinkers and advocates chosen for their contributions to the struggle for peace and justice. They seek to mobilize a constituency of conscience to defend democracy, human rights and protection of the most vulnerable.
Erwin van Bennekom named head women's soccer coach
IU Vice President and Director of Athletics Fred Glass named Erwin van Bennekom as the new head coach of the Indiana women's soccer program last week.
One of the nation's elite assistant coaches, van Bennekom comes to Indiana as the fourth head coach in program history after four seasons at Duke University, where he served as associate head coach during the most successful stretch in Duke women's soccer's illustrious history.
Van Bennekom was an instrumental part of the Duke program's best four-year cycle in school history, boasting a record of 68-17-11 with a 29-6-5 conference mark. Duke excelled in the postseason with van Bennekom's guidance, posting a 13-3-2 NCAA mark and advancing to the third round or further in every season.
He began his coaching career after an impressive playing career that saw him compete in a variety of semi-professional leagues in the United States from 2006 to 2009. He also played in the first division of the National Futsal League in Holland from 2002 to 2004. Growing up, van Bennekom was a member of Holland's youth academy system.
IU recognized by the Indiana state health commissioner
IU will be receiving the Indiana State Health Commissioner Award during a ceremony Dec. 13 in Greenwood. This award is in recognition of IU's state and national leadership in protecting students against meningitis B by requiring the vaccine.
Dr. Kristina Box, Indiana state health commissioner, will present the award to representatives from the IU Bloomington and IUPUI campuses at the Indiana Immunization Coalition End of the Year Celebration.
IU men's basketball mourns loss of Eric Anderson
The IU men's basketball program has issued a statement after learning of the passing of former Hoosier Eric Anderson. He was 48.
Anderson played for the Hoosiers from 1988 to 1992 and earned a degree in sociology. He was a former Mr. Basketball in Illinois and was a McDonald's All-American. He signed with the New York Knicks as an undrafted free agent and played for them from 1992 to 1994.
Several members of the IU basketball family have shared their memories of Anderson.