BLOOMINGTON, Ind. – A distinguished alumnus of Indiana University has endowed a professorship in honor of a Wabash, Indiana, high school English teacher who stretched his intellectual limits and always encouraged him to be true to himself.
IU alumnus George P. Smith II has made a $500,000 estate gift to the university to establish the Martha Biggerstaff Jones Professorship in British Literature. The professorship will be awarded to a faculty member in the College of Arts and Sciences' Department of English and will supplement the recipient's salary, provide research assistance, and fulfill other requirements of an active scholar and teacher.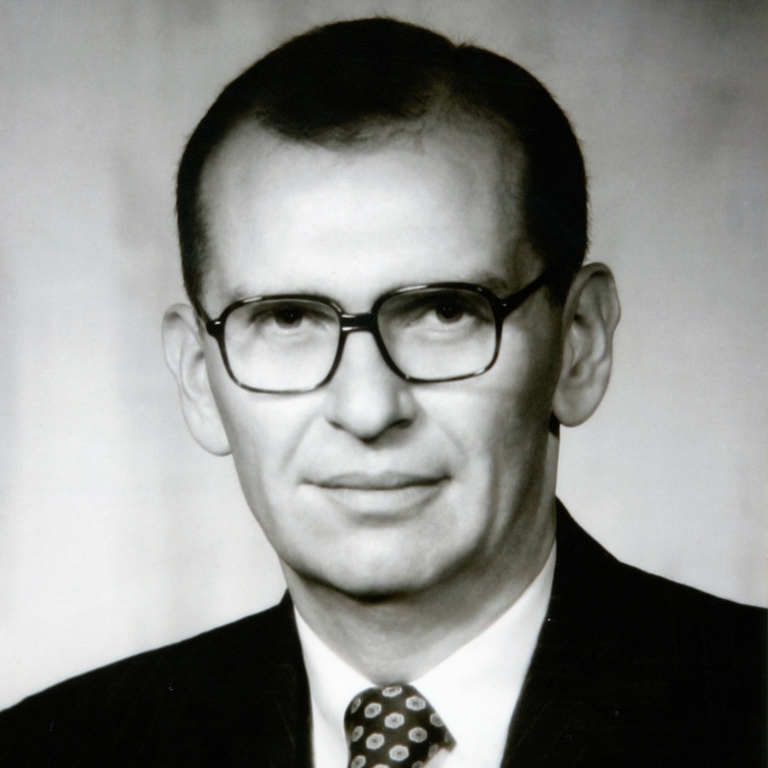 A native of Wabash, Indiana, and a descendant of one of the city's oldest families, Jones taught English at Wabash High School for 26 years, shaping the intellect and honing the writing skills of literally thousands of students.
"Martha Jones awakened in me an interest in learning and a love of writing that has stayed with me to this day," said Smith, who holds a bachelor's degree in business and a J.D. and an honorary Doctor of Laws from IU. "She was a driving force behind the success of countless numbers of students, and she was instrumental in sustaining a high level of community culture in Wabash throughout her life."
In addition to teaching, Jones served as chair of the English department and dean of girls at Wabash High School, was one of the first female elders of the Wabash Presbyterian Church and was a member of the board of trustees of the Wabash Carnegie Public Library. She was recognized by the Wabash Chamber of Commerce as a Distinguished Citizen of Wabash and was inducted into the high school's Hall of Distinction following her death in 2006 at age 94.
"George is a fiercely loyal and generous friend to Indiana University," said Lauren Robel, IU Bloomington provost and executive vice president. "I am delighted that the English department is the latest beneficiary of his philanthropy. This wonderful gift will not only burnish his own legacy at IU but will also honor his beloved teacher, Martha Biggerstaff Jones, and benefit generations of scholars and students of British literature."
College Executive Dean Larry Singell echoes a similar sentiment.
"This remarkable gifts demonstrates Mr. Smith's dedication to the next generation of students and scholars, and yet it's so much more than that, too," Singell said. "It's a testament to Mr. Smith's appreciation of the teachers and thinkers who came before him, and it's a moving expression of his love of learning. It's truly an inspiring tribute, and the College of Arts and Sciences is deeply thankful for Mr. Smith's generosity."
Patricia Clare Ingham, chair of the Department of English, said Smith's gift will help the department continue to excel in a vital area of teaching and scholarship.
"We are incredibly grateful to Mr. Smith for this generous endowment in the field of British literature, an area of historic strength in IU Bloomington's English department," Ingham said. "This gift will bolster our faculty as one generation of scholars and teachers of British literature pass on the torch to the next; it will enable the department to continue to flourish as we teach and mentor, write and publish. And we feel especially gratified to help Mr. Smith honor the memory of his beloved and inspiring high school teacher."
Smith is a professor emeritus at the Catholic University of America Columbus Law School in Washington, D.C. He joined the faculty in 1977, researching and teaching in the areas of property law, land use, environmental law, bioethics and health law. Widely published and recognized as a leading national and international scholar, Smith has a bibliography of over 180 entries, including 14 books, 21 monographs, and 152 law review articles, book chapters and essays. He was named an emeritus professor in 2016 and is currently a visiting fellow at the IU Institute for Advanced Study. In addition to his degrees from IU, he holds an LL.M. from Columbia University.
Before establishing the Jones Professorship, Smith made numerous other major gifts to IU, including the George P. Smith II Distinguished Professorship at the Maurer School of Law, which is currently held by Robert L. Fischman.
This gift counts toward the $3 billion For All: The Indiana University Bicentennial Campaign.
For All: The Indiana University Bicentennial Campaign is taking place on all IU-administered campuses, including IU Bloomington, IUPUI, IU East, IU Kokomo, IU Northwest, IU South Bend and IU Southeast. The campaign will conclude in June 2020 to coincide with IU's bicentennial celebration. To learn more about the campaign, its impact and how to participate, visit forall.iu.edu.