BLOOMINGTON, Ind. – Gary M. Hieftje, Distinguished Professor Emeritus and Robert and Marjorie Mann Chair in the Department of Chemistry in Indiana University's College of Arts and Sciences, has been elected a fellow of the National Academy of Inventors. His inventions are used in several fields including agriculture, biology, energy, forensics, material science, medicine, nuclear science and pharmaceutical science.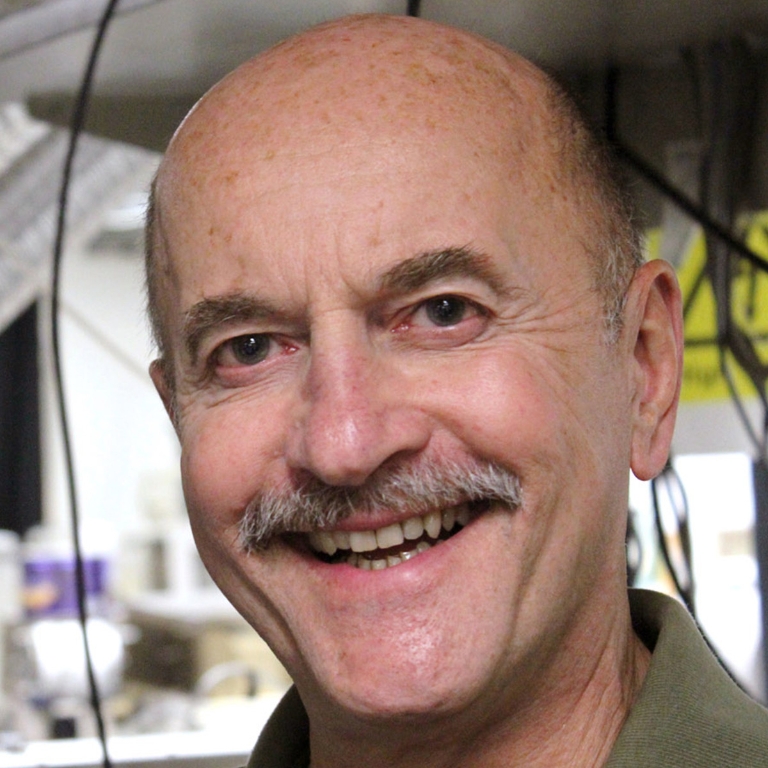 Election to NAI fellow status is the highest professional distinction accorded to academic inventors who have demonstrated a prolific spirit of innovation in creating or facilitating outstanding inventions that have made a tangible impact on quality of life, economic development and the welfare of society.
Hieftje and his colleagues have developed a number of methods and devices to improve optical and mass spectrometry and other analytical techniques. The best-known is one that corrects errors caused by particulate matter and smoke created when a flame or furnace is used in atomic absorption spectrometry. This work and others have resulted in more than 20 patents issued by the U.S. Patent and Trademark Office and international organizations. Hieftje's inventions have been licensed to six companies and are found in commercial instruments in use around the world.
Hieftje said IU has long been one of the top American universities in the field of analytical chemistry. He said the conception, development and testing of novel methods and instruments for chemical analysis and characterization are among the university's hallmarks.
"Naturally, an important spinoff from these activities is new instrumentation and other forms of intellectual property," Hieftje said. "Several other important benefits derive directly from this excellence in analytical chemistry: top-quality undergraduate and graduate students; colleagues with a range of expertise and uniformly outstanding research programs; and nonacademic staff members adept at a group of critical support functions, including instrument design and fabrication, mechanical construction, electronic design, and computer software and hardware development."
Hieftje noted the importance of the university's interest in protecting, marketing and licensing intellectual property so it can be commercialized by industry.
"From my earliest days on the IU Foundation Committee on Inventions and Patents, it was apparent that IU valued the production of new intellectual property. The same sort of activity is now carried out by the IU Innovation and Commercialization Office, but with even greater efficiency and dedication," Hieftje said. "Without those offices and their personnel, this award would not have been possible."
Larry Singell, executive dean of the College of Arts and Sciences, praised Hieftje and his research.
"Gary is admired across the country and the university for many reasons. He has authored more than 600 papers and dozens of books and book chapters that have further strengthened IU's reputation in analytical chemistry. His innovations are used around the world, helping a variety of industries be more productive and efficient. His service on multiple editorial boards and advisory boards shows his commitment to academic inquiry," Singell said. "Being elected a fellow of the National Academy of Inventors is another recognition of Gary's impact in these areas."
Caroline Chick Jarrold, chair of the Department of Chemistry, spoke highly of Hieftje and his impact.
"The Department of Chemistry is very fortunate to have had professor Gary M. Hieftje as a member of our faculty. His pioneering and prolific work on developing new instrumentation for highly sophisticated and sensitive analytical applications has contributed to the high profile and ranking of the Department of Chemistry and the international reputation of analytical chemistry at IU," Jarrold said.
During his career, Hieftje has received the ANACHEM Award, the William F. Meggers Award, the Lester W. Strock Award, the Monie A. Ferst Award, the Maurice F. Hasler Award, the Robert Boyle Prize for Analytical Science and a Humboldt Research Award for senior U.S. scientists. He is a fellow of the American Chemical Society, the American Association for the Advancement of Science, the Society for Applied Spectroscopy and the Royal Society of Chemistry. He is a member of the American Society for Mass Spectrometry and an honorary member of the Golden Key International Honour Society.
Hieftje joins David Clemmer and Richard DiMarchi as IU researchers elected as NAI fellows. To date, there are more than 1,000 NAI fellows who have generated more than 11,000 licensed technologies and companies, created more than 1.4 million jobs, and generated over $190 billion in revenue.
About Indiana University Innovation and Commercialization Office
Indiana University ICO is tasked with the protection and commercialization of technology emanating from innovations by IU researchers. Since 1997, IU research has generated almost 3,200 inventions resulting in more than 4,800 global patent applications. These discoveries have generated more than $145 million in licensing and royalty income, including more than $115 million in funding for IU departments, labs and inventors.