IUPUI employee Russell Black was ready to move.
He wanted to be more active. He wanted to eat a healthier diet. And, as a diabetic, he wanted to do a better job of controlling his blood sugar levels.
"I knew I should do these things," Black said. "But I had a hard time working on them on my own."
But thanks to Healthy IU, Indiana University's employee wellness program, and the Physical Activity and Wellness Institute in the School of Health and Human Sciences at IUPUI, Black didn't have to do it alone.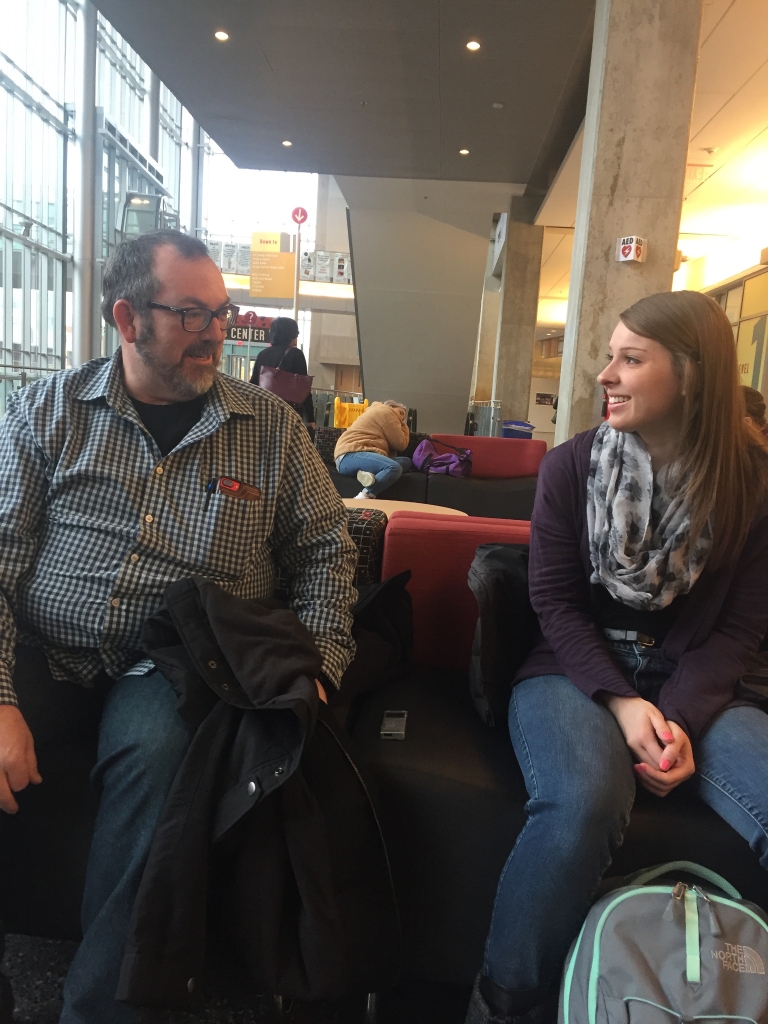 Healthy IU gave Fitbits to Black and more than 30 other IUPUI employees who signed up during the fall semester for the Ready to Move program, and the employees used the tool to track the number of steps they took each day. The Physical Activity and Wellness Institute paired the employees with exercise science majors in their senior year, who served as wellness coaches.
Employees met one-on-one once a week for eight weeks with their student wellness coach to discuss progress toward goals the employees had set for themselves. Unlike a personal trainer who prescribes a specific exercise program, wellness coaches encourage clients to talk about their fitness goals and how they want to reach them.
Kylie Knoblett, one of the exercise science majors, was assigned to work with Black, a clerical worker with the child abuse team at IU Health Riley Hospital for Children.
"He pretty much said, 'I know I need to be more active and eat healthier, but I just don't know where to start,'" Knoblett said. "I think a lot of people feel that way. It can be overwhelming to make a change, but you have no idea how big or little that change needs to be."
Knoblett said Black became motivated by the necessity of reporting his activities to her: "He didn't want to let me down."
When Black asked for feedback, Knoblett offered tips about reaching his goals, such as using his Fitbit reminder to get up and walk to and from the water cooler at work. "I reminded him of how easy it is to do little things and how those little things add up to big things," she said.
During the program, Black increased his daily steps, going from 3,000 a day to nearly 7,000 by the seventh week. He now carries bags of vegetables with him as a snack or to have with lunch, reducing the amount of fast food he eats.
During his weekly meetings with Knoblett, Black also talked about ways to balance the demands of his job at IUPUI and a second job managing a scrapbook store with his home life. He was sleeping better and he also felt better, a sign he believes indicated his blood sugar levels had improved.
The Ready to Move program is a great benefit, Black said: "It's a free exercise program with someone coaching you along the way."
"I know Kylie is going to ask every week, 'How were your steps, how was your eating, how are your stress levels,'" he said. "It's easier to manage those knowing that I have to account to somebody."
But among his fitness goals, Black said, is to get into a position where accounting to himself will keep him on track and ready to move.