During a Fulbright International Education Administrators Program experience in France and Belgium, Etta Ward, assistant vice chancellor for research development in the Office of the Vice Chancellor for Research, was seeking firsthand knowledge to help IUPUI faculty better navigate international collaboration efforts.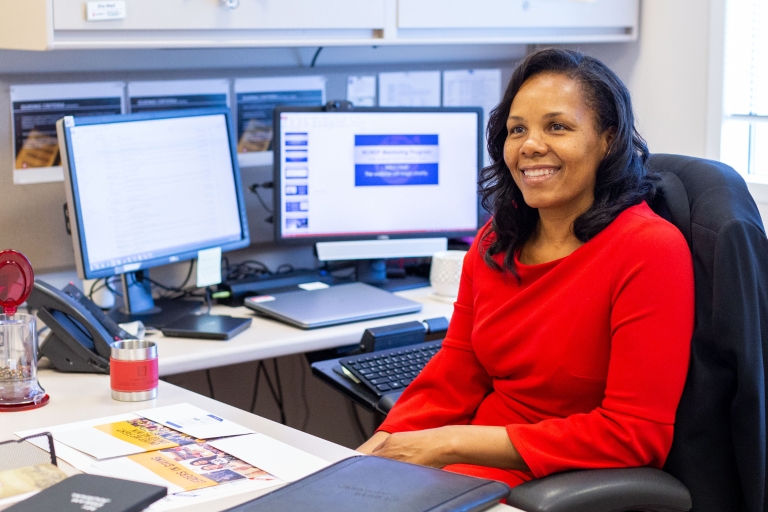 She didn't anticipate her experience would catch the eye of her facilitators and land her a spot on the agenda of a Fulbright staff workshop.
During her October trip, Ward learned how universities in the countries she visited are making themselves more competitive globally. In Brussels, she met with a team working on Horizon 2020, the European Union's largest-ever research and innovation program, which is designed to address and answer large-scale problems requiring multidisciplinary and cross-national approaches. Ward recognized similarities to IU's Grand Challenges program, took notes to bring home a new perspective and shared insight regarding IU's approach.
"We discussed IU's three Grand Challenge initiatives," Ward said. "And we made connections with Horizon 2020 representatives about possible future collaborations."
The Fulbright program also provided an opportunity to talk with international administrators about one of Ward's biggest passions – mentoring.
"I wanted to get a broader, global perspective of what mentoring means for other universities, particularly in France," she said. "Mentoring is near and dear to my heart, and it's an important strategy to support women and minority faculty in higher education."
During the experience, Ward shared her mentoring successes, including her efforts to help develop IUPUI's first formal staff mentoring program, as well as the inception and positive results of the popular EMPOWER program – Enhanced Mentoring Program with Opportunities for Ways to Excel in Research – for tenure-track faculty, now in its eighth year. Now, there are ongoing discussions about including an international mentor in a future EMPOWER pairing.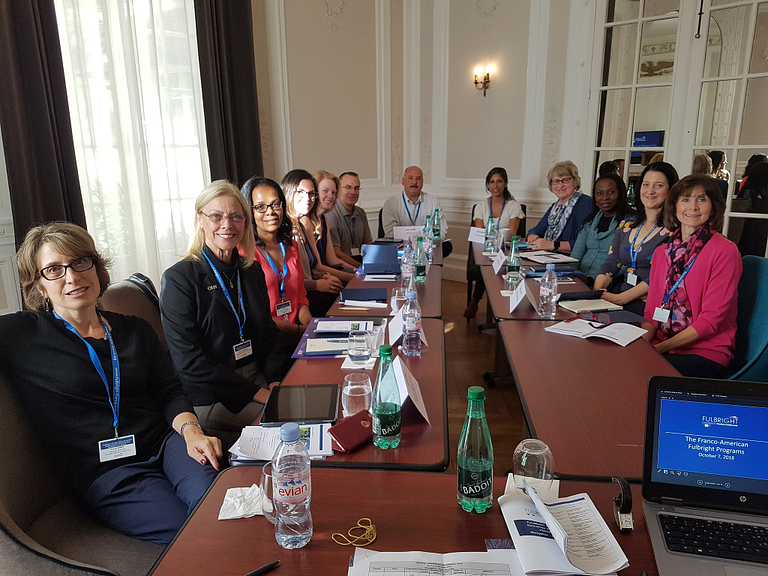 Walking the walk, Ward, who is president of the IU School of Liberal Arts at IUPUI's alumni board, has developed and maintained many longstanding and mutually beneficial mentoring relationships over the years. In Brussels, during the Fulbright experience, she agreed to mentor a fellow American Fulbright scholar who was part of the Germany cohort. Ward also gained a mentor of her own: Lisa Bernstein, academic exchange specialist with the U.S. Department of State's Bureau of Educational and Cultural Affairs.
"I asked Lisa to be my mentor and help me better understand the Fulbright programs, not just for students and faculty, but also for administrators," she said. "I think IUPUI can be a gateway to bolstering more Fulbright opportunities and relationships."
During the program, word of Ward's mentoring successes caught the attention of Fulbright staff members. Stemming from conversations with Bernstein, who then shared some of Ward's innovative strategies with Fulbright leadership, Ward was invited to the Dec. 5 Fulbright Commission staff workshop in Washington, D.C. There, she spoke with Fulbright employees about how best to use mentoring methods to ensure the success of minority students participating in a Fulbright exchange.
Ward believes that having an established mentoring framework in place can better help the Fulbright team prepare for students' unmet expectations and culture clashes. She will draw on successful strategies and initiatives happening in her office, and across the IUPUI campus, as she continues discussions with Bernstein and Fulbright leadership on potential collaborations to develop a series of programs that will help foster a welcoming and inclusive environment for program participants.
Ward is already thinking ahead to future Fulbright programs. She hopes her next experience includes a visit to Croatia, where she would like to examine, in collaboration with IUPUI faculty and peer mentors, how mentoring might benefit the country's social science professionals.
Kelsey Cook is associate director of research communications with the Office of the Vice President for Research.