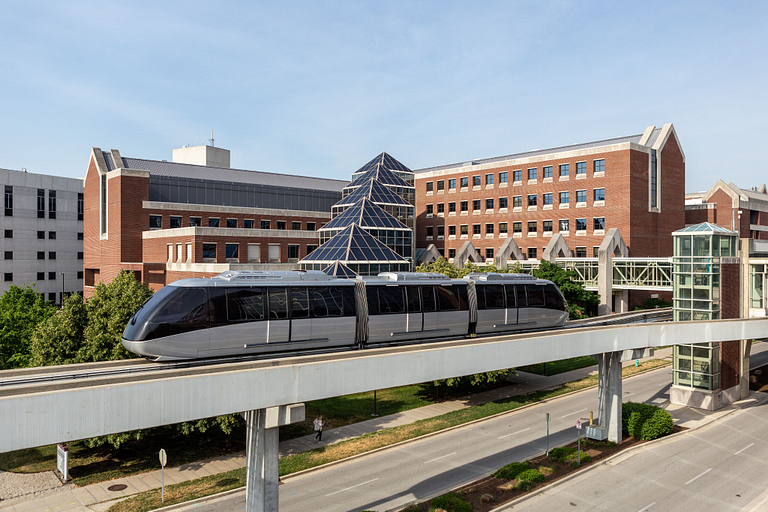 IU Health has announced that in February, it will no longer use the People Mover trains and will instead begin using a shuttle service to move personnel and equipment across its downtown campus.
Four to six shuttles operated by a local vendor will be used for the new service, which will use ridership to adjust usage patterns and better serve users once it is up and running. An online tracker will show shuttle locations in real time to minimize wait times and optimize routes.
The shuttles will run on compressed natural gas or propane fuel, which should be more cost-effective and more environmentally favorable than the amount of electricity needed to run the People Mover trains. The new service will offer double the number of pickup and dropoff locations, providing greater access.
Administrators cited significant ongoing costs to operate the People Mover – exceeding $3 million per year – as a root cause for the change. The People Mover would also require an additional financial investment in the near future to keep it operational. By moving to the shuttle system now, IU Health will avoid incurring those additional expenses, projected to total $20 million over the next five years. IU Health will also save more than $1.5 million annually by switching to the shuttle service.
An exact date of the shift will be announced in the coming months, but the People Mover will continue to run until the shuttle service begins.
Work to construct new IUPUI gateways nearly complete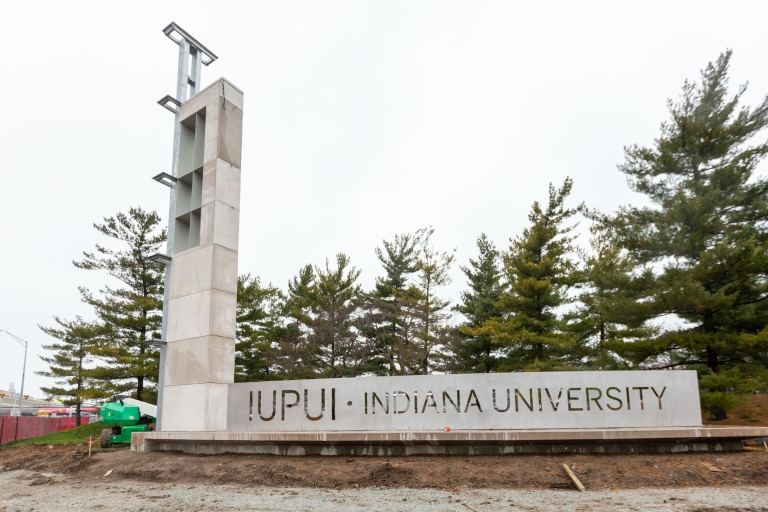 Work to construct IUPUI's new Shreve Gateway, located on the corner of Michigan and West streets, is projected to be complete in mid-to-late January. The project also includes a secondary gateway at the intersection of West and New York streets. New landscaping along West Street and down the center to Michigan Street is projected to be complete in spring 2019.
The gateways will welcome all who come to the IUPUI campus. Composed of limestone, stainless steel, precast concrete and glass, the Shreve Gateway echoes the composition of other campus buildings and, at 52 feet tall, provides a highly visible feature on one of the campus's most-traveled thoroughfares.
The gateway at Michigan and West streets is named for Indiana University alumni Jefferson and Mary Shreve, both Indianapolis natives who graduated from IU Bloomington. Their gift also allowed IUPUI to create two new endowed scholarships in the Shreve family name.
Volunteer for IUPUI's Birthday Bash
Help make IUPUI's 50th Birthday Bash a gas by lending a hand. Volunteers are needed throughout the Jan. 24 event. Festivities will run from 9:30 a.m. to 10 p.m., with most events located in the Campus Center.
The bash will feature Chancellor Nasser H. Paydar's annual Report to the Community presentation followed by a plethora of faculty and staff presentations. A Toast to IUPUI is set for 5:30 p.m., and the party will extend well into the evening. Help make the university's big 5-0 unforgettable.
Nominate IUPUI's 'Top' students
Each year, the IUPUI Office of Alumni Relations honors 100 outstanding undergraduate students who demonstrate excellence in three categories – academic excellence, campus leadership and community engagement. These "Top 100" Jags represent everything that makes IUPUI exceptional.
Nominators need just the student's name, IUPUI email address and network ID – the first part of their IU email address – to submit a nomination; students fill out all of the required paperwork. Students may also self-nominate.
Eligible students are undergraduate juniors and seniors seeking their first bachelor's degree from the IUPUI campus with a minimum cumulative GPA of 3.2. They should have completed 56 credit hours applicable to their degree program; at least 25 of those hours must have been completed at the Indianapolis campus as of the fall 2018 semester.
The Top 100 Outstanding Students Recognition Dinner will take place April 12 at the Indianapolis Marriott. Contact Kathy Lopez at kmlopez@iupui.edu or 317-278-1720 for more information.
IUPUC student is going to Disney World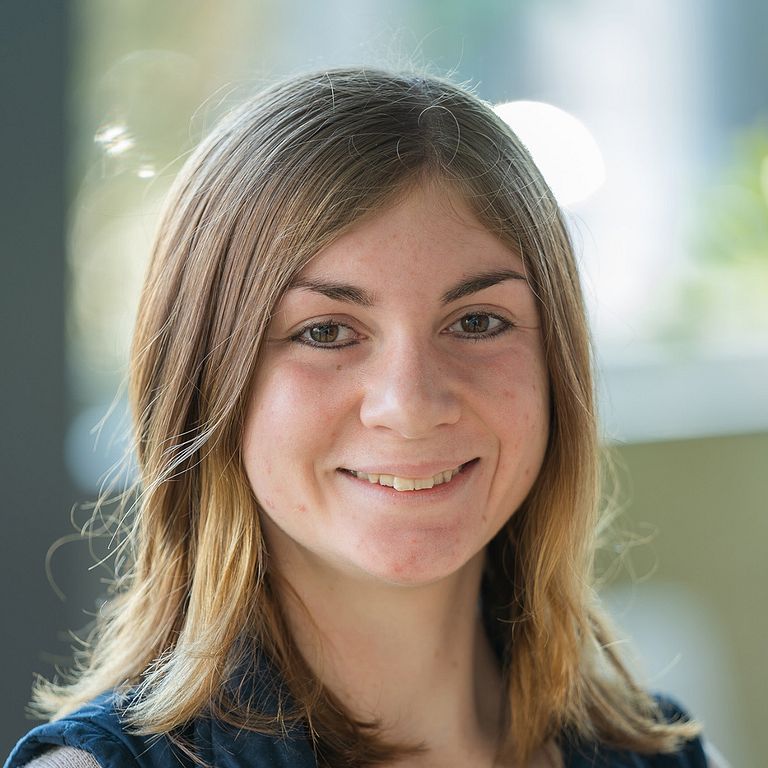 IUPUC sophomore Demi Oakes has been dreaming of working for Disney ever since she was a child. Her dream has just become a reality with her acceptance into the Disney College Program at Disney World in Orlando, Florida, beginning next semester.
"Through each stage of the process, I found myself thinking, 'I can't believe this is really happening,'" Oakes said. "It's a once-in-a-lifetime opportunity."
The Disney College Program has grown to over 50,000 applications per year. It is nationally and internationally renowned for its prestige and the opportunities it provides students upon completion, both within and outside the company.
Oakes will start in January and continue through May working as a merchandise cast member. That role provides her with the freedom to work in any of the Walt Disney World Parks, indoors and outdoors, as well as Downtown Disney. She will also learn the skill of "merchantaining" – a term used by the Disney company for merchandise cast members entertaining guests in and out of the store.