Take a meaty lunch trip around the world without leaving the Haus.
Located along the downtown canal near the IUPUI campus, Indiana's own Burgerhaus, 335 W. Ninth St., offers an exotic array of gourmet hamburgers with ingredients paying tribute to five continents, eight countries and a few different regions of the United States.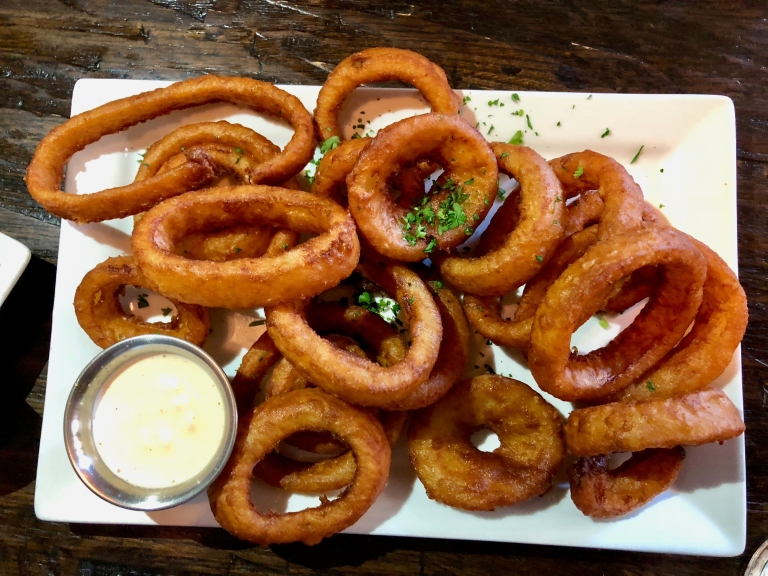 The taste traveler can indulge in the tropical Cozumel – grilled pineapple, guacamole, American cheese, onions, jalapeños, mayo, lettuce and tomato – or the Asian-inspired Kyoto, with six ounces of sushi-grade ahi tuna, yuzu-kosho mayo, spinach and honey-citrus-soy-sesame vinaigrette. American-inspired menu items go to bayou country for The Baton Rouge – a jambalaya-inspired sandwich with andouille sausage, shrimp, white cheddar cheese, crispy onions and a spicy remoulade. Wild West fans should try The Bozeman, a turkey burger topped with chipotle mayo, roasted red pepper, avocado, lettuce and chipotle Monterey jack cheese on a pretzel bun.
Then there's the burger of the month, and December's should top your stomach's holiday gift list: The Bedford Falls – named after the quaint town in "It's a Wonderful Life" – has Capriole goat cheese, cranberry sauce, Brussels sprout slaw and arugula on a wheat bun. It's served up with Haus mashed potatoes for $14.
On the menu
All burgers are made with a USDA Prime patty and come with a basket of Haus fries, southwest coleslaw or side salad. Not a fan of red meat? You can substitute grilled chicken, a turkey patty, a portobello mushroom cap or a vegan patty.
Burgerhaus is home to more than just burgers, though. Several salads are joined by a uniquely international menu of specials: From the Bristol fish and chips to the pesto-packed Napoli chicken sandwich, the restaurant balances a world of flavors.
The atmosphere is a warm reprieve from cold temperatures. The space is a newer build, but it has the feel of a neighborhood pub. A large, empty patio is eagerly awaiting warmer seasons.
Winter hours for the Indianapolis Burgerhaus are through Feb. 28: 11 a.m. to 8 p.m. Tuesday through Thursday, 11 a.m. to 9 p.m. Thursday and Friday, and 11 a.m. to 4 p.m. Sunday.