If you just can't stay away from the IUPUI campus because you love it so much, or maybe you aren't allowed at home while presents are being wrapped, here's your ultimate survival guide for winter break on campus.
The Campus Center
If your financial or academic world is inconveniently in shambles and you need to rush to visit an office in the Campus Center, the reduced-hours schedule from Dec. 18 to Jan. 4 will be your savior:
Monday through Saturday: 7 a.m. to 7 p.m.
Sunday: 11 a.m. to 7 p.m.
Christmas Eve and New Year's Eve: 7 a.m. to 5 p.m.
Christmas Day and New Year's Day: Closed
Food locations
If that pesky hangry feeling attacks while you are frantically piecing together your financial or academic world, consider yourself warned – you might want to plan ahead. The Campus Center food court will be closed for renovations Dec. 15 to Dec. 29, but Erbert & Gerbert's on the second floor will be open and providing a limited express menu of Papa John's and Chick-fil-A in addition to its own menu. Caribou Coffee, the Campus Center Outtakes, Einstein Bros. and Chancellor's will also be open. The Outtakes locations at the library and the education building will be closed, and other food locations have revised hours as well.
Barnes and Noble and the Barnes and Noble Café
Our beloved bookstore and Barnes and Noble Café will be switching to reduced hours Dec. 18 to Jan. 4, but they are maintaining all services while open. They will follow the break schedule of the Campus Center.
University Library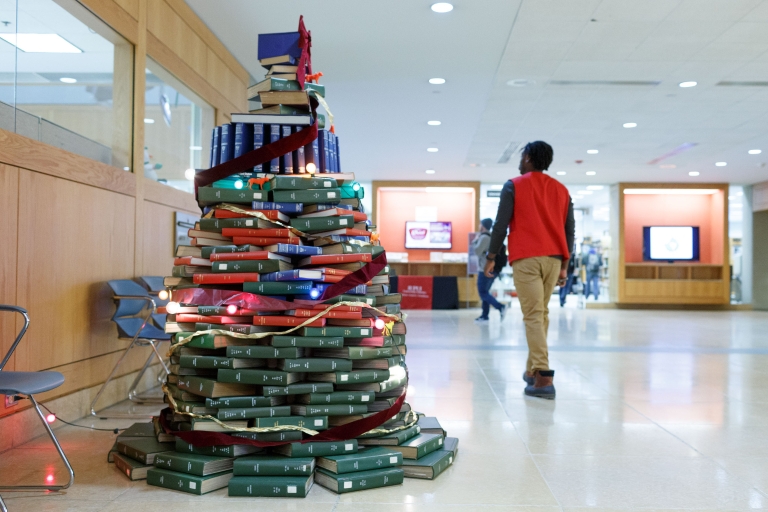 For all of you who are crazy enough to return to the world of group projects and research papers over winter break, University Library will have an irregular schedule starting Dec. 9 and lasting until Jan. 6.
Parking
Finding a parking spot over the break will be a walk in a winter wonderland compared to the madness during the semester. As long as you have a valid pass, you should be able to park in any of the spots that are normally available to you.
The DigIndy project will reach campus in December and might change available routes to get to Riverwalk Garage, but signs will be posted on campus to keep you safe and informed.
The Tower Garage will still be under construction and not available for parking. Students who normally park there may continue to park in the Vermont Street Garage and in any ST surface parking spot until the construction is over.
Shuttle schedule
Campus shuttles will be operating on their normal schedules over break. But beware the holidays: All shuttles will come to a halt on campus holidays and weekends, so you need to either have a plan B or prepare to battle that Jack Frost we've all heard so much about.