The results are in for IUPUI's first Energy Challenge, a friendly competition between the residence halls to see which building could save the most energy in an effort to reduce the campus's carbon footprint.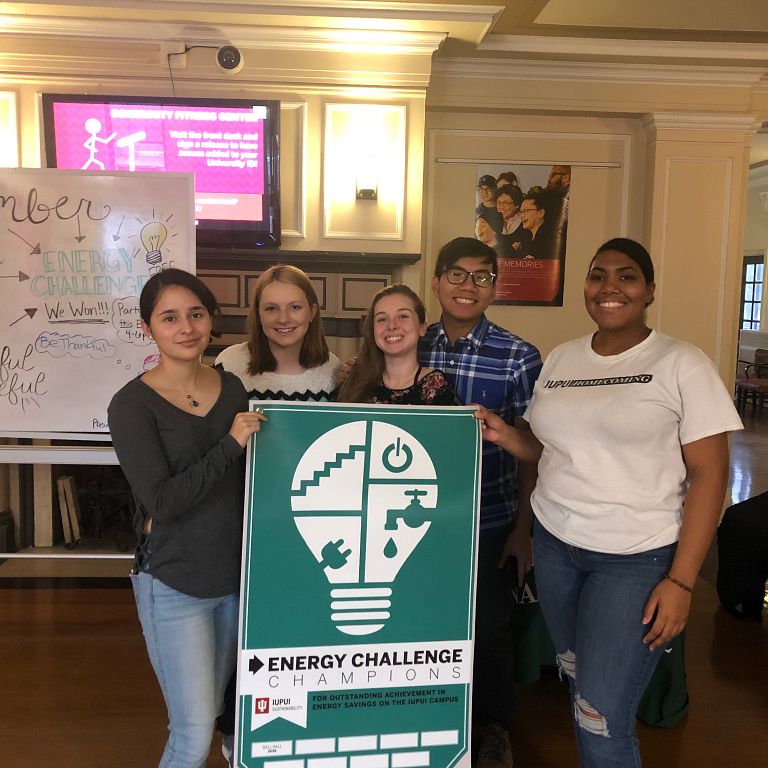 From Oct. 22 to Nov. 12, the students and staff within North, Ball and Tower halls made efforts to turn out lights, use less water and use the stairs instead of elevators to lower their power usage. Since the buildings vary in size, the competition looked at previous months' usage via EnergyCAP, a meter data tracking service. Each hall had already set a baseline to which they could compare energy rates. 
Ball Hall won bragging rights and a sharp "NCAA-style" banner to hang in the lobby. The hall saved 11.2 percent off its previous power usage rate, while Tower saved 6.5 percent and North Hall earned 3.1 percent in savings.
Collectively, the halls saved 38,408.8 kilowatt-hours of electricity compared to their baseline. Using the Environmental Protection Agency's Greenhouse Gas Equivalency Calculator, this is the same use as 70,060 miles driven by an average passenger vehicle, 3.1 homes' energy use for a year or 31,274 pounds of coal burned. 
In Bloomington, Indiana University's Energy Challenge is in its 10th year. Participating campus buildings saved 760,314 kilowatt-hours of electricity and 877,416 gallons of water from Oct. 8 to Nov. 2.