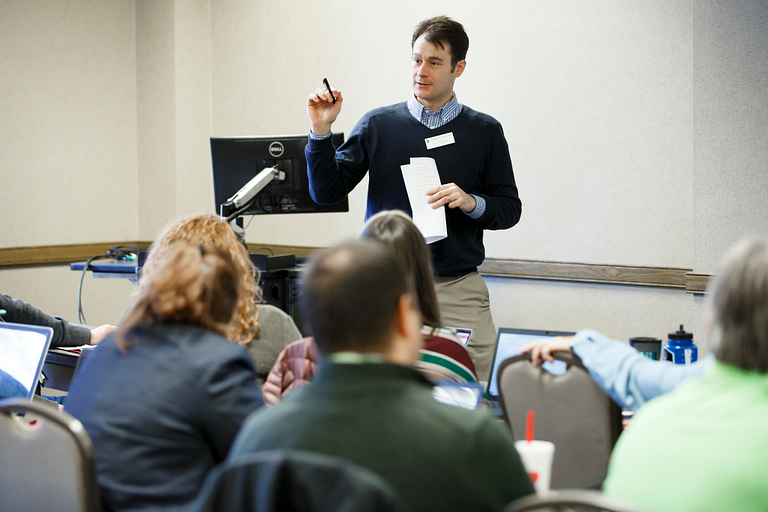 The 2019 Indiana University Statewide Sustainability Summit grew a forest of ideas, and one of the seeds of inspiration included a campuswide initiative for Earth Month, also known as April.
To help get all IU campuses to Tree Campus USA status, every campus will be planting trees this spring. While IUPUI, IU East and IU Bloomington are already members of the program, which helps universities establish and sustain community forests, Ashlee Fujawa, sustainability specialist for Sustain IU, hopes to get every campus on the same leaf – er, page in time for Arbor Day, April 26. 
From IU Northwest to IU Southeast, the plantings will take place on different days in April and will involve both campus and off-campus communities. The trees will beautify and symbolize sustainability unity between campuses big and small as well as support a key IU Bicentennial focus: sustainability, stewardship and accountability for the natural, human and economic resources and relationships entrusted to IU. 
About 40 faculty, staff and students attended the summit, which ran Jan. 10 and 11 in the Indiana Memorial Union in Bloomington.
"There were so many people in the room dedicated to sustainability, from academics to operations, as well as student interns," Fujawa said. "And while sustainability looks different on every campus, it's clear everyone is very excited about the university's commitment."
The sustainability representatives also discussed the benefits of adopting the STARS Sustainability Tracking, Assessment and Rating System. STARS encompasses long-term sustainability goals for already high-achieving institutions as well as entry points of recognition for institutions that are taking first steps toward sustainability.
Upcoming sustainability events:
The summit touted recent successes from all of the IU campuses, from IU Kokomo's recycling efforts to IU South Bend's new beehives.
"We want every campus's programs to be cohesive, toward building a brand for sustainability, yet unique to feature the exceptionalism of each community," Fujawa explained.
The summit also focused on professional-development opportunities and getting more faculty, staff and students involved in sustainability programs.
Fujawa said the announcement of the tree plantings has created a buzz in IU sustainability programs across the state.
"We want tangible change moving forward," Fujawa said. "These plantings will be adding canopy back – beauty and legacy."