INDIANAPOLIS and COLUMBUS, Ind. – Jeff Linder, Indiana University associate vice president for state relations, and John Burnett, president and CEO of the Community Education Coalition in Columbus, Indiana, and a member of the IUPUC Board of Advisors, received the IU President's Medal for Excellence this week, the highest honor an IU president can bestow.
IU President Michael A. McRobbie presented Linder with the medal at a retirement reception on Monday that celebrated his decade of work in government relations at IU and his more than 45 years of public service to Indiana.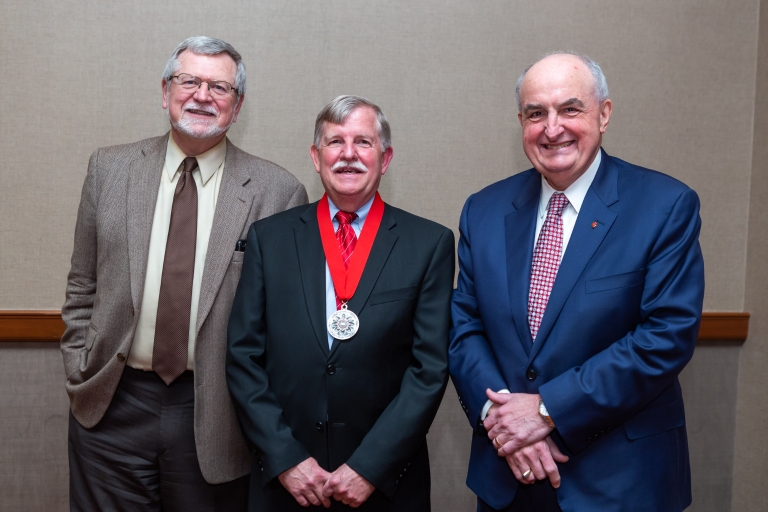 "Jeff Linder has been a valued public servant for the state of Indiana for more than 45 years," McRobbie said. "His exceptional understanding of the state's public policy built over his remarkable career has been invaluable in his role as Indiana University's primary representative to all state departments and agencies and the Indiana General Assembly."
Burnett was presented with the medal during today's dedication ceremony for the Republic Building in Columbus. The historic and architecturally significant building is now the home of IU's new J. Irwin Miller Architecture Program, based in the School of Art, Architecture + Design.
Burnett and the Community Education Coalition supported the establishment of the architecture program in Columbus.
"John Burnett's outstanding leadership of the Community Education Coalition and his dedication to the city of Columbus have expanded and strengthened Indiana University's connection to Columbus and south central Indiana," McRobbie said. "We are extremely grateful for efforts to establish our excellent J. Irwin Miller Architecture Program and his dedicated service to IUPUC."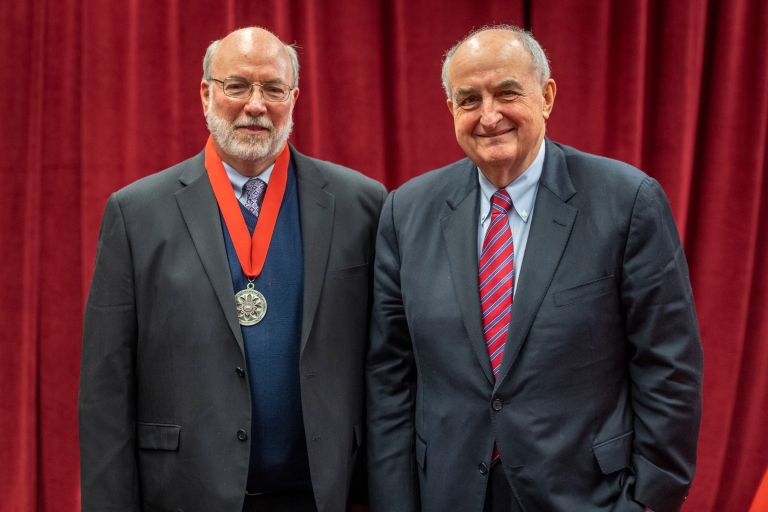 The President's Medal for Excellence, which reproduces in silver the jewel of office worn by IU's president at ceremonies, is given to recognize exceptional distinction in public service, service to the university, achievement in a profession or extraordinary merit and achievement in the arts, humanities, sciences, education and industry.
Jeff Linder
During his many years of public service, Linder served as an Indiana state representative for District 57 from 1990 to 2000. While serving in the General Assembly he served as Republican whip, as chair of the Republican Caucus, on the Committee on Joint Rules and as chair of the Ethics Committee.
In 2000, he was a candidate in the primary race for Indiana's 2nd Congressional District and later worked at Ball State University as associate vice president for government relations and as vice president of government affairs at Clarian Health Partners, now IU Health.
Linder joined IU in 2009 as associate vice president for public affairs and government relations.
John Burnett
Burnett is president and CEO of the Community Education Coalition of Columbus and is co-founder of the nationally acclaimed CivicLab, an institute that advances civic collaboration.
He has played a key role in involving Columbus in the establishment of the J. Irwin Miller Architecture Program and in raising funds to renovate the Republic Building. He also played a central role in establishing the Advanced Manufacturing Center of Excellence, the state-of-the-art education and workforce center in Columbus dedicated in 2011.
Burnett serves on the Indiana University-Purdue University Columbus Board of Advisors, and his leadership has made possible the establishment of the Columbus Learning Center, the IUPUC Center for Teaching and Learning, and the Arvin Computational Analysis Simulation and Engineering Lab.