When Katie Kearns was a graduate student in biology at the University of Georgia, she realized that what sparked the most joy for her was teaching and learning from people outside the bubble of her department. She was drawn to the multidisciplinary teaching center on campus.
"It mattered to me to find a sense of belonging in another space from my department," Kearns said. "I liked learning about different experiences, ways of teaching and how we could learn from each other outside the hive mind of my field."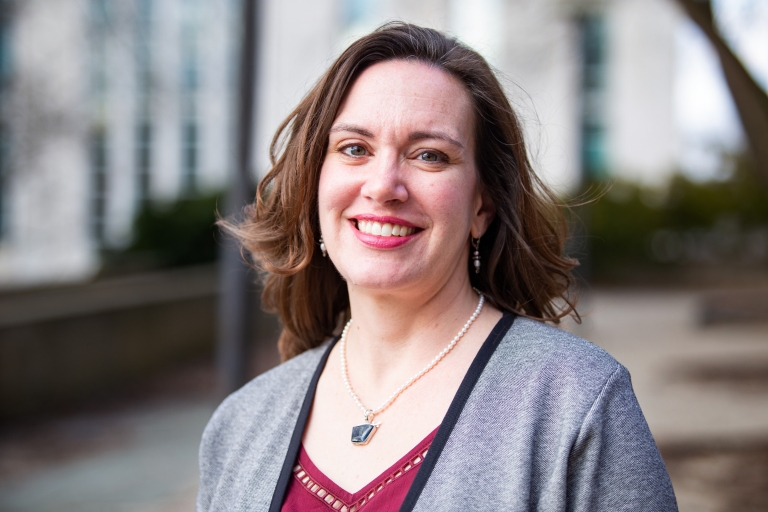 The experience led her to switch from classroom teaching to working with faculty at the teaching center, and a new career was born: teaching teachers.
Now, after 13 years at Indiana University Bloomington's Center for Innovative Teaching and Learning, Kearns has accepted the position of inaugural assistant vice provost for student development in the Office of the Vice Provost for Graduate Education and Health Sciences. Kearns will work closely with David Daleke, the vice provost for graduate education and health sciences and associate dean of the University Graduate School.
In this role, Kearns will support professional development for graduate students, academic units, student organizations and postdoctoral trainees; foster connections with the Grad Grants Center and the Office of Postdoctoral Affairs; and help ensure that students are aware of campus resources such as the Graduate Mentoring Center and Center for Innovative Teaching and Learning. She will also serve as a resource for IU Bloomington graduate student academic appointees and as a liaison for the IU Bloomington Graduate and Professional Student Government.
"I want to help students feel like they belong here as they make progress toward completion," Kearns said. "I hope to have lots of conversations directly with people here on campus about what matters most to them in graduate education."
Kearns is also looking at data on graduate student satisfaction and retention as she considers how to design programs and where to focus her early efforts.
"Katie's work as lead instructional consultant at CITL has been inspiring," Daleke said. "For years, she has worked on professional development with graduate instructors and sought solutions for common teaching issues – for example, the challenges inherent with large-class instruction. This background, combined with her positive relationships throughout campus, will strengthen her work to support our graduate students and postdoctoral fellows as they hone presentation and writing skills, learn how to create balanced lives, and find a career path that's truly satisfying."
Kearns sees her role as a sort of matchmaker who helps people connect with the resources they need but might not know about. She said that, rather than replicating existing programs or pulling related divisions under one unit, she can serve as a connector – similar to the way IU Corps is a nexus connecting disparate student volunteer opportunities.
"I want graduate students and postdocs to feel like they're part of a vibrant, engaged campus," Kearns said. "Part of that will be developing graduate student communities, encouraging students to work together in cross-disciplinary groups, sharing best practices for mentoring undergrads on research and fostering community engagement."
Also on the to-do list: Kearns would like to host more panels and job fairs for graduate students and postdocs, and to expand the conversation surrounding nonfaculty career paths.
Among the important and perhaps surprising skills for graduate students and postdocs to develop are project management, leadership, entrepreneurship and conflict management, Kearns said.
"Whatever role these students are going to take on after they get their degrees, it's going to involve project management. A dissertation is a really good example of this: You have goals, timelines, tasks … and developing a new course or rethinking your identity outside of academia are examples of entrepreneurship."
Before coming to IU, Kearns taught a freshman biology lecture and mentored graduate student teachers at Boston University. She received a Bachelor of Science in biology from Cornell University and a Ph.D. in ecology from the University of Georgia.
She started her new role at IU on Jan. 22.
Jennifer Piurek is director of communications and special projects for the Office of the Provost and Executive Vice President.