In 2003, two Indiana University arts administration graduate students partnered with Bloomington's historic Buskirk-Chumley Theater to host the first Bloomington PRIDE Film Festival.
Now, nearly 16 years later, the festival has morphed into a fully functioning nonprofit serving the Bloomington community through advocacy and outreach, safe space programs, educational workshops and cultural events like the film festival and summer street festival, Pridefest.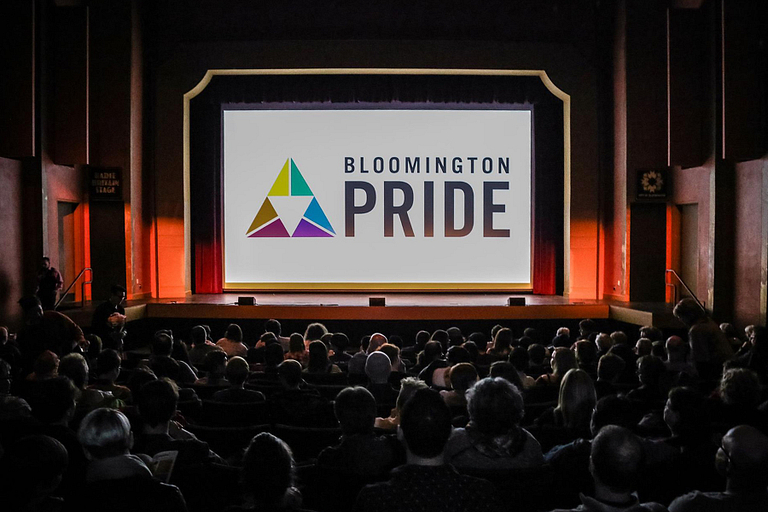 Connections between the organization and the university have blossomed too, according to chair of the Bloomington PRIDE board Janae Cummings. She and vice chair Kyle Hayes are IU staff members at the helm of a board that has included IU employees since its inception and currently boasts three. The organization also has support from a social media intern who is an IU student and a Cox Legacy Scholar who researches topics impacting the community, media representation and more.
Many of the volunteers who make the festivals possible are also linked to IU. Sponsorships from IU's LGBTQ+ Culture Center support the organization, and the LGBTQ+ Alumni Association hosts its celebration weekend during the film festival and coordinates events with PRIDE.
Learn more about two IU staff members' experiences on the board and get the details on this year's Bloomington PRIDE Film Festival:
Janae Cummings
Cummings, director of communications and marketing for the Hamilton Lugar School of Global and International Studies, had her first interaction with Bloomington PRIDE when looking to make community connections during a long-term communications project with IU's Kinsey Institute. She met the board at that year's film festival and was quickly recruited to join.
"I was excited to join, because I didn't see anyone quite like me on the board," Cummings said. "No one was speaking for queer BIPOC – black, indigenous and people of color – and I knew there were people in this community who, like me, needed a voice and a seat at the table."
She started handling marketing and communication for the organization, before taking on the role of vice chair. Now, as chair, she oversees operations, events and outreach, and ensures the organization is fulfilling its strategic mission. She still handles marketing and manages some sponsor relationships too.
The importance of representation in media is at the core of the festival, according to Cummings. She said it can be difficult to find accurate representations of LGBTQ+ people and their experiences in mainstream, critically acclaimed films. But festival attendees will have an opportunity to see a variety of short and feature films with stories and characters whose experiences are similar to their own. A committee chose the 16 short films from more than 100 selections, and the five feature films were chosen from the film fest circuit, so Cummings said they won't disappoint.
"The quality of LGBTQ films has improved dramatically in the last few years thanks in no small part to support for festivals like ours," Cummings said. "The success of films like 'Moonlight,' 'Love, Simon' and now 'Rafiki' show that major and independent studios are beginning to see the value in telling our stories with the same care and richness that they would give any other subject."
Kyle Hayes
Hayes, associate study abroad advisor for the Office of Overseas Study, started volunteering for the Bloomington PRIDE Film Festival after moving to Bloomington in 2013. He had always been interested in volunteering for organizations that supported the LGBTQ+ community, so he started working on the film screening committee. Now he serves on the film festival steering committee, which organizes all aspects of the film festival.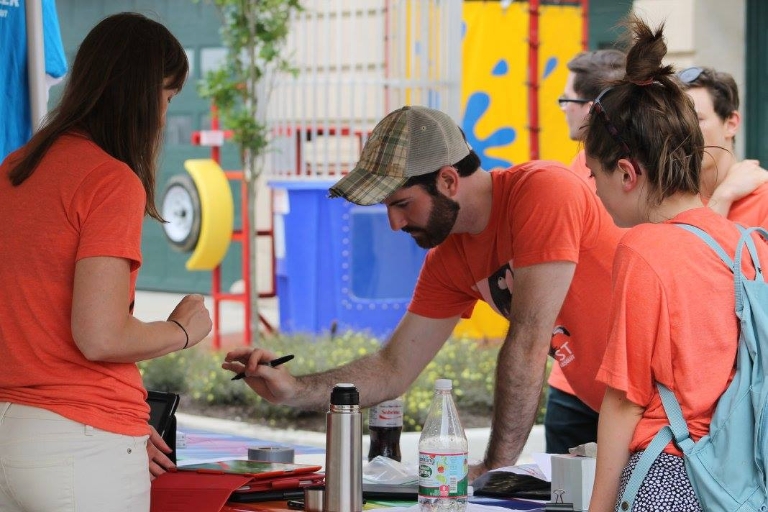 Hayes said the film festival started before anyone could watch a queer film on Netflix. The festival might have been the only time that people could see LGBTQ+ films in earlier years, and it still provides an opportunity to see films not shown elsewhere.
The summer street festival, originally called Summerfest but known now as Pridefest, took off in 2014 with Hayes' help. He was part of a small group of volunteers who helped create this celebratory event of music, dance and street vendors. He said that Bloomington's welcoming support for the LGBTQ+ community by default makes it a great place to host pride film and street festivals.
"Seeing the result of the work that we do is what I love most about volunteering," Hayes said. "For some people this is one of the few safe spaces where they can be comfortable with who they are. The Bloomington PRIDE festivals give people a time and place to be boldly proud of who they are."
He was asked to join the board of Bloomington PRIDE in 2015 and now serves as vice chair. He said he is looking forward to the film festival along with the upcoming workshops taking place this year at the Monroe County Public Library.
"Bloomington PRIDE lives up to the mission of celebrating the LGBTQ+ community," Hayes said. "With the current political climate, it's important that we provide a platform for marginalized voices that aren't always heard."
Festival details
The 17th annual PRIDE Film Festival will take place Friday and Saturday, Feb. 1 and 2, at the Buskirk-Chumley Theater with six screening blocks featuring 21 films across the two days. The event kicks off at 7 p.m. Friday with a screening of "Rafiki," a drama banned in its home country of Kenya for its positive depiction of a lesbian relationship mere days before premiering at the Cannes Film Festival.
Bloomington PRIDE is offering multiple ticketing options, ranging from individual screenings to VIP passes, with discounts for students and those 65 and older. The VIP pass includes entry to all screenings, as well as "Making Montgomery Clift" on Jan. 28 at IU Cinema; a VIP reception supported by Gather and Cardinal Spirits on Jan. 31; a VIP brunch on Feb. 3 at Upland Brewing Company; and a private tour of Sensual/Sexual/Social: The Photography of George Platt Lynes on Feb. 9 at the Indianapolis Museum of Art at Newfields led by co-curator Rebecca Fasman, manager of traveling exhibitions at the Kinsey Institute.
To see the film festival lineup, buy tickets or get involved, visit the festival page on the Bloomington PRIDE website.