IU basketball court floor up for auction at IU Surplus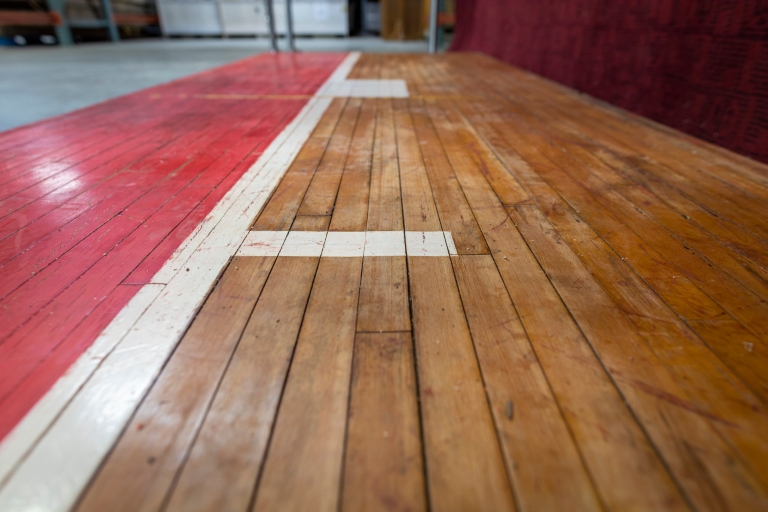 IU Surplus is back again with another chance to get one-of-a-kind IU sports memorabilia. The IU Surplus store will be auctioning parts of the old flooring from the Seventh Street IU Fieldhouse that served as the home for the basketball team from 1928 through 1960.
The team at surplus is now going through the 86 pieces and deciding which ones are in valuable condition. Store manager Todd Reid believes about 60 to 70 percent of the pieces are in decent condition to be sold. Numerous pieces will be available on the sports memorabilia site Fanatics.com. Another chunk of the flooring will be used to make plaques celebrating the IU Bicentennial.
Fans can follow the IU Surplus social media accounts to learn more about the flooring and the timing of any auctions later in the year. Pieces will go from about $1,500 to $2,000.
Fans are welcome to visit IU Surplus and see the display piece.
African Studies Program Colloquium features photographer, art history expert
The IU Bloomington African Studies Program Friday Colloquium and Horizons of Knowledge Lecture will feature photographer Ibrahima Thiam and Joseph L. Underwood, assistant professor of art history at Kent State University, at 10:30 a.m. Friday at the Global and International Studies Building Room GA 1112.
Their conversation, "Contemporary Concerns of Artmaking in Senegal," will address challenges that face artists in Africa as they navigate the contemporary world and art markets.
The Thiam's work includes intimate portraiture and innovative street photography. He captures and reinvents the visual language of everyday life with particular inspiration from the history of African studio portrait photography.
This Horizons of Knowledge Lecture is sponsored by the Hamilton Lugar School of Global and International Studies' African and Islamic Studies Programs, the Office of the Vice President for International Affairs, and the Department of Anthropology and Department of Art History in the College of Arts and Sciences.
Board of Trustees to meet Jan. 31 and Feb. 1 in Columbus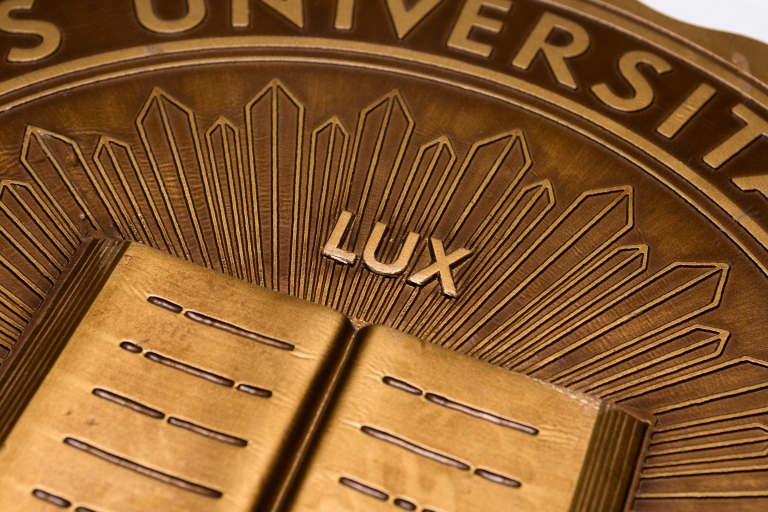 The IU Board of Trustees will meet Thursday and Friday, Jan. 31 and Feb. 1. Meetings will take place in Room 101 at The Republic Building in Columbus, Indiana, the newly renovated home for the IU Bloomington School of Art, Architecture + Design's J. Irwin Miller Architecture Program.
A schedule and an agenda for the meeting are available on the Board of Trustees website. Indiana University will be live-tweeting from the meeting using the hashtag #IUBOT.
A special edition of Inside IU will be sent to all subscribers and selected media outlets following the meeting of the IU Board of Trustees. Subscribe to receive the digital publication in your inbox.
IU Bloomington School of Social Work names program director
Carol Hostetter has been named program director for the Bachelor of Social Work program in the IU School of Social Work in Bloomington.
Hostetter has been part of the social work faculty at IU Bloomington since 1999 and has also served in teaching roles at IUPUI and IUPUC. She holds a bachelor's degree, a master's in social work and a Ph.D. in philosophy from IU Bloomington.
Numerous teaching honors, including the IU School of Social Work's Trustees' Teaching Award, have been awarded to Hostetter over the years. The school also established a scholarship in her name last year.
Get ready for Bloomington Faculty Council elections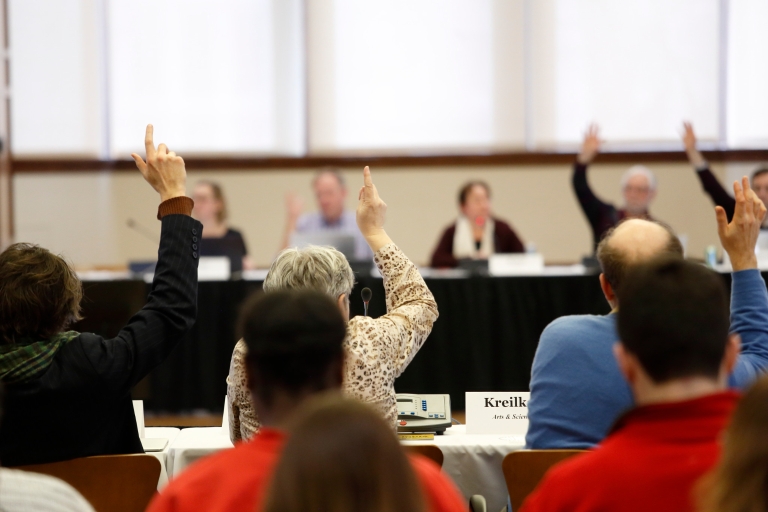 The Bloomington Faculty Council will be conducting its primary election next month. Faculty are asked to "nominate" candidates, but this is not a nomination process in the usual sense of the word. Rather, this is a primary election: The Nominations Committee will choose the final candidates from those who receive the most nominations in this primary.
Serving on the council is a great way to get to know colleagues and administrators from across the campus. Members of the council have the opportunity to influence important policies such as student conduct, promotion and tenure, and faculty grievance processes. In addition, the council participates in important conversations on such topics as the use and design of facilities, budgets and athletics.
As the election season approaches, the Bloomington Faculty Council encourages faculty members to talk with others in their unit about who would be an especially good representative.
Reminder for staff to review IU's adverse weather policy
With temperatures dropping this week, it is important for all IU staff to review IU's adverse weather policy.
According to the policy, all staff and temporary employees are expected to report to work unless otherwise notified. However, if the weather creates hazardous conditions for your commute to or from work, you are encouraged to use your best judgment and should not endanger yourself or ignore local travel advisories.
Any cancellation or delay will be announced on local radio stations, via IU Bloomington social media accounts and on the Protect IU website. An IU-Notify alert is also sent via email, telephone, text and social media.