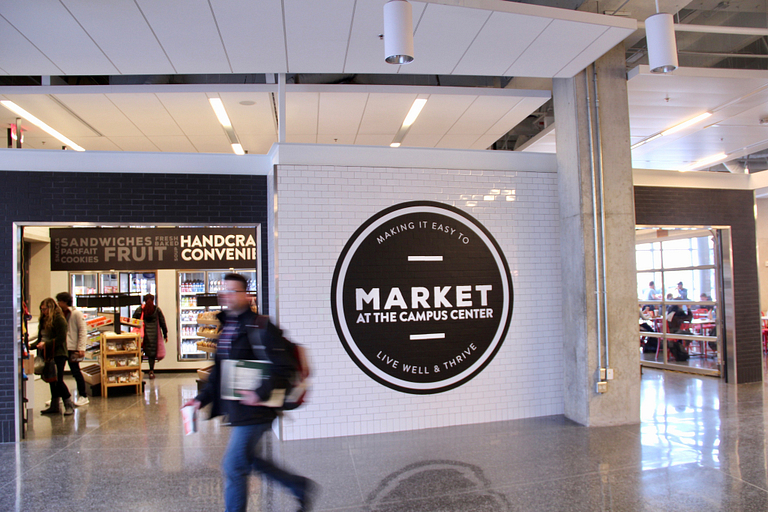 The first domino in the renovation of the Campus Center food court fell Jan. 14 when The Market opened to IUPUI students, staff and faculty.
Part of the work was revealed in the form of new construction. The Market features convenience store selections but with an increase in healthier options like fruit, protein bars and sushi.
"There are students with dietary restrictions and needs," said Jared Mahnensmith, director of dining services for Chartwells. "We now have a section to meet those needs. Everybody is heading to healthier and more sustainable. We're still going to have chips, but we're trying to narrow it down."
The opening of The Market means the closure of Outtakes. The longstanding convenience store served its last candy bar on Jan. 11. The windows are already covered, ready for the construction of Simply Puur, which will feature salads, bowls and smoothies. When Simply Puur opens, Crisp will be replaced by a new eatery. Those Campus Center dining dominos will also fall this year.
The Market is open from 7 a.m. to 10 p.m. Monday through Thursday and 8 a.m. to 6 p.m. Fridays. Hours are subject to change with spring and summer breaks.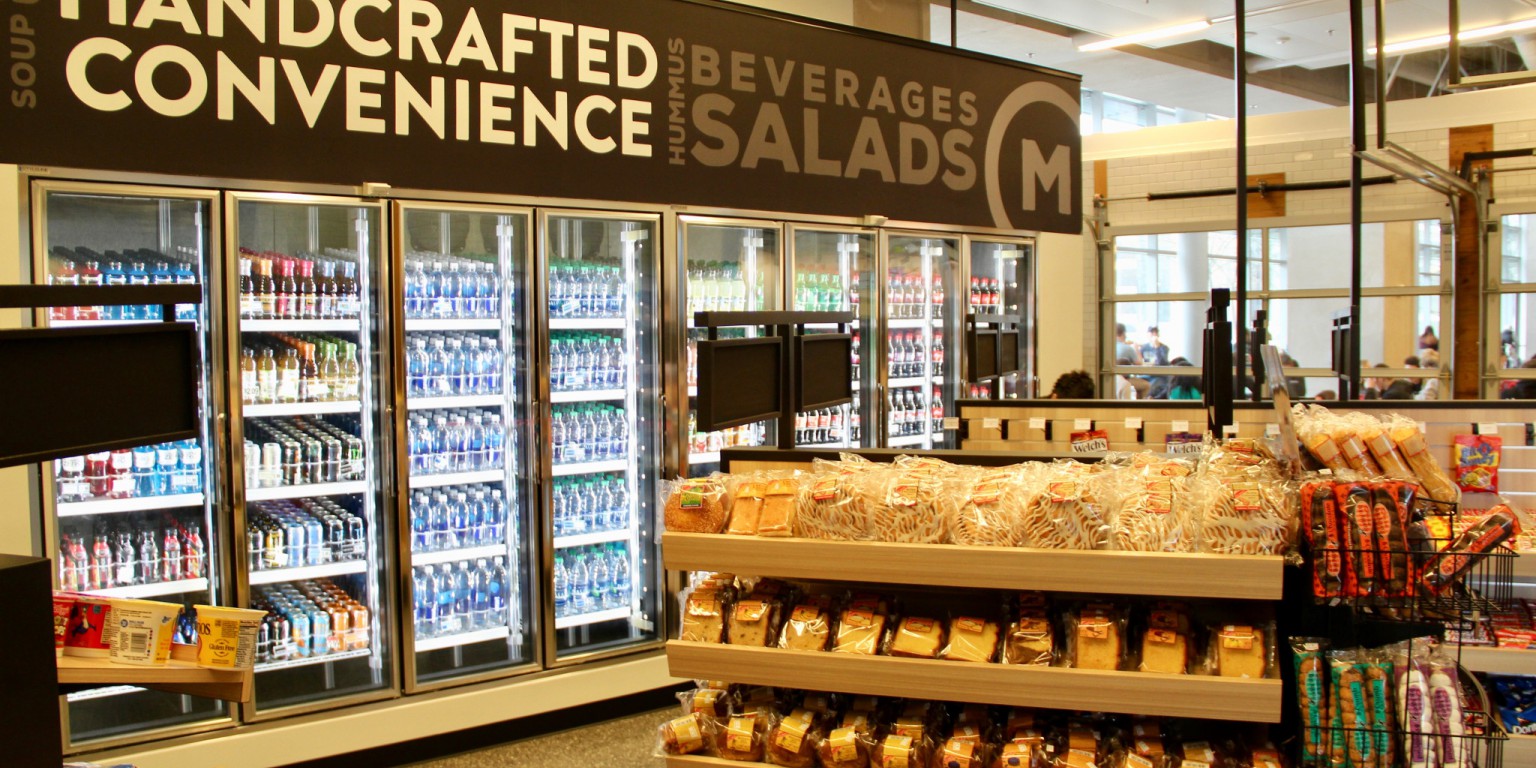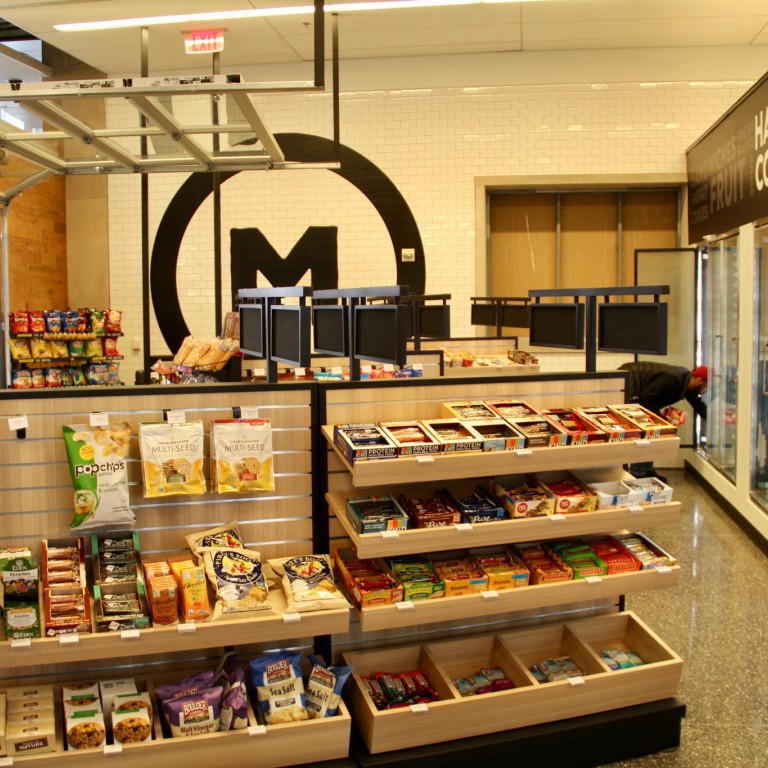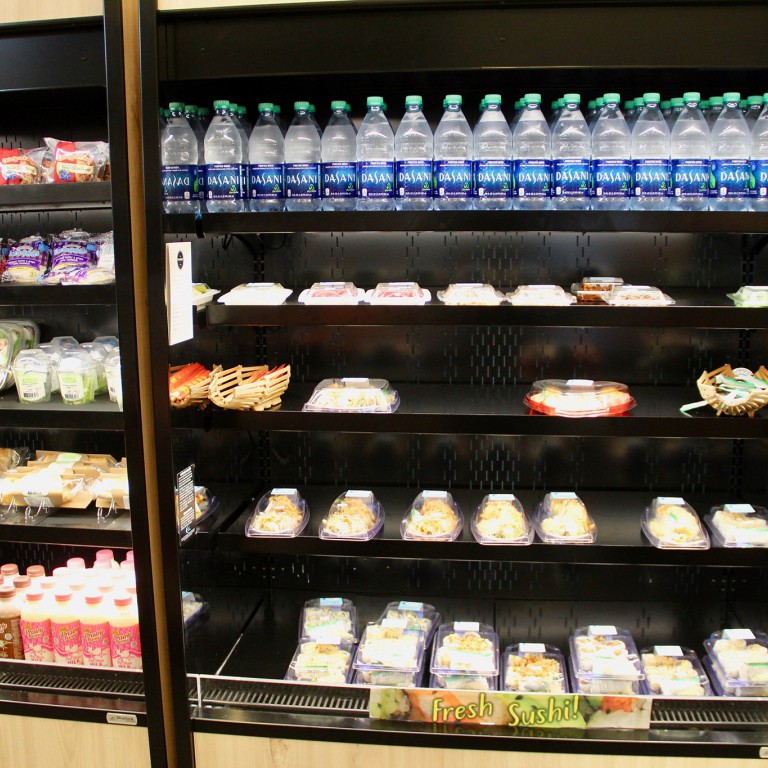 Photos by Tim Brouk, Indiana University
It's hard to miss The Market. Three glass garage-style doors show the neatly arranged snacks and drinks for hungry or thirsty passersby. The atmosphere is open and inspired by a subway design with white brick. It certainly stands out and helps gives students, faculty and staff a dramatic glimpse into how the new-look food court is shaping up.
"A lot of people have been curious," Mahnensmith said. "The look is fresh, neat, with nice fine lines. We're really proud about how this turned out."
While smaller than Outtakes in terms of square footage, The Market features new coolers, door freezers and open airstream coolers, which contain varieties of to-go sushi, hummus and yogurt.
The new freezers will be stocked with more frozen selections; currently, Hershey ice cream products, Totino's frozen pizzas and Banquet dinners are in the mix. Students have been taking them back to their dorms or zapping the microwavable products for a different lunch option in the Campus Center.
De'Shaun Colemon, an organizational leadership and supervision sophomore, was thrilled to see healthier options getting more of a spotlight, but said he believes there could be more.
"This is a good start. I like how it's more than just a bag of chips that you can buy," Coleman said. "We actually needed a market like this."
Have a seat
Just before classes started Jan. 7, the Campus Center food court's terrazzo flooring was completed, and new soda machines were installed, which meant new food court furniture could be placed. New tables and chairs – half of them crimson, the other half cream – debuted to positive reviews.
"It feels good, and I'm glad there's more seating," said Ryan Romero, a first-year student majoring in education. "We always had to go upstairs or downstairs to find somewhere to sit last semester."
The chairs fulfill IUPUI's sustainability mission by being made of upcycled plastic Coca-Cola bottles. Made by Emeco, each chair contains more than 100 bottles.
More than 100 additional seats will arrive by the end of the food court renovation.