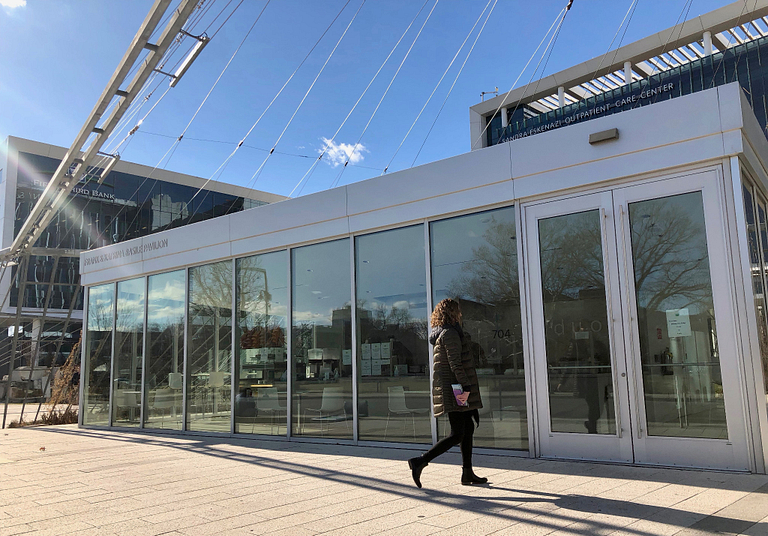 Located just outside of Eskenazi Health's main entrance and minutes from the IUPUI campus, it's no surprise that Duos offers a menu of healthy offerings.
But the café, open 11 a.m. to 2 p.m. Monday through Friday, dispels the "hospital food" stereotype. Duos' sandwiches, soups, bowls and salads contain international ingredients and big flavors.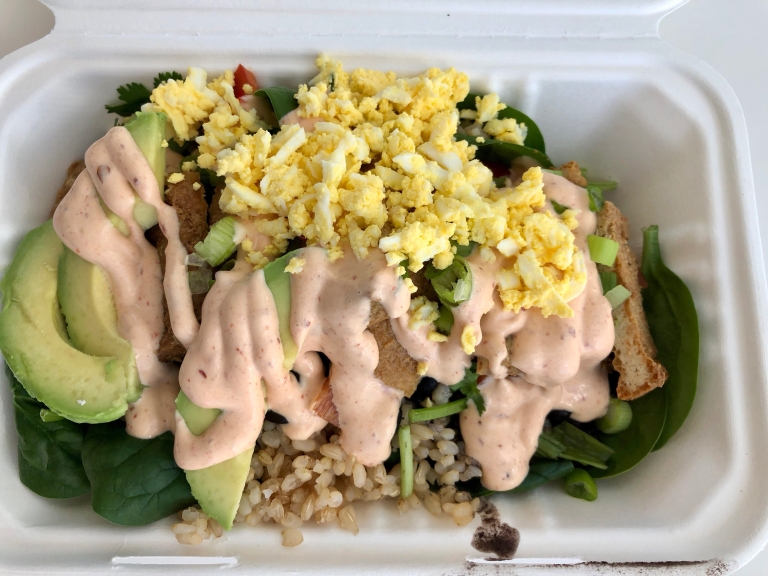 More than half of Duos' menu is vegetarian-friendly, and many items are vegan. We're not just talking grilled cheese, either – although Duos does have one, made with Amelia's semolina bread. Check out the roasted eggplant sandwich, hefty with fontina cheese, caramelized onions, arugula, tomato chutney and cilantro. The seasoned, baked tofu sandwich is another savory selection, featuring tomato, lettuce and onion and slathered in a vegan "dijonnaise" sauce.
One of Duos' most popular choices can be crafted for vegetarians or carnivores. The Balance Bowl starts with a foundation of spinach, black beans, brown rice, egg, scallions, red bell pepper, cilantro and chipotle aioli. Cheese, avocado and bacon can be added for a nominal charge, as can chicken and tofu for a few dollars more. Becky's Bowl is the go-to vegan choice, with quinoa, tofu, garbanzo beans, tahini, sunflower seeds, carrot, red bell pepper and greens.
Customers should also note the various specials posted around the restaurant, which features floor-to-ceiling windows instead of walls, giving a bright and open atmosphere. A Jan. 8 visit revealed an eclectic mix of lunch specials – from Ethiopian beef tips on basmati rice to salmon fillet salad with tomato, avocado, feta, red onion and sweet onion dressing. Soups are always changing, always fresh and always unique. The vegan Tiny Black Lentil with Winter Kale is a tomato-based option guaranteed to warm the coldest winter sufferer.
On the menu
Nine out of 10 doctors say that the sweets at Duos are recommended, with some moderation. That might be difficult, because everything looks good. Most desserts come in the form of cookies, brownies and bars – perfect for carryout. Coconut macaroons, vegan "magic bars" and the Tangier truffle – made with dates, cocoa, turmeric, ginger, walnuts, pepitas and cinnamon and coated in dark chocolate – are some of the most interesting baked goods. And as they always say, a Tangier truffle a day keeps the doctor away – because she's probably at Duos.
Let's Do Lunch: Prior coverage
ClusterTruck: a convenient culinary coup for Indianapolis since 2016.
Burgerhaus: a meaty lunch trip around the world.