The Indiana University Police Department is one of the largest law enforcement agencies in the state. Its campus divisions, however, can still have a small-department atmosphere, even when the campus is located in downtown Indianapolis.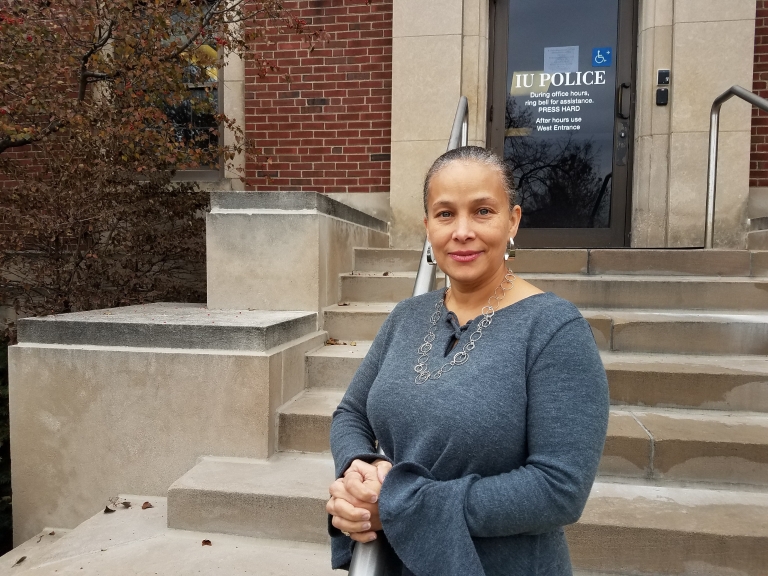 IUPD-IUPUI Detective Sgt. Kimberly Minor joined the division in 1996 and finds this atmosphere, where she has developed lifelong friends, very appealing. Not only does she get to know colleagues well, but she appreciates that officers can spend more time with victims.
"You develop a rapport with the people you deal with because you're not going from run to run to run," she said. "You feel like you can help more because you can spend more time with a victim or that case."
After graduating from Ball State University with a degree in criminal justice, Minor worked at a law firm as a paralegal while she considered attending law school or beginning a career in law enforcement. The legal work did not seem as fulfilling or intriguing as she had hoped, so she set out to become a police officer – and has never regretted it.
"It sounds cliché, but I wanted to help people," she said from the Ball Hall Annex, the current location of IUPD-IUPUI.
Some people will recognize her as their instructor for IUPUI's Rape Aggression Defense class. Minor has worked as a bike officer, a field training officer, a hostage negotiator and an accident reconstructionist instructor. She teaches Fair and Impartial Policing, a class that all IUPD officers are taking this year.
For several years, Minor has volunteered as a court-appointed special advocate, individuals who are appointed by judges to advocate for abused or neglected children so that they don't fall through the cracks in the typically overburdened legal and social services systems. These children often go into homes where they are not wanted.
"I have always had a passion for children – that is my heart," Minor said. "And knowing how many children are abused, I had a desire to help. I've always been a helper, giving back to the community."
Police work can be challenging, and so can court-appointed special advocate volunteer work. Minor said she quickly realized it was harder mentally than she had expected. But the work is important – being a child's voice in court when they don't have one.
"I've had some hard cases," she said. "The fulfilling part is knowing I've been able to make a difference in a child's life."
Tracy James is the communications manager for IU Public Safety and Institutional Assurance.