INDIANAPOLIS – The Galleries at Herron School of Art and Design at IUPUI will kick off the 2019 winter/spring season Jan. 9 with new and iconic works by Kota Ezawa, Christian Marclay and Peter Shear. The solo exhibitions – Ezawa's "Tonya," Marclay's "Telephones" and Shear's "Time Stamp" – offer three conceptual investigations into dance choreography and animated movement, communication and the transformative power of editing, and the formal qualities of mark-making in painting.
Headlining the school's first exhibitions of 2019 is "Tonya," Ezawa's latest three-channel video based on the choreography and movements of contemporary dancer James Kirby Rogers of the Kansas City Ballet. The collaboration between Ezawa and Rogers brings together dance and visual arts disciplines by fusing human movements with the imaginative faculties enabled by digital animation. Included in the exhibition are videos and films by Nam June Paik, Yvonne Rainer, Kate Bush and Bruce Nauman to trace a history of dance recorded between the 1960s and 1980s. The videos and films also function as an ancestry to the artist's own backstory as a Kate Bush fan as a teenager and a student of Nam June Paik at the Kuntstakademie Dusseldorf.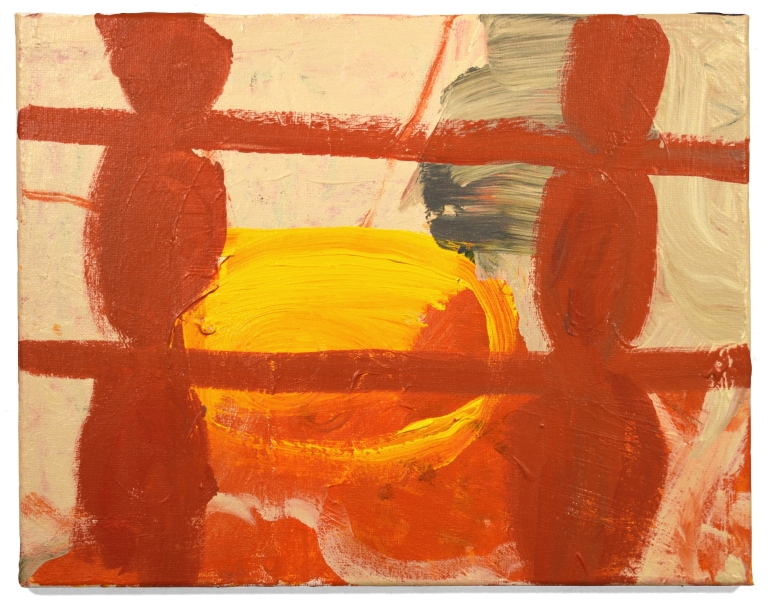 Also opening Jan. 9 in the Basile Gallery is Christian Marclay's "Telephones," an exhibition exploring the artist's interest in telecommunications – a recurring motif in his work. The centerpiece of the show is Marclay's 1995 video "Telephones," in which Marclay, using the narrative arc of a telephone call, masterfully stitches together excerpts from well-known movies to craft a new narrative from film fragments. Through it, he presents a meditation on the mechanics, rhythms and sonic properties of our ever-changing technologies while also offering an astute observation on cinematic structure and outmoded social habits.
In the Marsh Gallery is "Time Stamp," an exhibition of new paintings by Peter Shear, a self-taught artist based in Bloomington. Known for his small-scale, abstract compositions, Shear is introducing a new series of larger-format paintings together with a selection of other recent work. These new, larger canvases offer an exuberant exploration of the poetic and expressive possibilities of color and gesture and continue the artist's sustained investigation into the varied and sometimes contradictory ways to make a painting.
"Tonya" is on view through Feb. 23; "Telephones" and "Time Stamp" close Feb. 21.
An opening reception will take place from 5:30 to 8 p.m. Jan. 9 at Eskenazi Hall, 735 W. New York St.
In-kind support is provided by Sun King Brewing. Parking is free in the Sports Complex Garage adjacent to Eskenazi Hall or on levels 5 and 6 of the Riverwalk Garage, courtesy of The Great Frame Up Indianapolis, with validation from the Herron galleries. Visit HerronGalleries.org for more information.
Located in Eskenazi Hall on the IUPUI campus, the Galleries at Herron are free and open to the public from 10 a.m. to 5 p.m. Monday through Saturday and 10 a.m. to 8 p.m. Wednesdays.
About Kota Ezawa
Born in Cologne, Germany, in 1969, Kota Ezawa is known for animating film and video footage of iconic moments from history and popular culture using a process involving freehand and vector-based digital techniques. Recent solo exhibitions include the Chrysler Museum of Art, Norfolk, Virginia; SITE Santa Fe, Santa Fe, New Mexico; the Mead Art Museum, Amherst, Massachusetts; and the Contemporary Jewish Museum, San Francisco. His work is held in the collections of the Museum of Modern Art, New York City; the Art Institute of Chicago; San Francisco Museum of Modern Art; Museum of Contemporary Art San Diego; and the J. Paul Getty Museum, Los Angeles. Ezawa is based in Oakland, California.
About Christian Marclay
Born in California in 1955 and raised in Geneva, Switzerland, Christian Marclay has explored the fusion of fine art and audio cultures for the past three decades, transforming sounds and music into a visible, physical form through performance, sculpture, installation, photography and video. His work is held in numerous collections, including the Museum of Modern Art, New York City; the Metropolitan Museum of American Art, New York City; Tate Modern, London; the San Francisco Museum of Modern Art; and the Centre Georges Pompidou, Paris, among many others. Marclay lives and works between London and New York City.
About Peter Shear
Peter Shear was born in Beverly Farms, Massachusetts, in 1980. His work has been shown in galleries nationally and internationally and has appeared in New American Paintings, The L Magazine and Whitehot Magazine. He has recently exhibited at George Lawson Gallery, San Francisco; 840 Gallery at the University of Cincinnati; Gavlak Gallery, Palm Beach, Florida; Fortnight Institute, New York City; Devening Projects + Editions, Chicago; and Elaine L. Jacob Gallery at Wayne State University, Detroit. Shear lives and works in Bloomington.
About Herron School of Art and Design
Founded in 1902, Herron School of Art and Design is the premier accredited professional school of art and design in the state of Indiana and is part of the thriving urban campus of IUPUI. Herron has more than 50 full-time faculty serving 11 undergraduate and three graduate programs and a curriculum that prepares graduates to be leaders in a world that requires a unique combination of creativity, conceptual skills and technical abilities. Herron is an engaged community and regional partner including five public galleries; youth and continuing education programs; and the Basile Center for Art, Design and Public Life.