INDIANAPOLIS – As guides for setting insurance rates and determining where to build new structures, static floodplain maps have proven useful for decades.
But there is danger in using such maps as a be-all, end-all for disaster preparation and prediction, said Kevin Mickey of The Polis Center at IUPUI in an article published in the latest issue of the Journal of the National Institute of Building Sciences.
"Flood maps are about risk, not about any given storm," said Mickey, the director of professional development and geospatial technology education at The Polis Center, who has consulted for years with multiple federal agencies including the Federal Emergency Management Agency. "The message needs to be loud and clear that the flood maps serve a purpose but don't say 'because you're not inside a boundary, you're not at risk.'"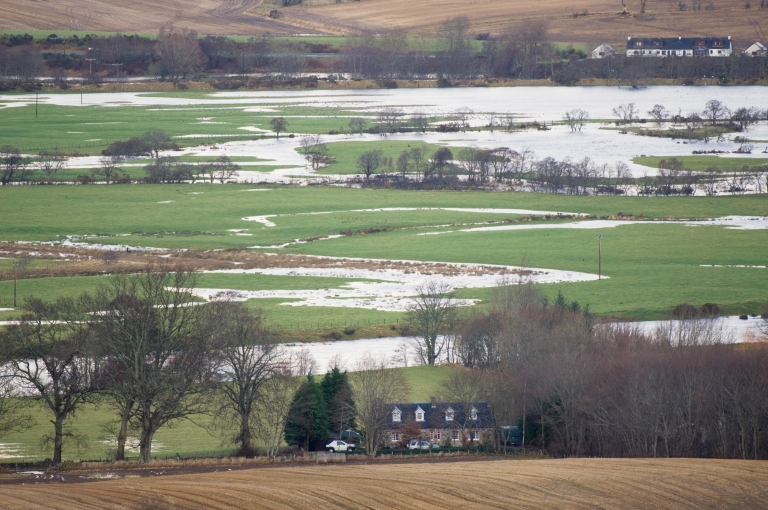 Mickey and co-author Shane Hubbard of the University of Wisconsin at Madison analyzed the number of structures to be about 61,000 in the 1 percent annual chance floodplain across 74 Indiana counties, as defined by the Digital Flood Insurance Rate Map. By extending that flood plain just 200 feet, an additional 124,000 structures come into play.
The overall replacement cost of the buildings in the DFIRM 1 percent area is $11.4 billion, and that cost leaps to more than $35 billion when taking into account the buildings in that additional 200-foot boundary.
"That's only half a city block. In Fishers or Avon, that's four residential lots, not a very far distance," Hubbard said. "It emphasizes how closely we are constructing homes in relation to floodplains."
Static floodplain maps are frequently updated, but "100-year floods" and other disasters still occur regularly outside of map boundaries. Homeowners and business owners are encouraged to recognize the possibility for losses outside of floodplain map boundaries and take steps to reduce or eliminate future losses from extreme weather events.
The Polis Center has worked with the National Institute of Building Sciences on research such as the Natural Hazard Mitigation Saves: 2017 Interim Report, which shows that building beyond minimum code requirements could yield an average of $5 in savings for every $1 spent in areas impacted by river flooding, and an average of $7 in savings for every $1 spent in areas impacted by storm surge.
About The Polis Center at IUPUI
The Polis Center is engaged in groundbreaking work in a variety of activities important to Indiana communities and beyond, collaborating to create innovative place-based solutions that lead to healthier and more resilient communities. It is committed to linking university and community expertise and to the smart use of advanced technologies to help solve problems and help communities take advantage of opportunities. Geospatial technologies, especially GIS, are its preferred technical tools because of their unique ability to integrate and visualize information by location. The Polis Center uses these tools to develop and analyze data for communities and then involve local experts and residents in helping to understand what the results mean. In doing so, it helps communities develop practical solutions for the issues that concern them.
The center specializes in providing place-based research tools to transform data into usable information for more-effective local decision-making. The Polis Center also offers the SAVI online tool – the nation's largest community information system – to help nonprofits, academia, government and health organizations assess trends and conditions; identify service gaps; and better target areas of concern based on the social, economic and other demographic realities in more than 2,000 Central Indiana communities.