Healthy IU wants to find out how supported Indiana University employees feel when it comes to health as it partners with the Richard M. Fairbanks School of Public Health at IUPUI to offer the 2019 universitywide IU Workplace Health and Wellness Survey, starting March 1.
The survey will be sent via email to all full-time IU faculty and staff, and a team of experts at Fairbanks will handle the anonymous data collection.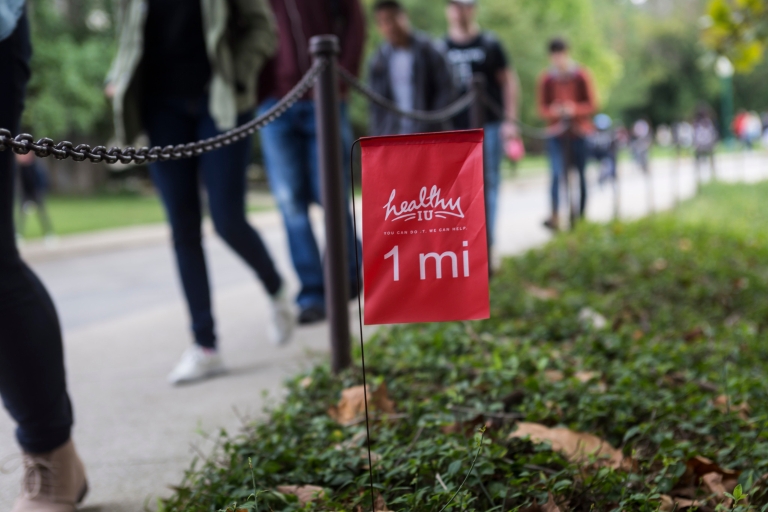 It's the third time Healthy IU has offered the survey, and it plays a key role in helping IU build a culture that supports health and wellness. Healthy IU uses feedback from the survey to:
Establish baseline measures of workplace health to gauge the impact of Healthy IU over time.
Understand how well IU workplaces are supporting the health of employees.
Identify health advantages and challenges of this university community.
Identify opportunities for change that are actionable from an organizational standpoint.
Previous surveys provided invaluable information on areas needing improvement, and Healthy IU took action in the form of programming, resources and communication. Here are just a few of the steps Healthy IU has taken based on survey responses:
Created universitywide online wellness challenges and programs around topics influencing physical and mental well-being, such as Climb IU, Sleep Great IU, Common Good (gratitude) and Mindful Parenting.
Offered an annual, 12-week Weight Watchers program on all campuses.
Hired a universitywide Work + Life consultant to enhance and promote the IU Employee Assistance Program, resources for working parents (such as lactation rooms, etc.), alternative work schedules and more.
Expanded indoor and outdoor walking paths as opportunities for physical activity at work.
Employees are the guiding light for creating the future of health and wellness at IU, according to Health IU director Patty Hollingsworth.
"If you like Healthy IU programs and want them to continue, let us know," she said. "If the programs are not meeting your needs, we need to know that, too.
Hollingsworth is passionate that every voice needs to be heard.
"We want to know if what we are doing is making an impact. Help us by completing the survey."
Here's what you can expect from the 2019 Workplace Health and Wellness Survey:
How to participate: All full-time faculty and staff employees will receive an email with their link to the anonymous survey on Friday, March 1. The survey will take about 15 minutes to complete and will be active for about a month.
What questions will be asked: The survey will ask about support for health in your IU workplace, as well as measures of your health and wellness. Most of the questions have been used extensively throughout the U.S. in health surveys. This survey is not connected to your health benefits in any way. Health IU wants to learn about the health of all employees, even those who aren't enrolled in IU's health benefits plan.
How results will be shared and used: The results, which will be gathered and analyzed by an independent, third-party team from the Fairbanks School of Public Health, will be shared with IU employees in multiple ways with total transparency. Healthy IU will use the findings as a starting point for discussions with the Healthy IU Steering Committee, local wellness coalitions and IU leadership.
Be on the lookout for your invitation to participate in the 2019 survey. In the meantime, check out results from previous surveys or email questions or concerns to BHealthy@iupui.edu.
Julie Newsom is the communications specialist for Healthy IU.